What is Business Activity Monitoring?
05 Dec 2022

3 Minutes to read
What is Business Activity Monitoring?
Updated on 05 Dec 2022

3 Minutes to read
---
Share feedback
Thanks for sharing your feedback!
Introduction
Business users may encounter the following question several times: "Where is the message?". This message can be an order, a product update, or an event relating to a noteworthy change in a system.
Whatever the context, some Business Transactions are being carried out by business users, and they are unsure about where the transaction is happening and whether there is a problem encountered for the same. This creates a significant strain in getting to know about the transactions and their processes. Thus, we provide Business activity monitoring as a solution to the above-related problem statement(s).
Need for Business Activity Monitoring
In any integration solution, there is a need for the organization to build an end-to-end traceability/monitoring solution that can be used by the business users.

This is usually an afterthought, and the operational support team struggles to keep the solution running.

Sometimes the delivery team will work on a solution but often it is custom-made and difficult to use across projects and teams spend approximately 20-30% of their time addressing this challenge, building custom solutions like logging components, and web dashboards.

Most of the time, the solution will be premature, because developing an enterprise-grade tracking/monitoring solution takes a significant amount of time and effort.

In today's hybrid and cloud world, the Serverless360 team discovered that this was a common pain point for business users, so the team set out to create a solution that would allow a business-like view across technical transactions implemented across multiple cloud services.

That is precisely the issue that the Serverless360 team is attempting to address with the Business Activity Monitoring feature.

Business Activity Monitoring (BAM) is a functional end-to-end business activity tracking and monitoring product for Cloud Scenarios. With Serverless360 Business Activity Monitoring, the business users get full visibility of their end-to-end business process flow across their Azure resources.
Business Activity Monitoring
Business Activity Monitoring (BAM) is a way to provide a simplified business-focused view of what might be a complex underlying system or group of system interactions that execute to fulfill the business transaction.

Users of the Business Activity Monitoring (BAM) solution can significantly simplify their ability to support these business transactions.

The business users can now make it easier for their support team to respond quickly to issues, recover from issues faster, and even allow business users to participate in answering questions such as "Where is my order?".
Enhanced features
The main advantage of Business Activity Monitoring is the scaled-up key features that evaluate the performance of the process:
End-to-End tracking
With the help of Serverless360 Business Activity Monitoring, users can increase the visibility of their integration solution to functional support teams by defining properties to track business values at run-time.

It is much easier to correlate the flow of data within the user's system.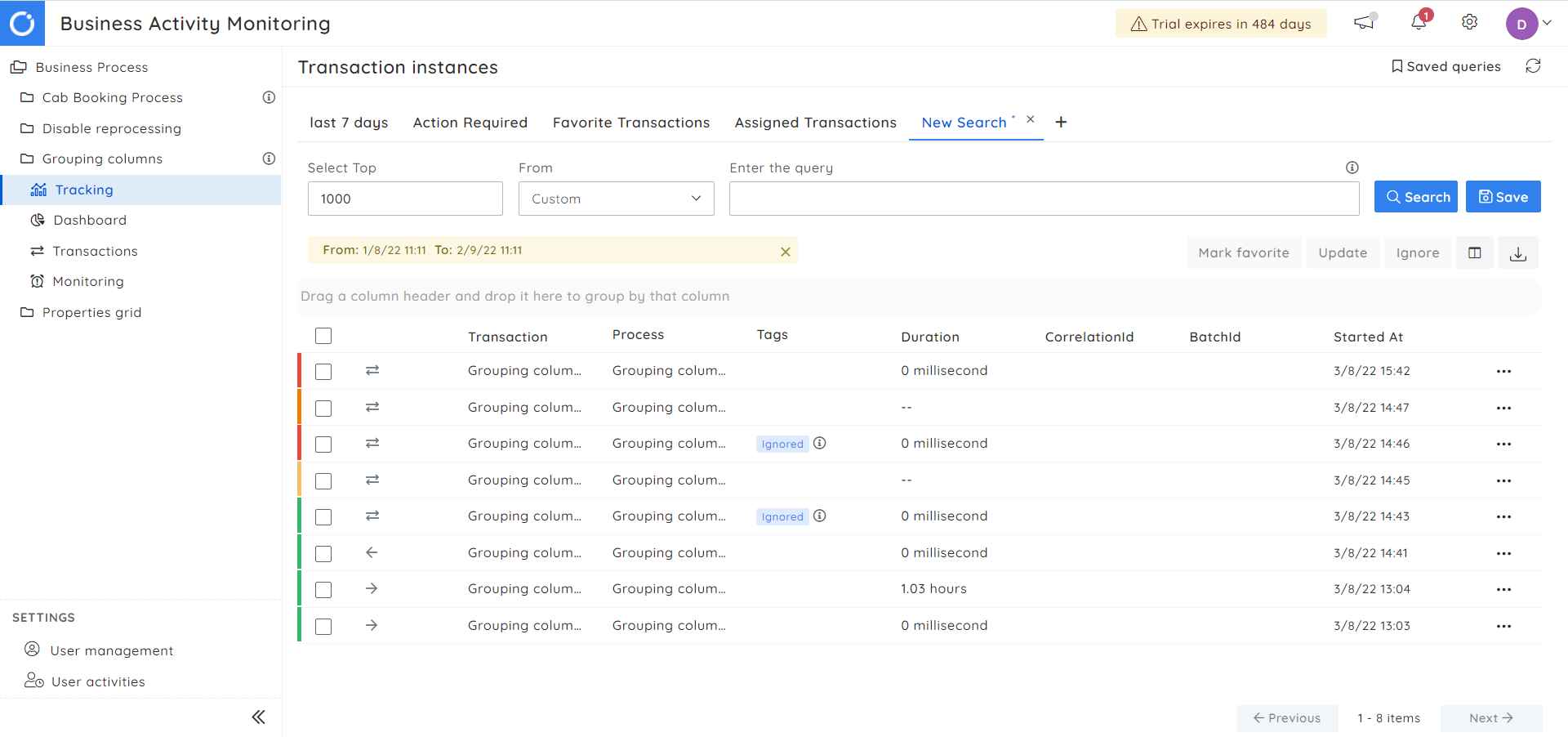 Message flow
Serverless360 Business Activity Monitoring enables users to visualize their business transactions in graphical form as well as detailed data.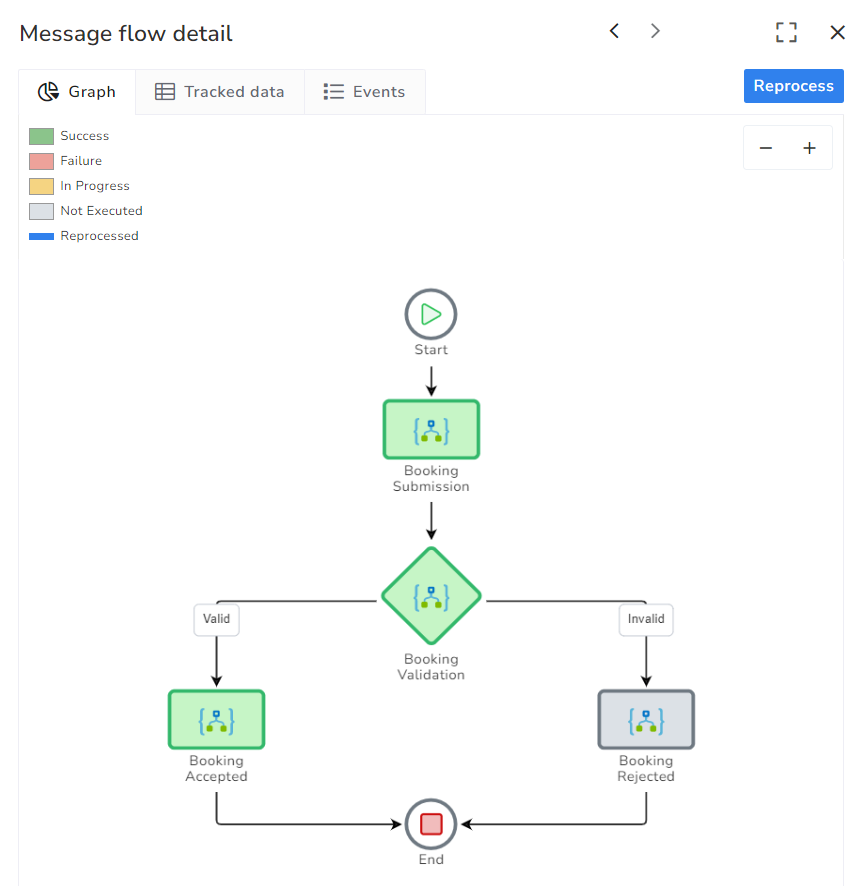 Furthermore, it enables the visualization of a specific and more complex business process in terms of how all milestones/transactions are carried out in a specific order (both sequential and parallel executions).
Simplified usability
The usability is significantly improved, assisting users in logically defining their business process. Business Activity Monitoring strives to reduce time to value so that users can see the monitoring data from their solution in a matter of minutes.
High reliability
This enhanced version includes a robust architecture that ensures that every message involved in the business process is tracked without fail.

Business Activity Monitoring is designed to be a robust system capable of providing highly reliable end-to-end tracking.
Seamless performance
Though Business Activity Monitoring is currently available as a SaaS solution, users can be rest assured that any other customer's use will not affect the performance of their tracking because their entire Business Activity Monitoring (BAM) infrastructure will be completely isolated from that of the others to ensure a seamless experience.
Improved security
The Serverless360 team understands the importance of the business information handled by Business Activity Monitoring. The security of data has been addressed both at rest and in transit. As a result, the user's data is stored in their Azure subscription.
Simplified transaction builder
Consider a common real-time business scenario to see how Business Activity Monitoring simplifies the complex requirement of achieving end-to-end tracking of the message flowing through the business transaction.
The application in question is a cab booking application, which is constructed as follows:

The Cab Booking process involves several stages in order to complete a transaction. By defining a business process, these stages can be easily aligned. Business Activity Monitoring includes a simplified business transaction builder that makes it simple to configure the stages.
The business flow for the booking process in a Cab Booking Application is shown below: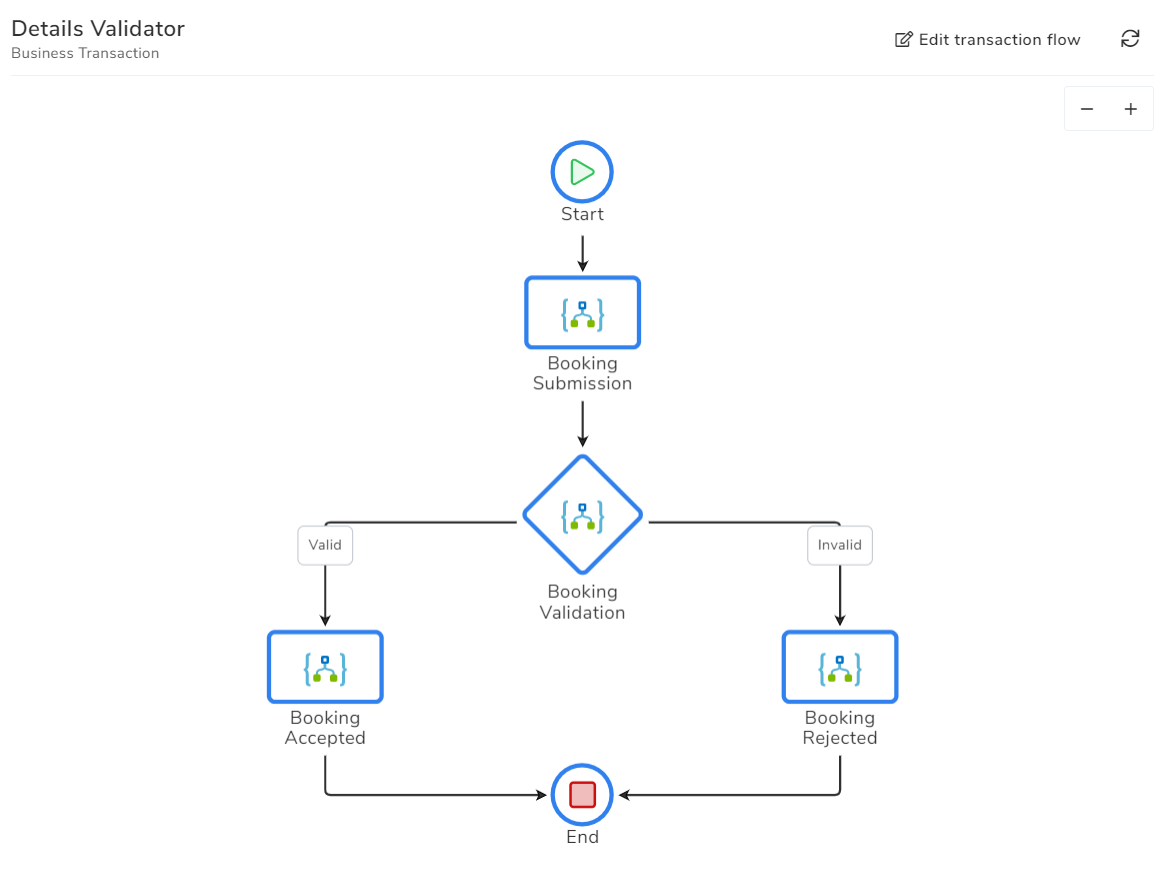 ---
Was this article helpful?
---
What's Next