General settings
06 Jun 2023

2 Minutes to read
General settings
Updated on 06 Jun 2023

2 Minutes to read
---
Share feedback
Thanks for sharing your feedback!
Introduction
The General settings section of the Settings option allows users to view their account and authentication details, terminate their account, switch their account authentication mode from Email to AD or vice versa, and alter the background activity time zone.
Switch authentication
Serverless360 enables users to switch from Azure Active Directory to Email Authentication and vice-versa with the help of the Switch authentication feature.
Go to Settings -> General Settings
Click Switch authentication mode button
The following blade will be shown in the case of Email to Active Directory authentication.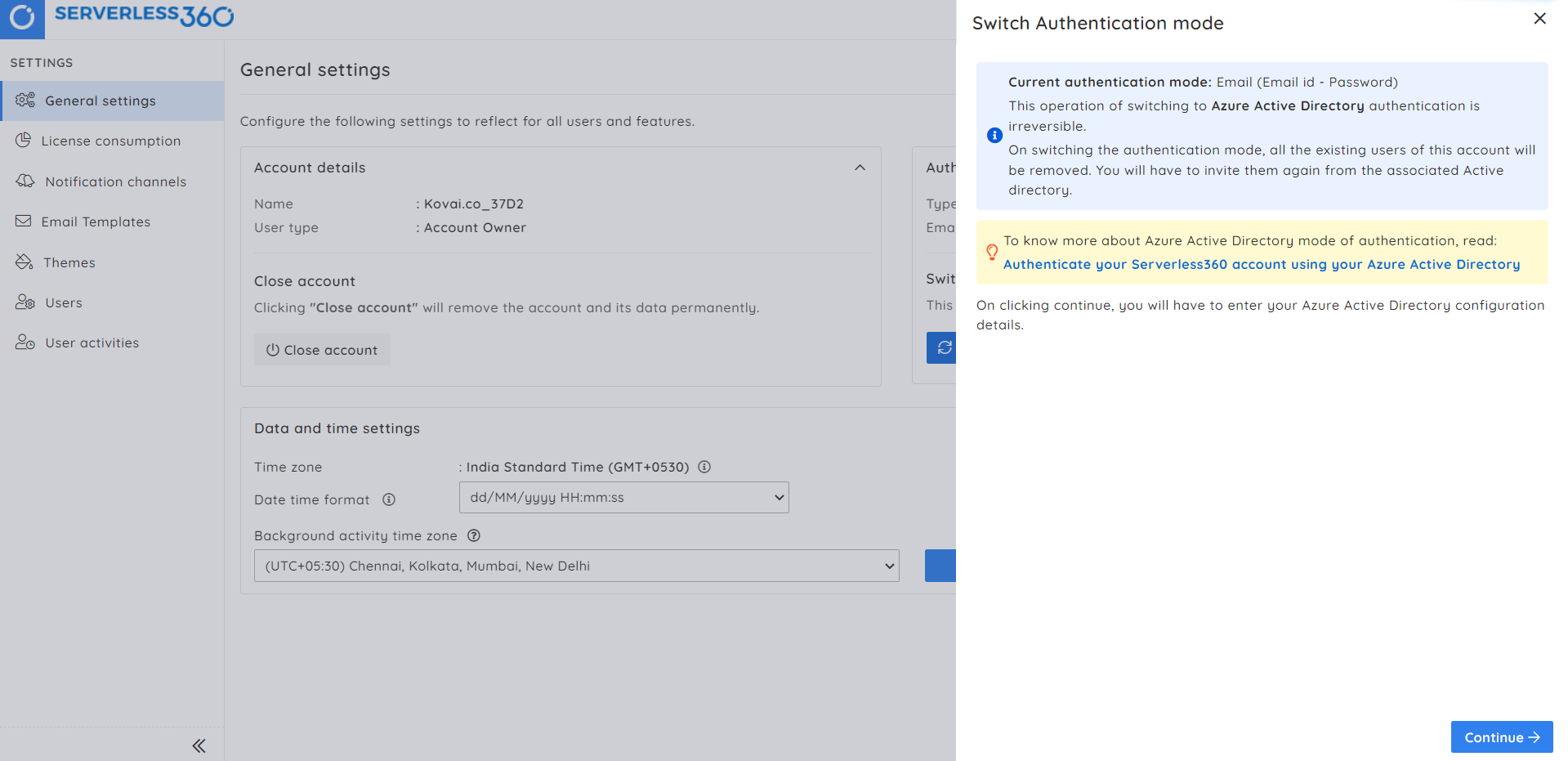 On clicking Continue, the user will be redirected to the following page
Enter the contact mail id and the Active Directory domain name
Click Save configuration button
Click Save in the confirmation box
Click here to know more about Active Directory configuration.
Once all the details are filled in, an activation link will be sent to the respective contact mail address.
In the case of Active Directory to Email authentication, the following blade will be displayed, where the user's name and email address must be entered.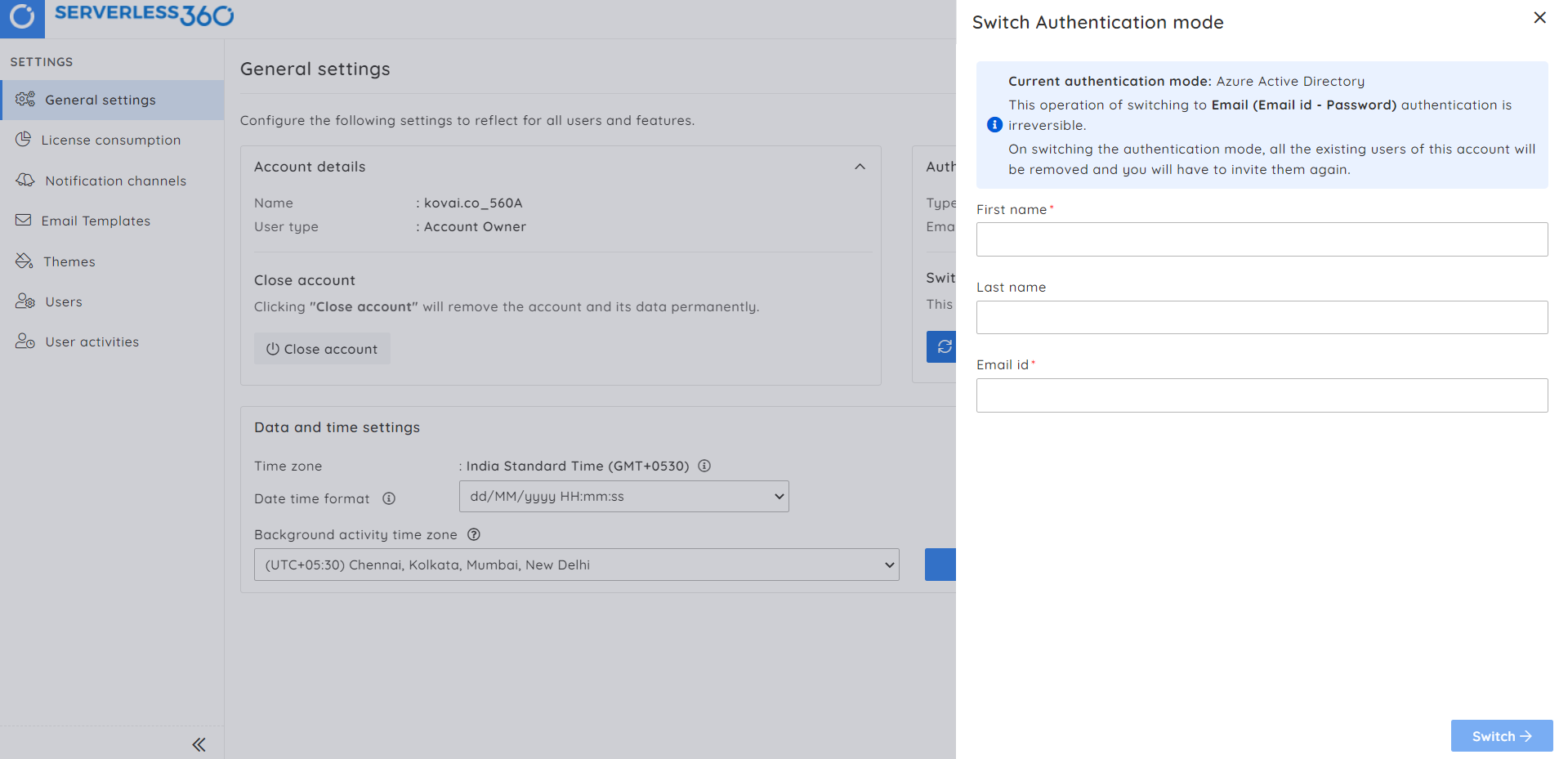 An activation link will be sent to the email address once the continue button is clicked.
Close account
Users can completely terminate their Serverless360 account and permanently delete its data by using the Close account button located in the General settings.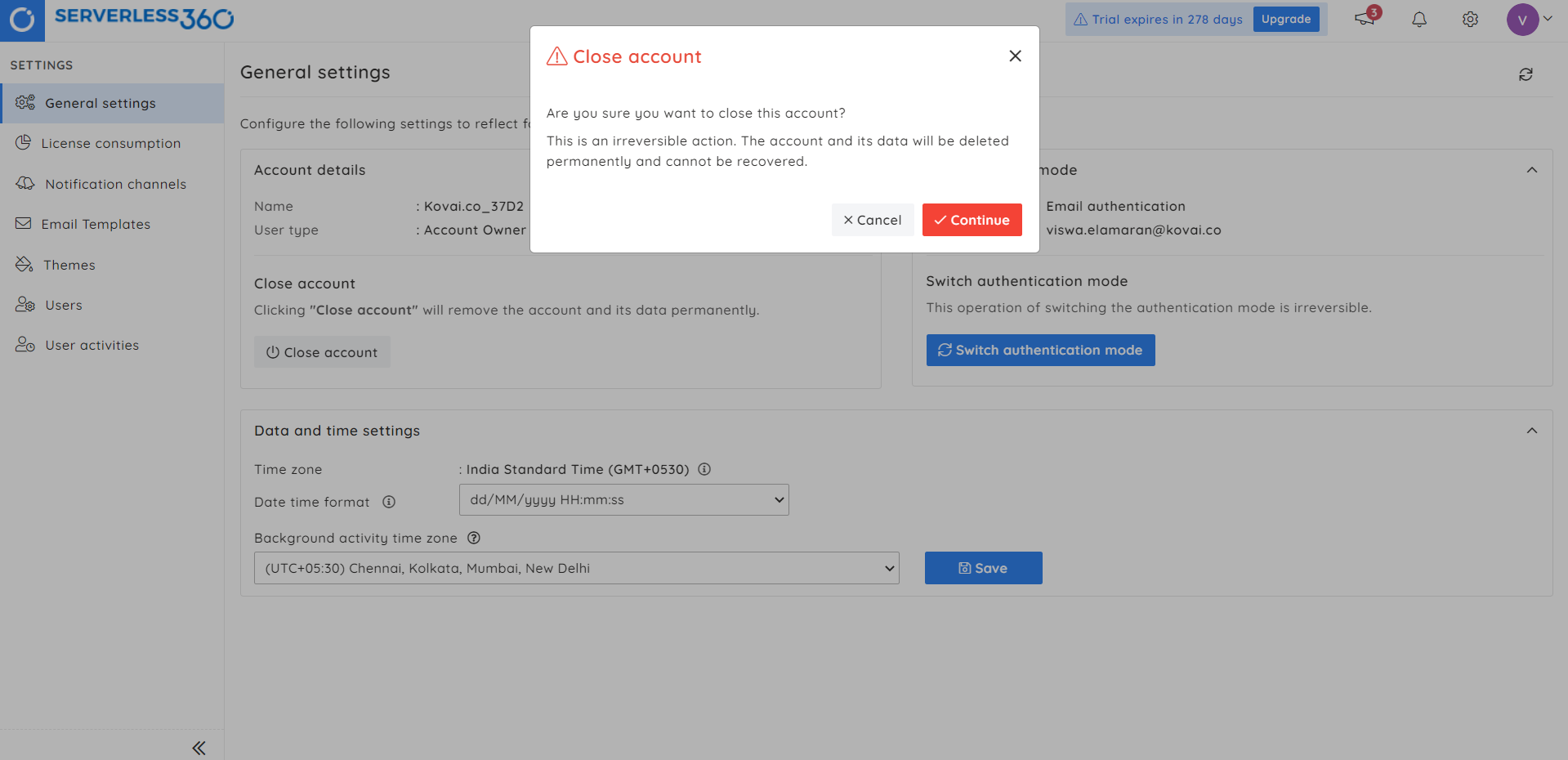 Date and time settings
Date Time Format
To have a standard date-time pattern throughout Serverless360, the Date time format is introduced.
Users can choose their preferred date-time display format from the General settings section.
By default, dd/MM/yyyy HH:mm:ss will be the chosen date-time format.
The date Time format is applicable only for that time period that has a denotation of both date and time.
The logs downloaded from the serverless360 will have the loggedAt or startedAt fields in the Standard UTC format.
How to change the date-time format?
Navigate to Settings -> General settings
Choose one among the available date-time pattern in the Date time format dropdown
Click Save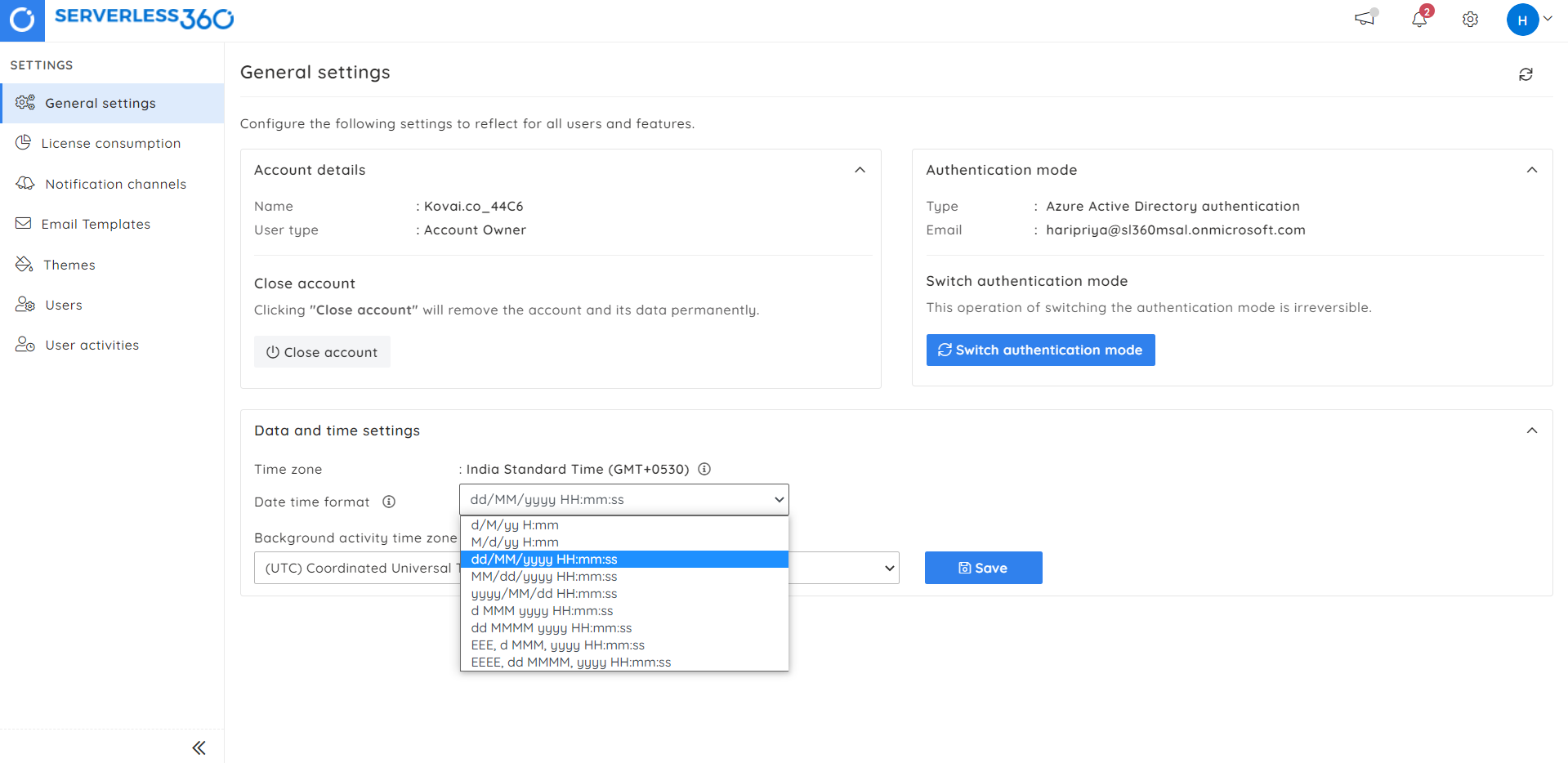 Background activity time zone
User time zone is a client-specific time zone that is accessible and customizable by the Administrator and the Super Users of a Serverless360 account.
Users can choose their preferred time zone for Serverless360's background activities.
The time zone will be affected for the following Serverless360 activities:
Monitoring activities running on a specified time intervals.

Scheduled task activities.

Automated tasks that are subjected to run at a specific time interval.
How to change the time zone?
Go to Settings -> General settings
Choose one among the available time zones in the Background activity time zone dropdown
Click Save to update the time zone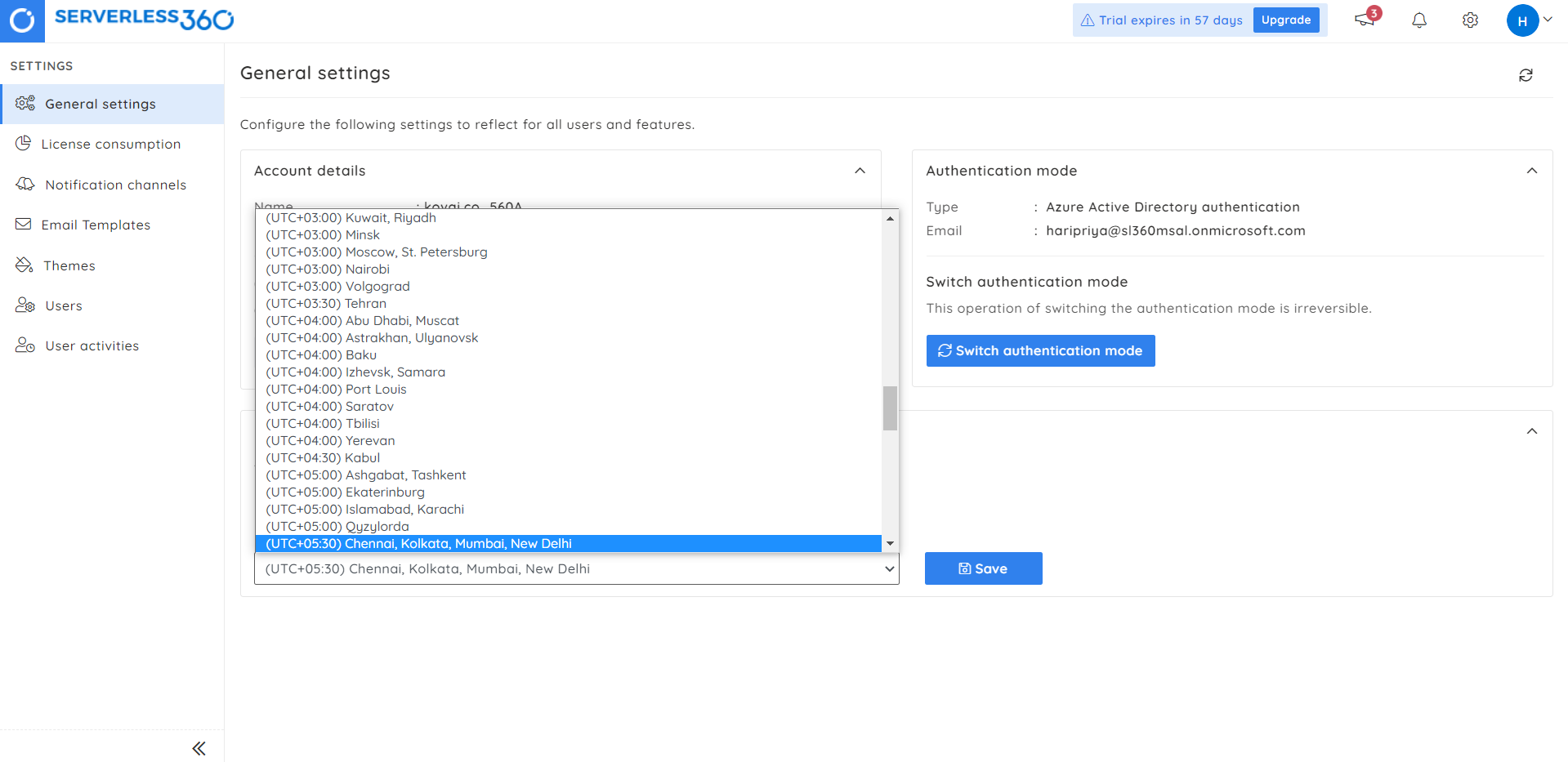 The background activity time zone only affects background activities and has no impact on the time that the user sees in Serverless360.
The time zone settings of background activity is converted to be displayed in Serverless360 based on the local system settings.
---
Was this article helpful?
---
What's Next