Environment Health
09 Jun 2023

1 Minute to read
Environment Health
Updated on 09 Jun 2023

1 Minute to read
---
Share feedback
Thanks for sharing your feedback!
Introduction
Environment health helps in monitoring the Serverless360 Infrastructure. It checks critical components of the application and indicates whether they are healthy or unhealthy.
Environment Health in Serverless360
The Environment health monitoring screen can be found in Settings -> Environment Health.
Environment health of Serverless360 consists of two sections: Status and Logs.
Status
The Status tab holds the health status of the Serverless360's infrastructure, where the dashboard for each component is available, allowing for enhanced data visualization and tracking of real-time data using a set of available metrics.
Following are the components monitored in Environment Health for the SAAS environment of Serverless360:
Business Application
Business Activity Monitoring
Events tracker
Events processor
Events queuing
SQL
The deployment details, SQL database, and Storage account can be edited using the edit option available for Business Activity Monitoring.
Whenever there is an update for deployment details, SQL database, and Storage account, its corresponding dashboards and logs also get updated based on the changes made.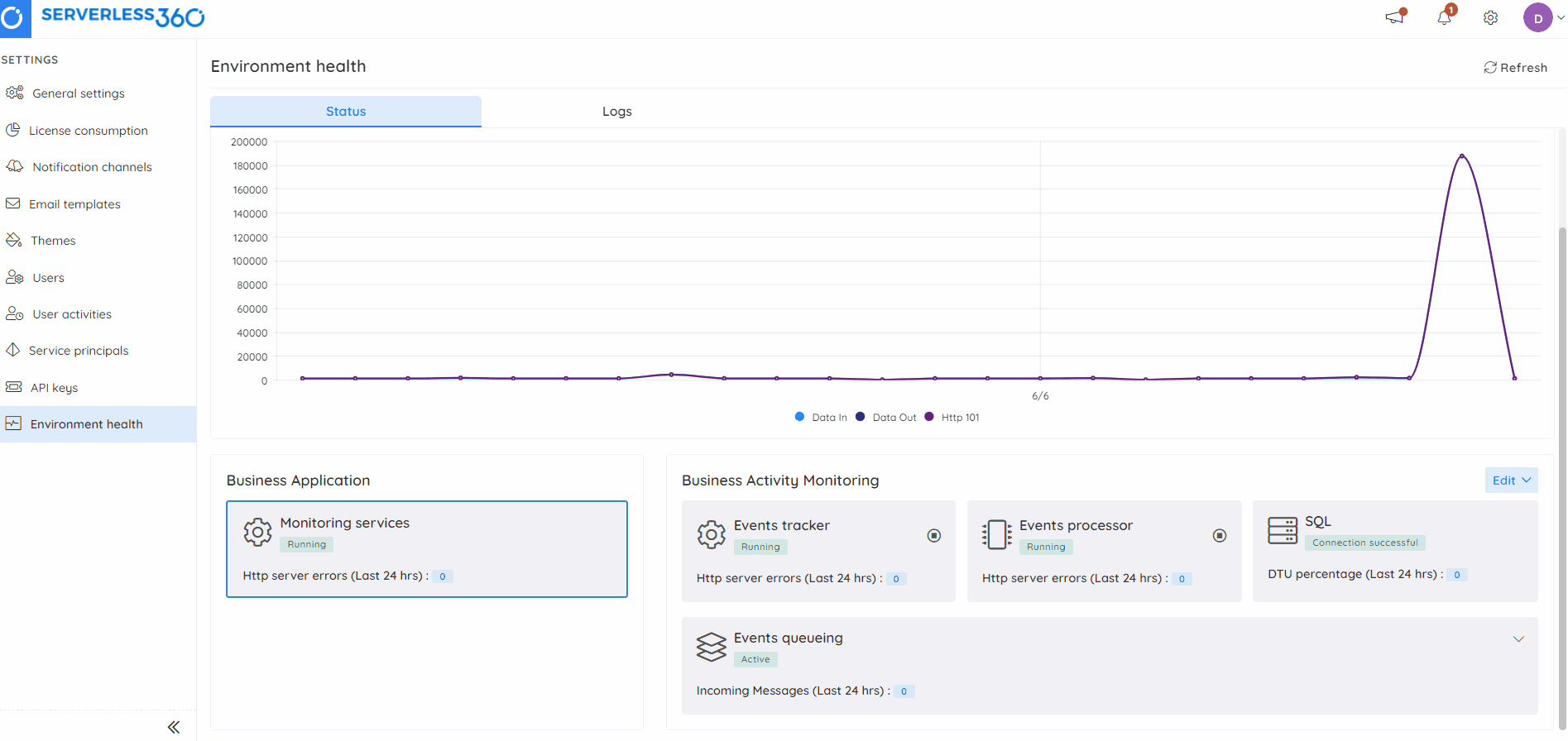 The component state of Environment health can be represented in two states, namely:
Healthy- Indicates components with color code green, stating that it is healthy.
Unhealthy- Indicates components with color code red, stating that it is unhealthy, Where the reason for it being unhealthy is also defined in the info icon.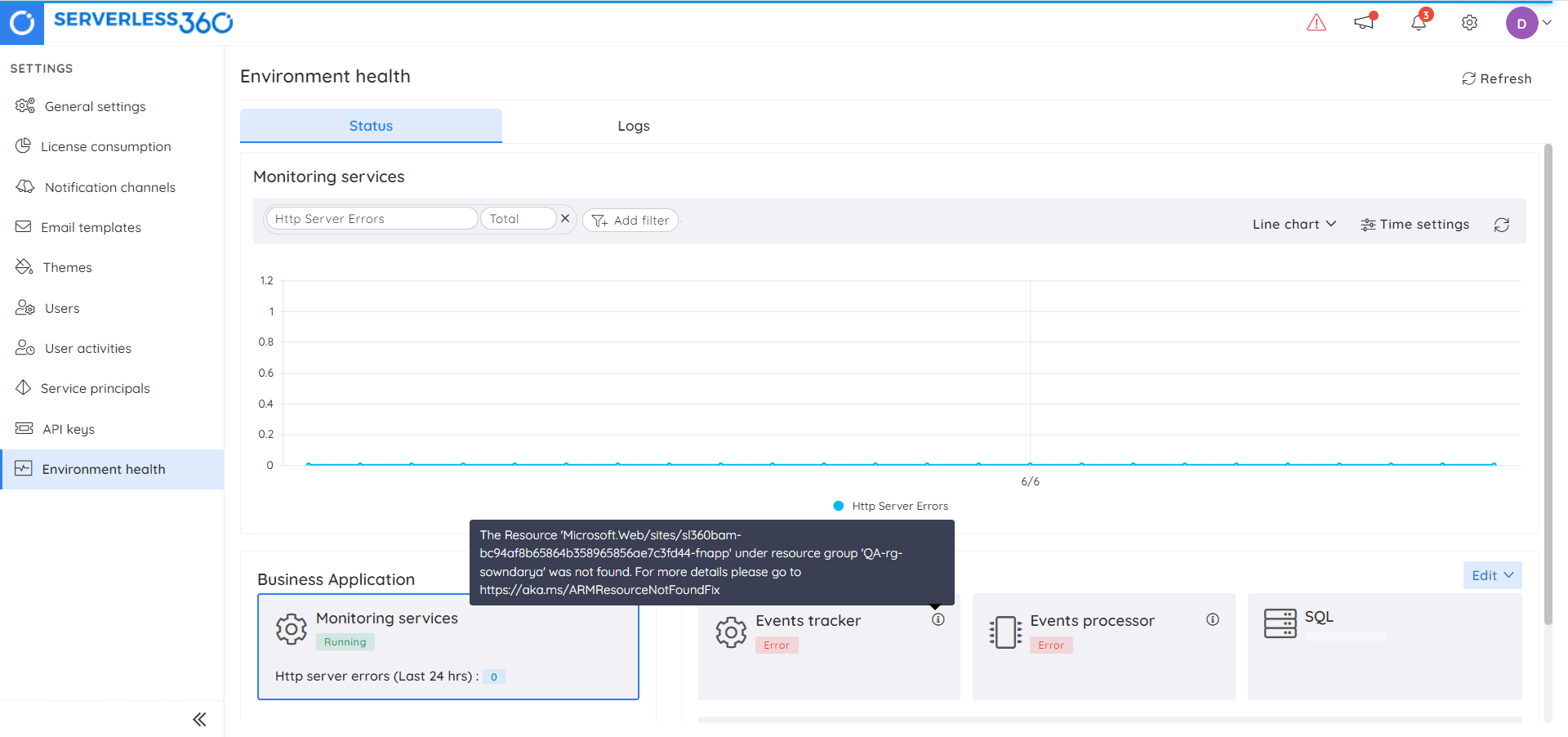 Start and Stop of Component(s)
Serverless360 offers the ability to start and stop the Business Activity Monitoring components without even navigating to the Azure portal.
The component(s) that can perform start/stop operations are:
Events tracker
Events processor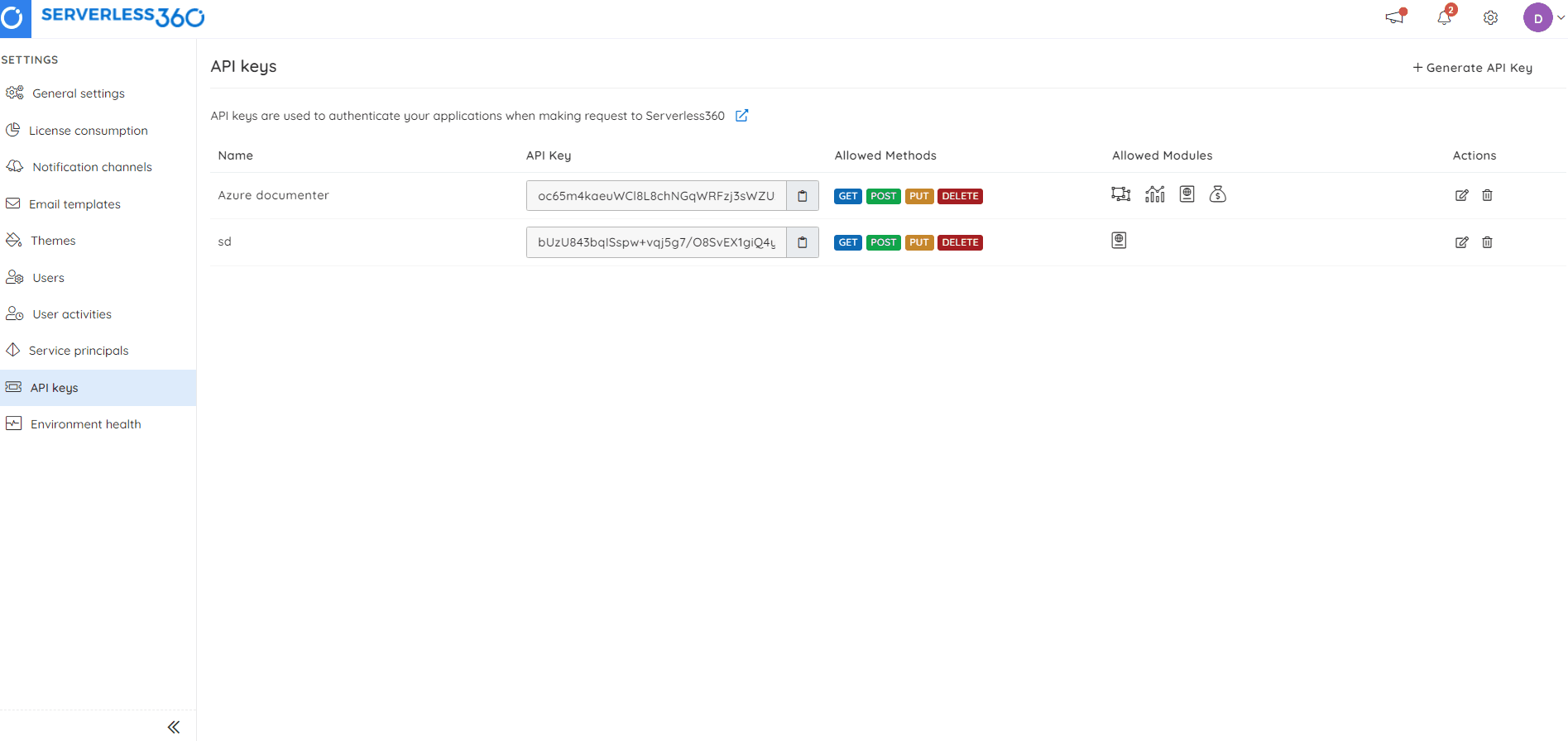 Logs
The Logs tab contains all error logs within the Serverless360 application.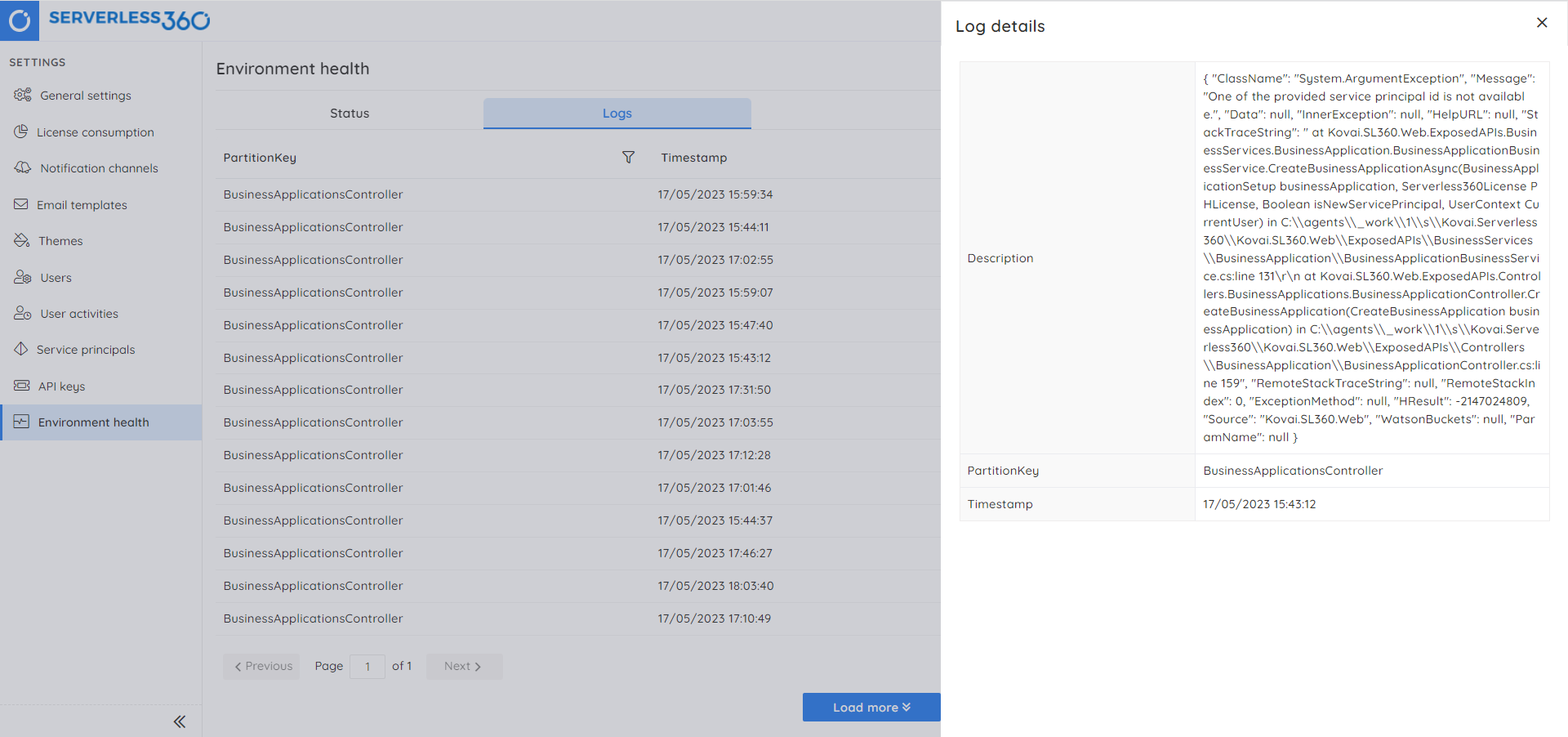 Access to Environment Health is only available to users with the Account Owner permission.
If any of the components are unhealthy, other users will be alerted, stating, "Some services are down. Please contact Account Owner".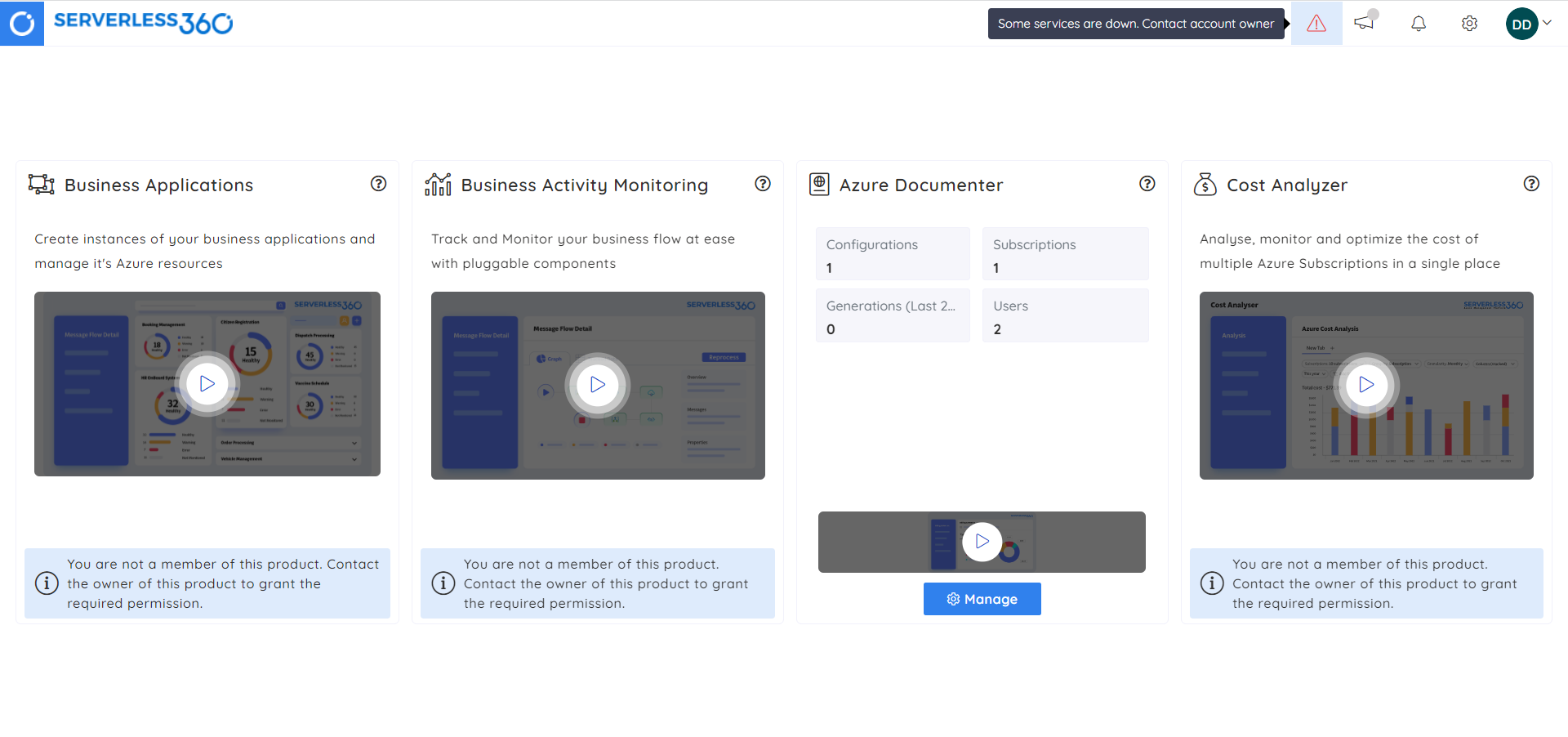 ---
Was this article helpful?
---
What's Next