Why Composite Applications?
25 Sep 2020

2 Minutes to read
Why Composite Applications?
Updated on 25 Sep 2020

2 Minutes to read
---
Share feedback
Thanks for sharing your feedback!
Henceforth, Entities will be referred as Resources. Activities Will be referred as Automated Tasks.
Organizations solve their complex problems by designing and building business orchestrations using Azure Serverless offerings like Service Bus, Logic Apps, Function Apps, Event Hubs, Relays, Event Grids.
Choosing Azure Serverless offerings to implement a business solution has significant benefits like;
Focus your efforts on your business, redirect resources from infrastructure management into innovating and bringing apps to market faster
Benefit from fully managed services, spare your teams the burden of managing servers
Scale flexibly, serverless compute scales from nothing to handle tens of thousands of concurrent functions almost instantly (within seconds)
Only pay for resources you use, with serverless architecture, you only pay for the time your code is running
The Real Challenge
Any organization will have several business orchestrations built using Azure Serverless offerings to meet various business needs. Such orchestrations would have Azure Resources from different Azure Subscriptions, from different Azure Regions and different resource groups.
The need is to manage these Azure Resources at one place to get an entire view of the organizations business solutions. But below are the real challenges in achieving this through the Azure portal;
The Azure resources reside in the Azure portal as silos
No application visibility, though the resources constitute to a business solution, it is not possible to view them as an application in the portal
Managing resources from different Azure subscriptions at one place is not possible
The Solution
Serverless360 offers Composite Applications, as a solution to overcome the above-mentioned challenges.
Logically group all your siloed resources that participate in your business solution into a Serverless Composite Application

Resources can be from different Azure Resource Groups, Azure Subscriptions and Azure Regions

Access all your business orchestrations at one place, Composite Application Dashboard. This dashboard offers a comprehensive view of current state of all resources that constitute business orchestrations.


Get immediate feedback on the Resource status based on the configured monitors at the resource dashboard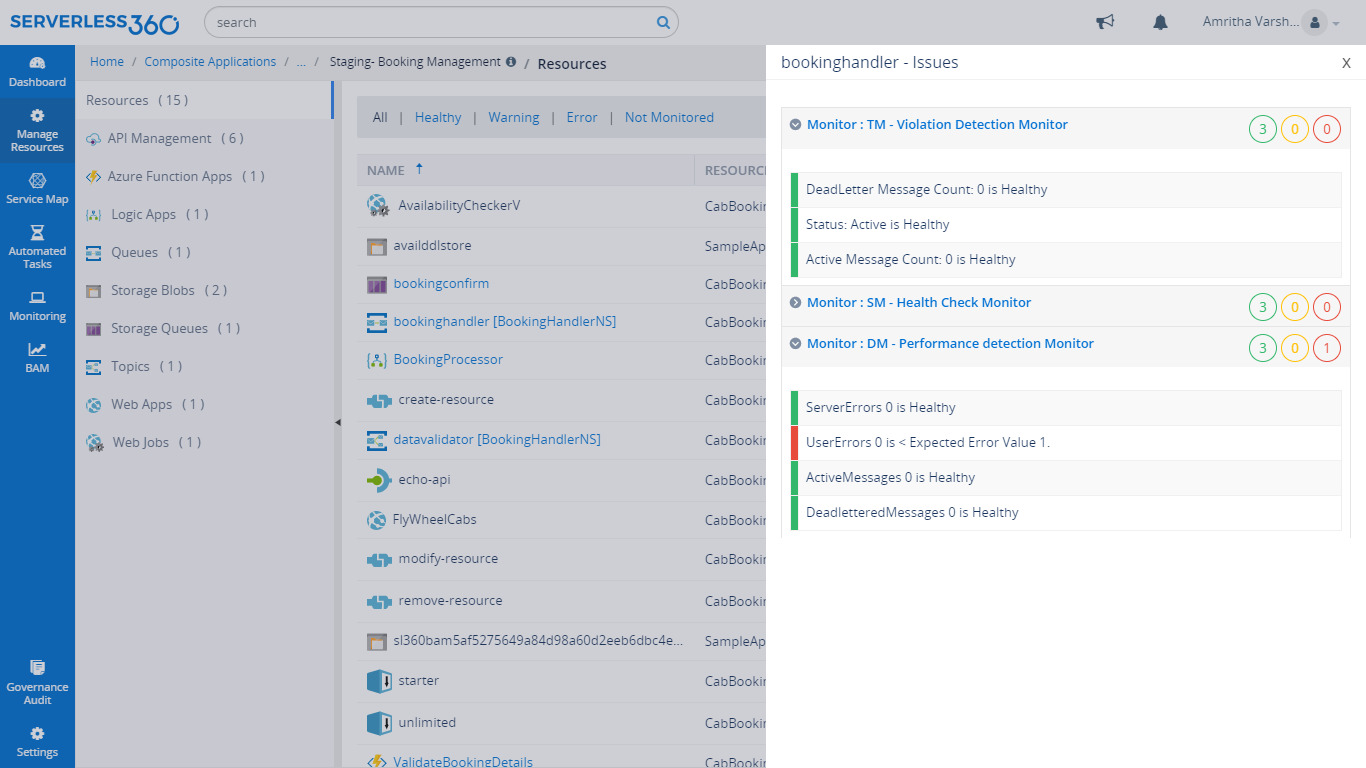 Michael Stephenson, Cloud and Integration Architect, Connected Systems Consulting Ltd says,
Serverless360 allows us to group together our physical components and assets into logical solutions. We are then able to monitor and manage them from a single pane which makes it much easier to transition our solutions into business as usual support processes. We see this as a key element in the enterprise adoption of serverless solutions.
Manage your Azure Resources from different Azure subscriptions and Regions in a logical container, Serverless360 Composite Application. Get an Application view of your Azure Serverless business orchestration. Explore Serverless360 Monitors for effective monitoring of your Azure Resources.
We'd love to hear your thoughts
---
Was this article helpful?
---
What's Next