What are CloudDocs in Serverless360?
---
This feature is currently in preview
Introduction
CloudDocs feature in Serverless360 helps you to generate extensive technical documentation on your Azure Subscription.
The generated documents are published in two ways:
Published online on Document360, a widely used Knowledge-Base SaaS Platform, to provide a seamless experience in publishing and sharing the documents with respective stakeholders.
Published as PDF files, stored in Serverless360's storage account or a customer provided storage account based on their choice.
When you generate documents in the Document360 platform there would be no more need of sharing documents on a file share, email, or management of shared folders.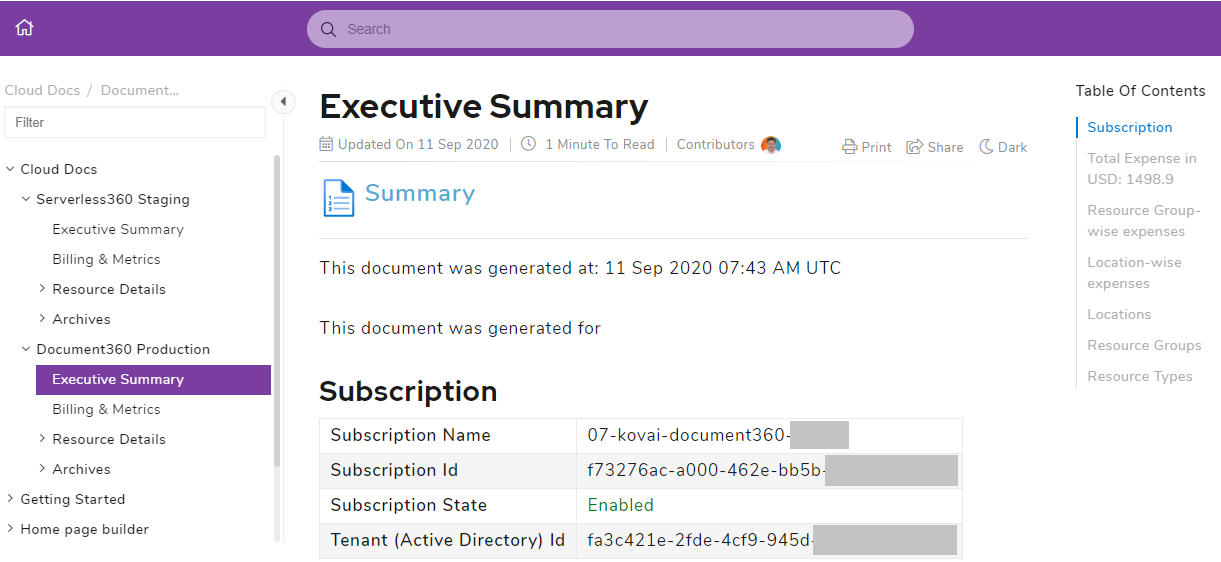 Why CloudDocs?
Interpreting your cost and resource information on Microsoft Azure subscription into readable documentation is what CloudDocs are for. As your usage on the cloud grows, it becomes difficult to track and understand the utilization of the same. Thus, CloudDocs provides documentation of your Microsoft Azure subscription usage to represent your subscription with deeper insights. It will be very helpful, if an executive summary is presented with all details of your Azure subscription usage right from resource groups, resources, Active Directory users, cost & billing, etc.
There are tools in the market that generates documentation or reports on your cloud usage. Over a period, it becomes cumbersome to generate and maintain the documents. Also, it becomes difficult to share such documents and handle their access to various stakeholders.
Serverless360, positioned as a #1 SaaS product to manage Microsoft Azure resources, becomes imperative to be used by your support team to help in their day-to-day activities. It will be of great value if such a platform can provide capabilities to generate documentation on your cloud adoption and usage.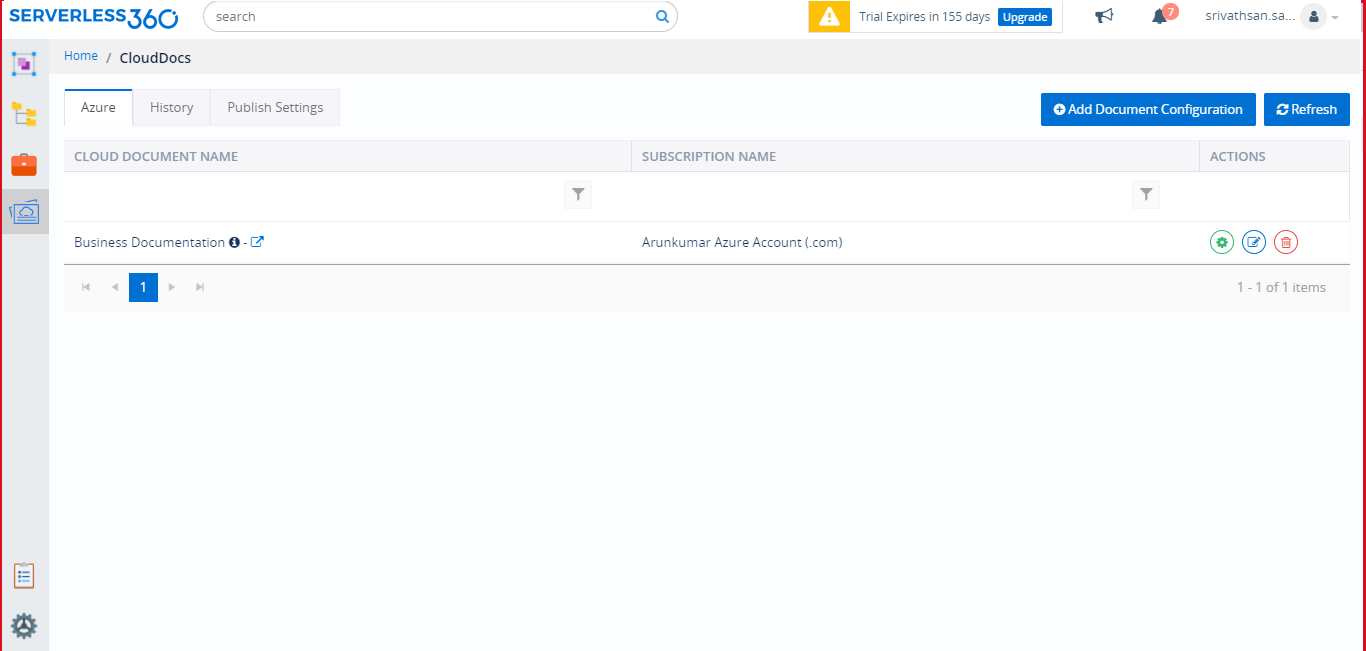 What type of Docs can be generated?
The following types of documentation can be generated:
Executive Summary – Provides summary on Resource Groups, Resources types, Locations across which the resources are distributed, and Billing Summary over a documentation period.
Details on Resources – Provides in-depth information about each of the resources grouped by their Resource Types.
Billing & Metrics – Provides a graphical representation of cost incurred Resource wise, Resource type-wise, location-wise and, Resource group-wise. It also provides a split-up of cost consumed at the individual resource level.
Benefits of using CloudDocs
Detailed Documents - Create documents that represent not only the Azure resources but its expenses, the exact location of resources, the resource groups, the resource types, and a lot more.
Publish as PDF – Generate document as a PDF file which is securely stored in Serverless360 or user provided storage account.
Publish and share online – Access the generated documentation from a secured online knowledge-base platform.
Cost Date Range – Provides cost consumption details for the date range specified by the user.
Billing & Metrics - Generate documentation with vital information like billing and metrics for the overall/group-wise resources in the subscription.
Archive Documents – Manage documentation history for future use and reference.
We'd love to hear your thoughts
---
Was this article helpful?
---
What's Next