Data Factory Monitoring
26 Jun 2020

1 Minute to read
Data Factory Monitoring
Updated on 26 Jun 2020

1 Minute to read
---
Share feedback
Thanks for sharing your feedback!
Data Factory Monitoring
When a Data Factory is associated with Serverless360 Composite Application, it is possible to monitor Data Factory in various perspectives using the monitors in Serverless360.
Monitoring Azure Data Factory State
If Azure Data Factory is one of the key resources in your Business, if it's state(with all the Properties having values as expected) meeting the expectation is critical. Use Status Monitor in Serverless360 to get alert via any of the Notification channels available when the resource is not in the expected state.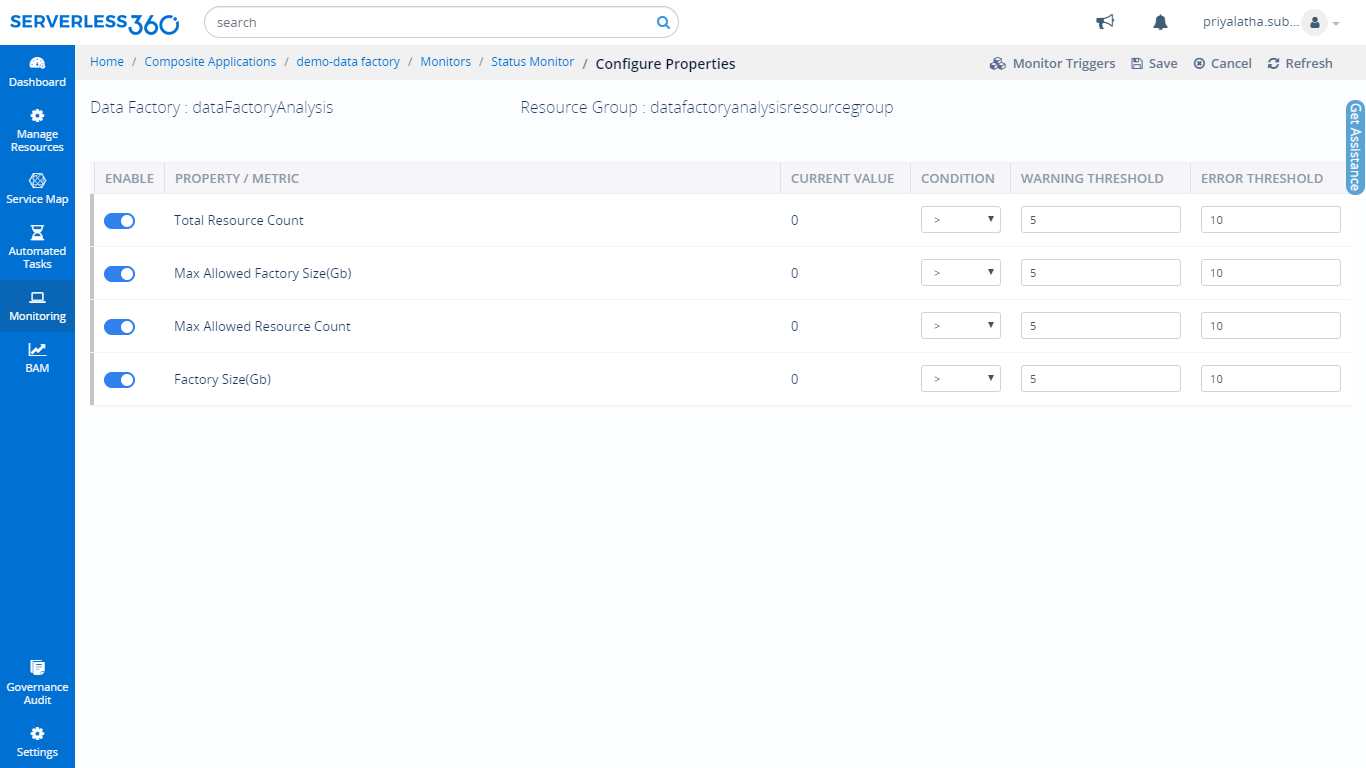 Monitoring your Azure Data Factory also includes
Trigger Monitoring
Acheive Monitoring on Data Factory Triggers
Enable Status monitor for Data Factory Triggeres and check whether the current state is like the expected state, if not get notified.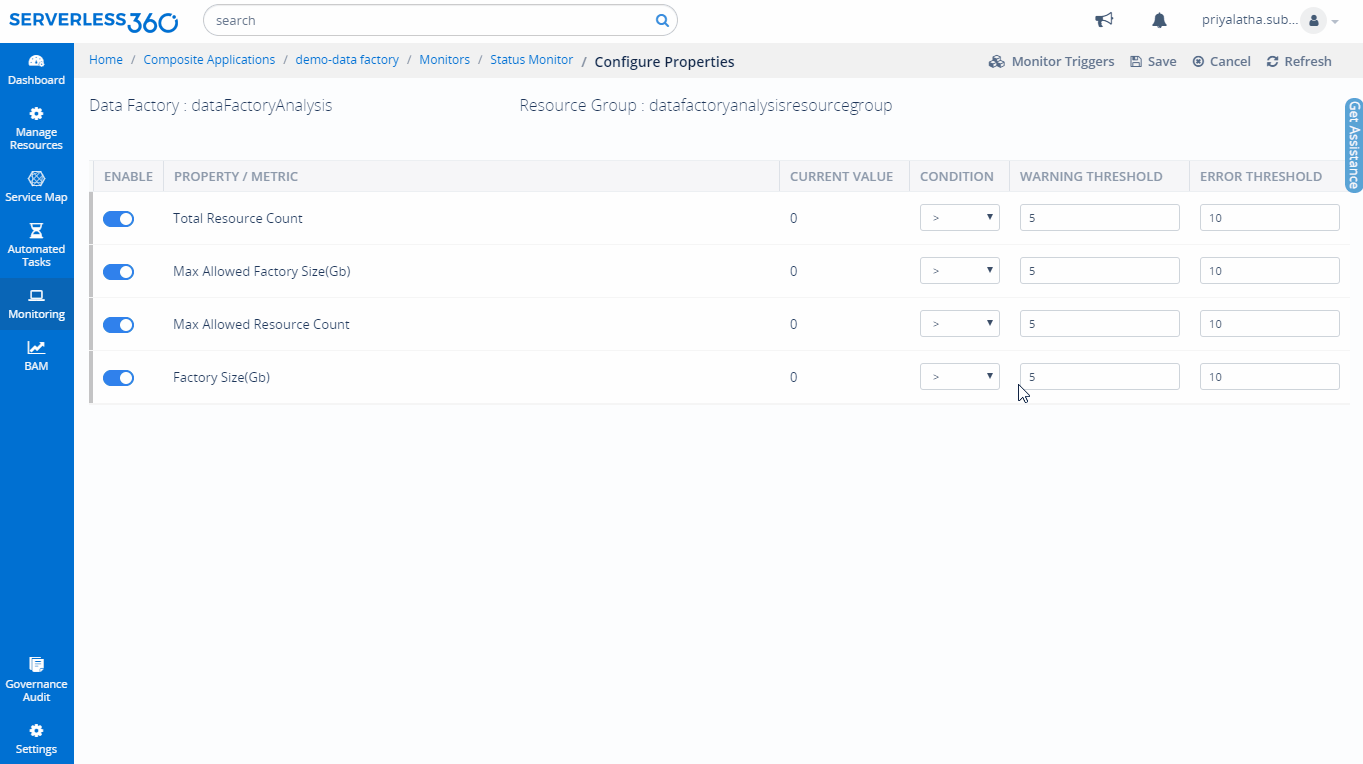 Auto Correct Azure Data Factory Triggers State
Enable Threshold Monitor and be rest assured that your Data Factory Trigger is always in the expected state.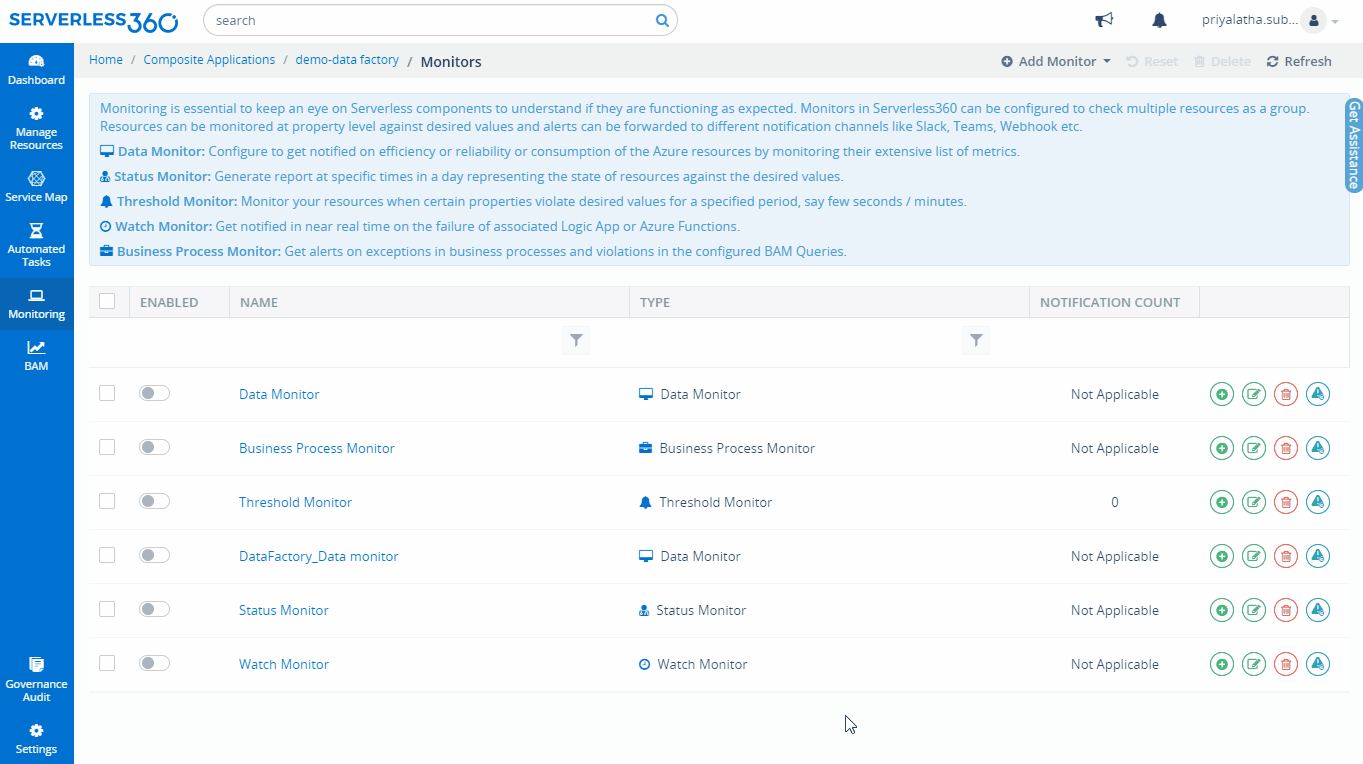 Monitoring Azure Data Factory based on Metrics
If the intension is to monitor and get notified when ever specific values or data in Data Factory is breached then you can acheive it through Serverless360's Data Monitor.
| Monitoring Purpose | Metrics to Choose |
| --- | --- |
| Cancelled Runs | Cancelled activity runs, Cancelled pipeline runs metrics, Cancelled trigger runs metrics |
| Failed Runs | Failed activity runs, Failed pipeline runs, Failed trigger runs |
| Succeeded Runs | Succeeded activity runs ,Succeeded pipeline runs metrics, Succeeded trigger runs |
| Integration runtime | Integration runtime available memory (Bytes), ntegration runtime available node count (Count), Integration runtime CPU utilization (%), Integration runtime queue duration (Seconds), Integration runtime queue length (Count) |
| Factory Size | Maximum allowed factory size (GB unit), Total factory size (GB unit) |
| Entities Count | Maximum allowed entities count, Total entities count |
You can even perform cross comparion on these metrics for better efficiency.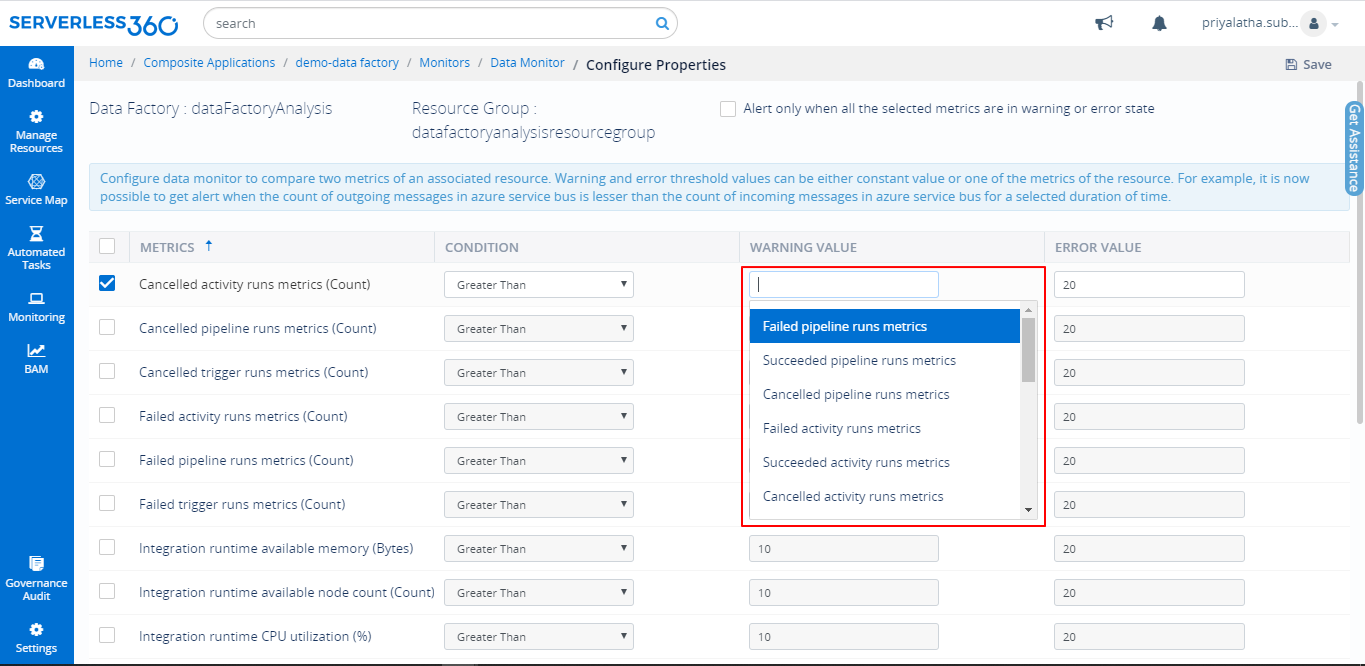 Get Historical reports of performance of Data Factory using the DataMonitor Dashboard.
If the intention of the user is to get the total number of Succeeded pipeline runs or any run details in the past, they can use DataMonitor Dashboard.

We'd love to hear your thoughts
---
Was this article helpful?
---
What's Next