4. Managing Business Processes
06 Nov 2020

2 Minutes to read
4. Managing Business Processes
Updated on 06 Nov 2020

2 Minutes to read
---
Share feedback
Thanks for sharing your feedback!
In complex integration solutions, multiple micro-services come together to process a business transaction such as a Purchase Order. Serverless360 brings complete visibility into the transaction processing, you can collect relevant data at each of these stages and attach a rich business context.
Data Collections
Businesses nowadays demand agility from IT. Data needed by business users and functional support teams to get visibility into integration solutions are evolving constantly. However, hardcoding the data collection costs significant development effort, in case a change is needed. Serverless360 BAM makes data collection completely configurable, thereby bringing maximum agility to businesses' changing needs.
Transaction Activities
Once you have configured the business process and added the tracking components, you will be able to see all the transaction activities as shown in the below image.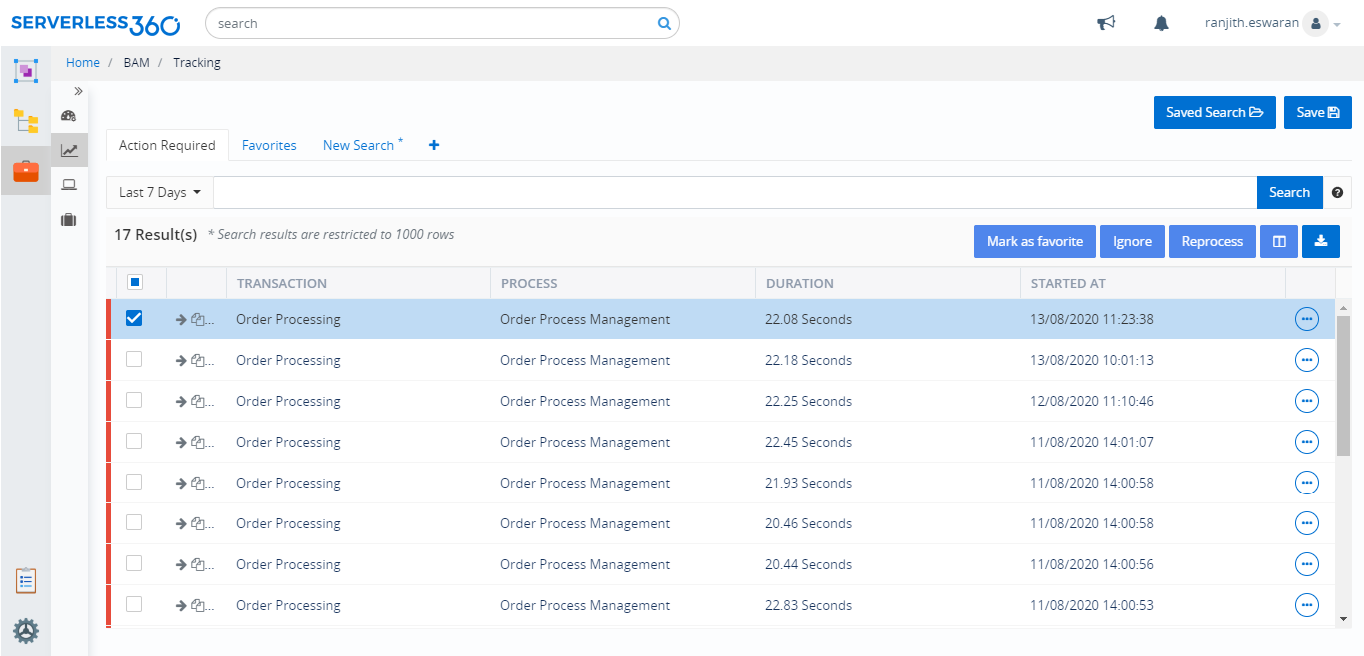 Each row in the table indicates a transaction. If the transaction is prefixed with a green indicator, it means the transaction has completed successfully. If there are any errors in the transaction, that row will be marked with a red indicator.
Message Flow
Once the data is collected, it is now possible to visualize each individual transaction as a message flow. The message flow graph is a sequence of stages that is configured under a transaction in a Business Process. Each stage can execute separately and can start and end at any time. To view more details, click on top of the stage to view Tracked data, Message body and Headers.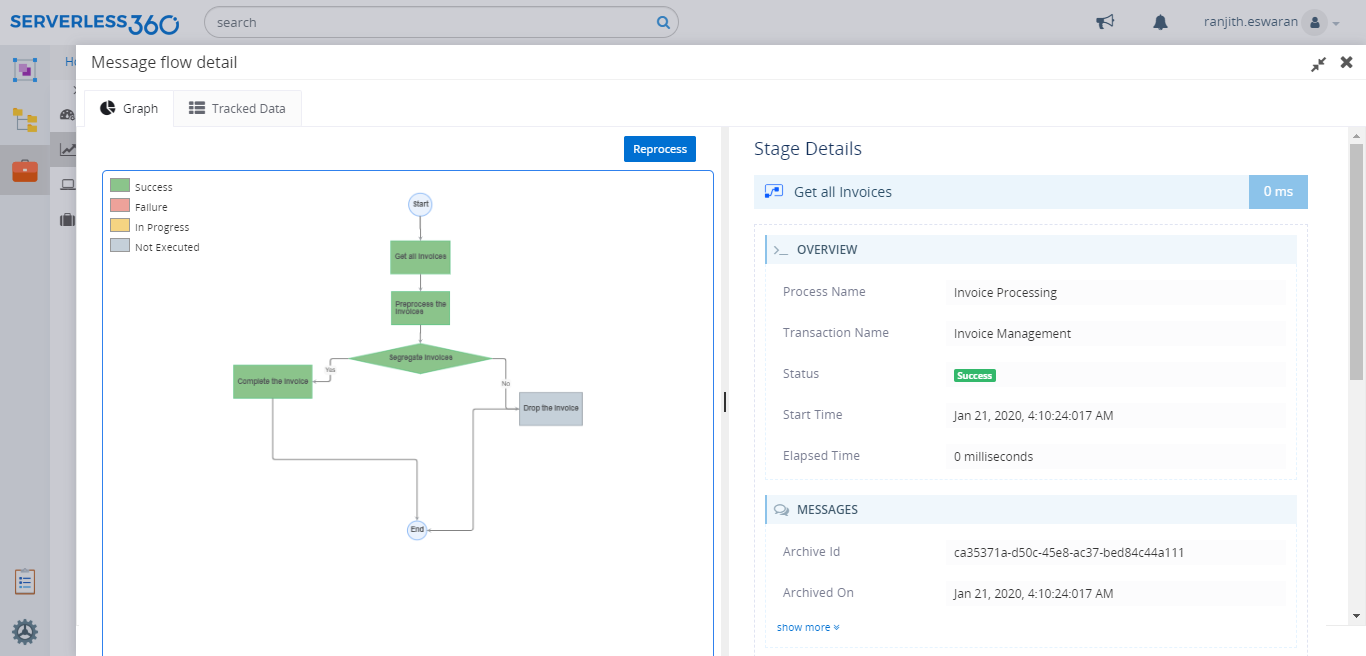 Integrated Business Exceptions
In any integration solution, handling Business Exceptions and System exceptions is quite crucial. Also keeping such exceptions integrated with the transaction activities is important. This helps functional support teams to address any issues proactively and resolve them efficiently. BAM Exception components help you to integrate Business and System exceptions with Business transactions.
Message Archiving and Reprocessing
For organizations, message archiving could be essential for a couple of reasons. One is to store them for auditing purposes, and the other one is to reprocess the messages during failure conditions. We see the following disadvantage when we use Azure monitor logs or application insights.
Azure monitor log fields have a restriction on the data size. Hence without a custom implementation, it is not possible to handle large messages


Source: Azure monitor Logs data limits
Data visualization portals do not provide the option to reprocess the messages. There are Azure Monitor Solutions (formerly known as Azure Management solutions) which do allow reprocessing of Logic Apps but achieving the same in Azure Functions is not possible without a custom solution.
"Serverless360 provides state of the art features for archiving the messages and resubmitting them in a unified way"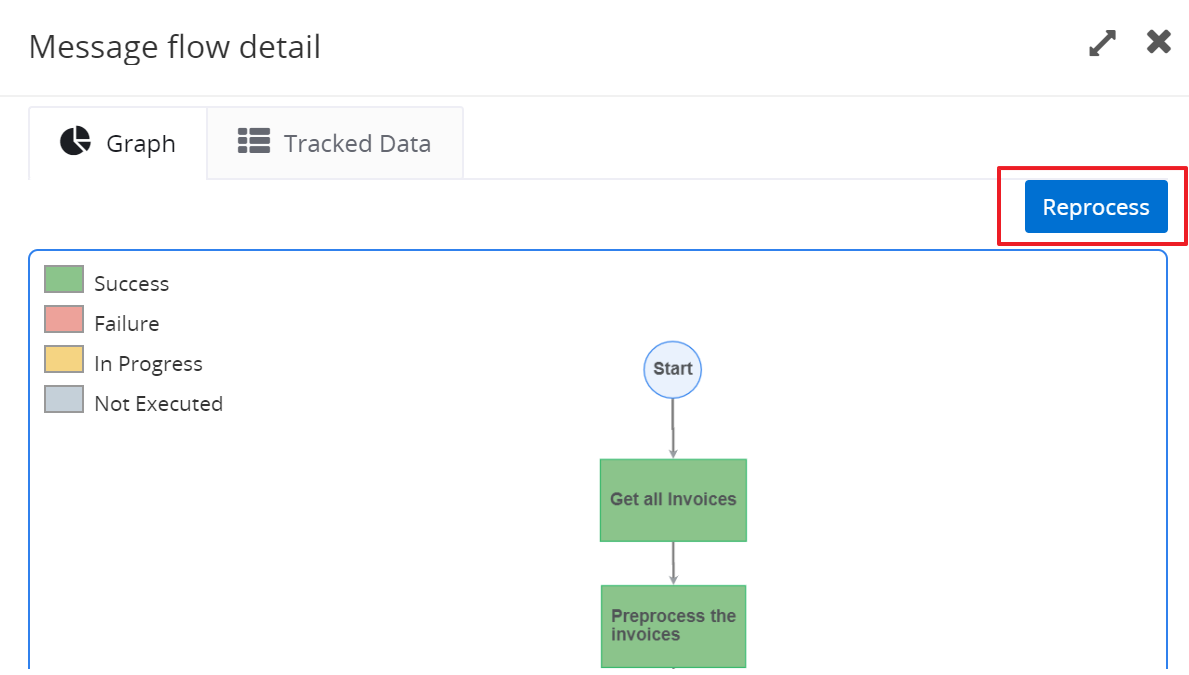 Serverless360 allows users to reprocess messages to Logic Apps, Azure Functions and Service Bus Queues and Topics.
We'd love to hear your thoughts
---
Was this article helpful?
---
What's Next