What is Serverless360?
25 Sep 2020

2 Minutes to read
What is Serverless360?
Updated on 25 Sep 2020

2 Minutes to read
---
Share feedback
Thanks for sharing your feedback!
Serverless360 is one platform to Manage and Monitor Azure resources related to Serverless services. In a real-time scenario, the integrated cloud applications are not built in a single technology stack, it typically involves at least 3 or 4 different Azure Services. Currently, Azure Portal is designed more for vertical technology silos and it's difficult to visualize and manage such connected solutions. Serverless360 is one tool that you can depend on to manage and monitor all your distributed Azure Services at one place.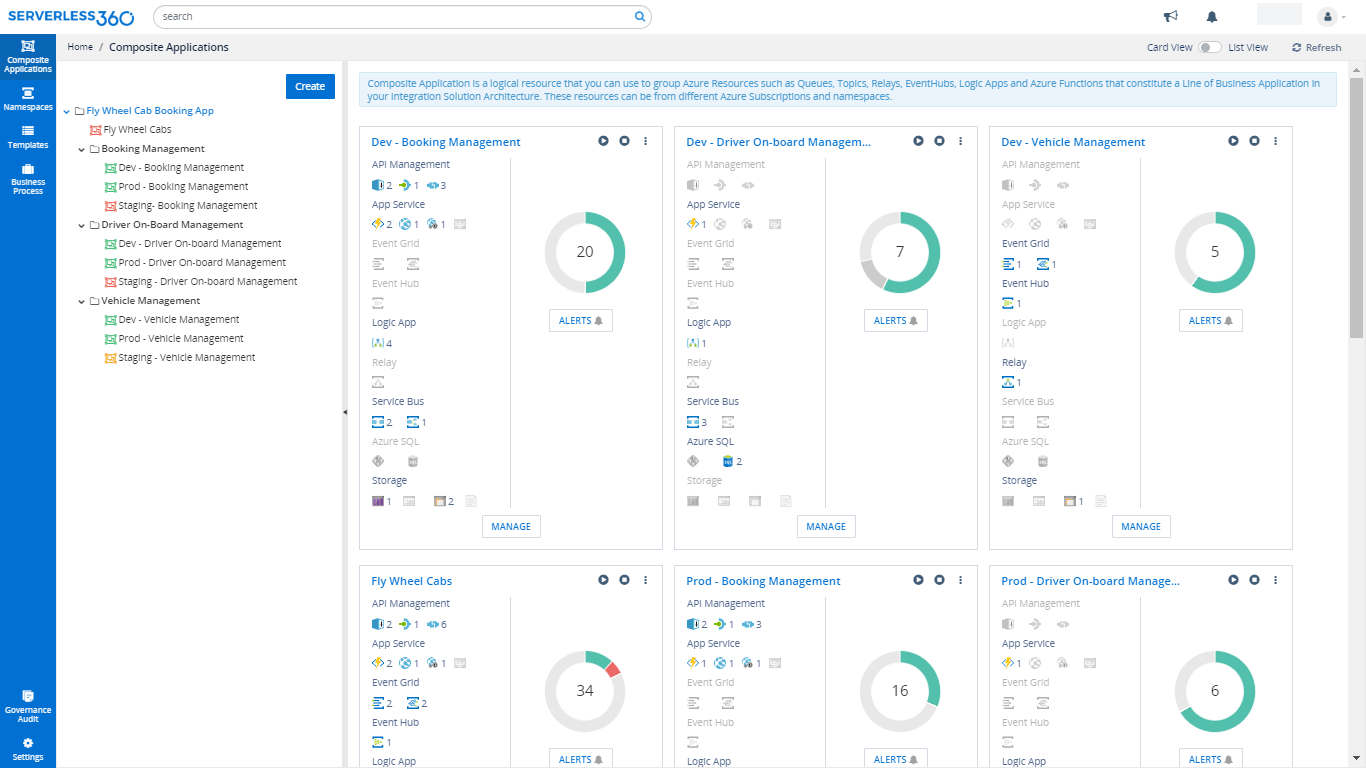 Challenges with Azure Portal to manage Composite Cloud Integration Solutions
Over the last few years, Microsoft has built excellent tooling around different technologies. Today, everything is available in one place – the Azure Portal, which is great and helps to manage complex solutions as shown in the above example! However, this brings in its challenges when it comes to the management of distributed solutions.
No Application Visibility
When your Line of Business (LoB) application integrates with different Azure services such as Logic Apps, Azure Functions, Web Jobs etc., there is no easy way you can manage the entire application group as a whole using the Azure Portal. In many cases, the services come from various Azure Subscriptions. It is always difficult to switch between Subscriptions and navigate to the necessary service by drilling down at the technology level.
No Consolidated Monitoring
To monitor distributed applications, there are no options for you to perform consolidated monitoring for the services in Azure Portal. You are either forced to use external tools that solve your monitoring problems partially or build your custom monitoring solutions.
No Deep/Integrated Tooling
Using Azure Portal as a tool to manage your distributed applications? Be aware that each service is available as independent technology silos. Also, there are not many possibilities to operate on resources. The capabilities are mainly restricted to manage it at the infrastructure level. You might also have to write your code or use third-party applications (like Service Bus Explorer) to perform operations.
No Application Level Security
With distributed applications, there will be different Azure Services from different subscriptions. It becomes difficult for administrators to grant permissions to resources in the subscription as they are unable to configure the granular level of security for users easily.
We wanted to solve this challenge by bringing a new concept called "Composite Application" management. A Composite Application is a logical resource that you can use to group Azure Services like Service Bus, Logic Apps, Event Hubs etc that constitute a Line of Business Application in your Integration Solution Architecture. These resources can be from different Azure Subscriptions and namespaces.
Hope you will find Serverless360 useful!
We'd love to hear your thoughts
---
Was this article helpful?
---
What's Next