Serverless360 lets organisations manage their Azure resources, those constitute their Line of Business. As an organisation you can add any number of your employees or extenal consultants as users to your Serverless360 account, to manage the associated resources. Employees using Serverless360 should be provided with exact permission they need. Too many permissions can expose an account to security violations. Insufficient permissions mean that your employees can't get their work done efficiently. User access policy with custom role capability helps address this problem of offering fine-grained access management for Serverless360.
User Roles
Serverless360 authenticates your organization users using your Azure Active Directory (AD). Users can be managed through the User Management feature under Settings module in Serverless360. New users can be assigned a role to define access control. The following table provides brief descriptions of the built-in roles:
| Role | Description | CAN | CAN'T |
| --- | --- | --- | --- |
| Administrator | As an account owner, you have full control over the application including access to licensing | Create and manage all resources, Invite Users to the account, Switch Account ownership to other Super User, Perform License Activation and Deactivation | - |
| Super User | Will have access to the whole application except licensing | Create and manage all resources, Invite Users to the account | Manage license |
Switch Account Ownership
Current Serverless360 Administrator can transfer the account ownership with one of the Super Users through the following steps:
Login to Serverless360 as Administrator
In the User Management section under Settings, find the option to Switch Ownership

Choose from the available Super Users to switch ownership with.

Switching Account Ownership is an irreversible action. All Administrator permissions will be transferred immediately
Custom Roles
Consider a business scenario, where the requirement is to provide Read-Only permission on a set of composite applications to a specific set of users. In this scenario, you can create a custom role definition along with the predefined roles.
To access User Management the signed in user should either be an Administrator or a Super User
Click 'Add Role' in the User Management screen
Enter a 'Role Name' and 'Role Description'
Select the Composite Applications that should be accessible to this role
Define Overall permission, applicable on the selected Composite Applications and its associated entities:

Read Only- can view
Manage - can manage

Define permissions on 'Operations'

Retrieve Message - Can view the message list and system properties
Access Message Content - Can access message details like Custom Properties and Message body
Process Message - Can perform message operations like defer, resubmit, repair & resubmit and delete the message

Define permissions on 'Monitoring'

'View Alert History' -Can view the alert histories of the monitors already created
'Manage' - Can manage monitors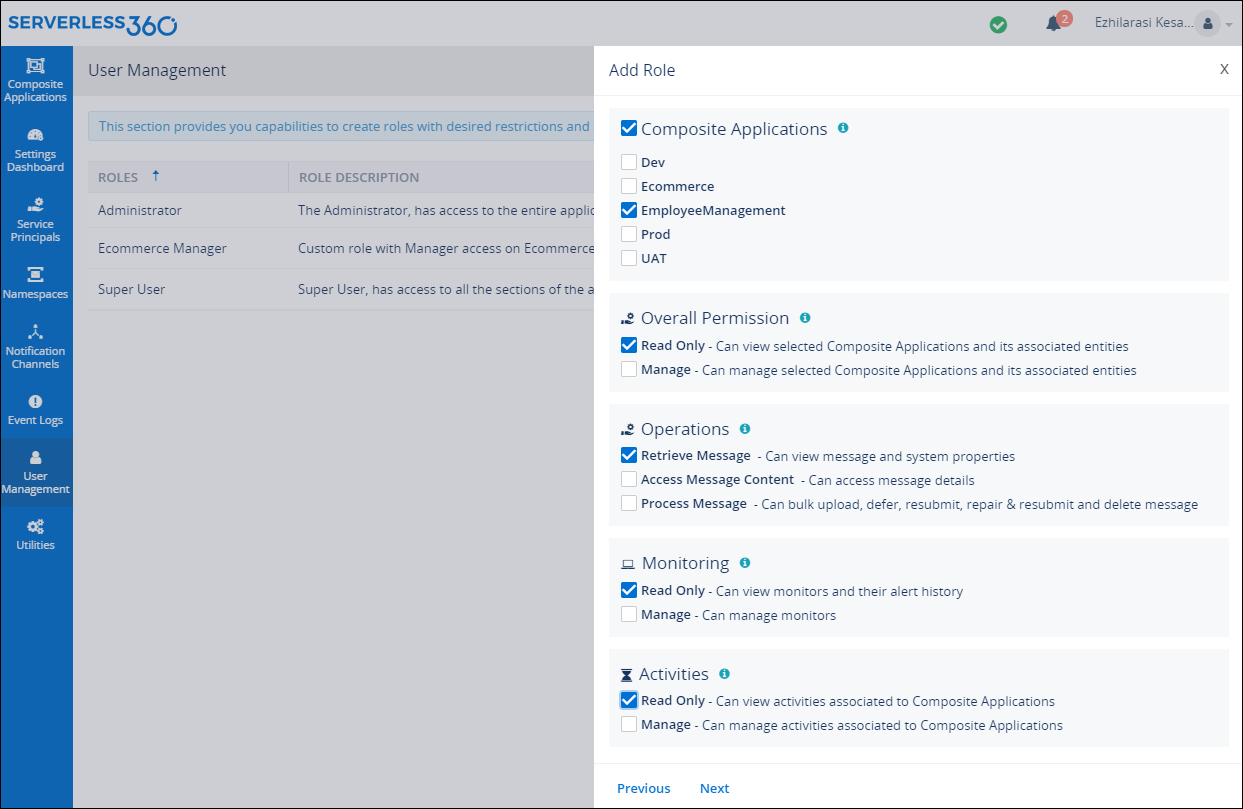 From Serverless360 2.0, a user can view associated entities in a Composite application to which the user is authorized to. Define the manage permission on Technology Stack, explicitly for Service Bus, Logic Apps, and Azure Functions to permit CRUD operations on the associated entities. Choosing,
Manage - can perform CRUD operation on the associated entities
Select View or Download option on Governance & Audit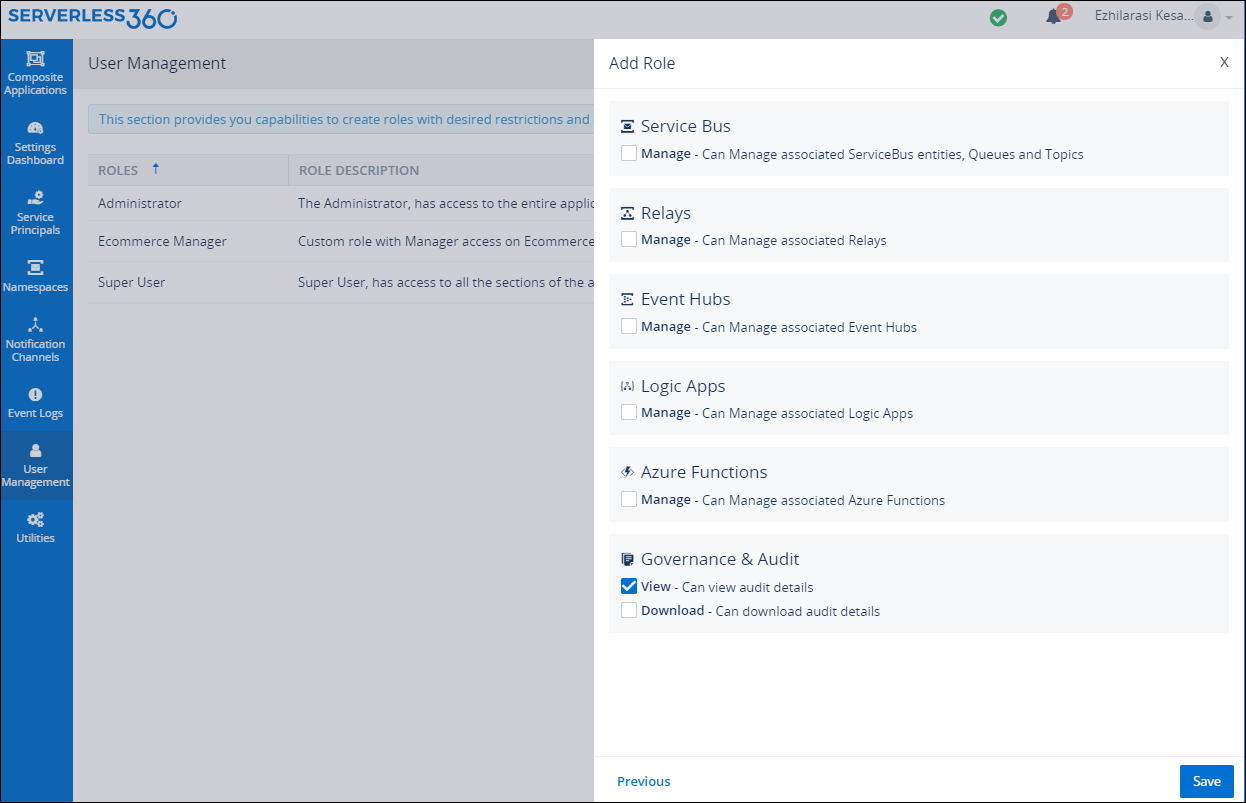 Additional Pointers
Serverless360 custom role can be leveraged to:
Restrict users to hold:

read-only or manage access to a selected Composite Applications (Logical group of Azure resources)
read-only or manage access to a specified Technology stack (Service Bus, Logic App, Azure Function etc)
permission only to Process Messages on entities associated within a Composite Application
permission only to perform a specified action like View and Download Governance and Audit report
as the business scenario demands

Define custom permissions to a group of users
We'd love to hear your thoughts
Was this article helpful?
---