January 2019
Updated on 15 May 2019

2 minutes to read

Contributors
---
January 4, 2019
Here comes the very first release from Serverless360 in the new year, 2019. This release brings in improved management and monitoring capabilities on Event Hubs and Relays and more enhanced Composite Application Dashboard. Below is a quick walk through of the feature list.
1. Import Event Hubs
It is now possible to import Event Hubs from one Event Hub namespace to another using Serverless360. Associate the Event Hub namespaces to Serverless360 using Service Principal or namespace connection string to enable import. The Event Hub property definition will be exactly replicated from the source namespace to the target namespace. This feature when used to replicate the staging to production environment would save considerable development and testing effort.

2. Event Hub Data Monitoring
Data Monitoring in Serverless360 is now extended to include Event Hubs. Create data monitors on extensive set of metrics of Event Hubs. Monitor the Event Hubs in various perspectives with appropriate choice in metrics. If the need is to detect error choose metrics like, 'Server Errors', 'User Errors', 'Quota Exceeded'. To measure Event Hub capture efficiency, configure monitoring on metrics like, 'Capture Backlog', 'Captured Messages', 'Captured Bytes'.
To configure Data Monitoring on an Event Hub it is required that the entity should be associated to Serverless360 using Service Principal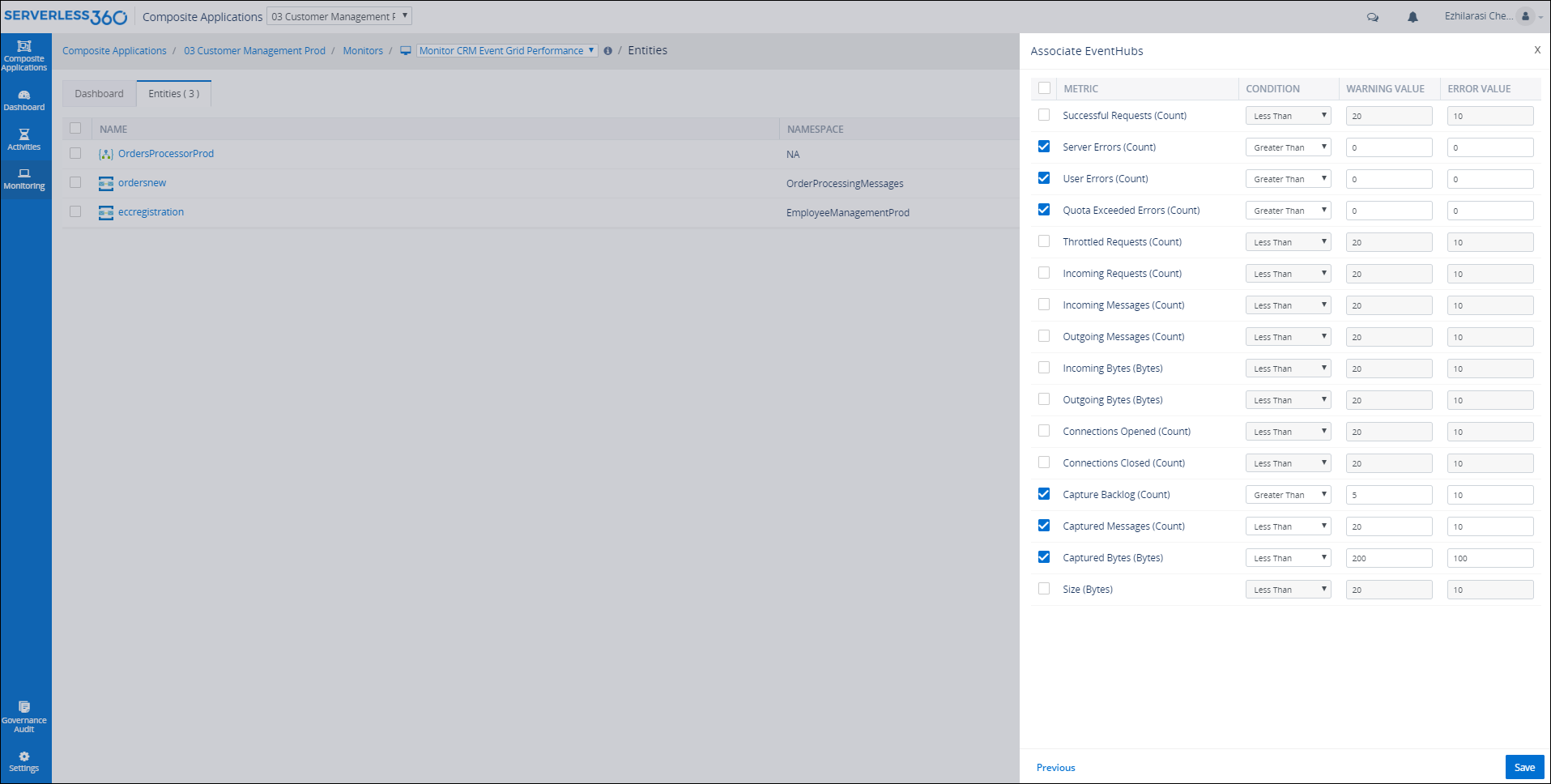 3. Event Hub Partitions monitoring
Another enhancement to Event Hub monitoring in this release is monitoring capability on Event Hub partitions. Status and Threshold monitors in Serverless360 can now monitor Event Hub partitions on their properties.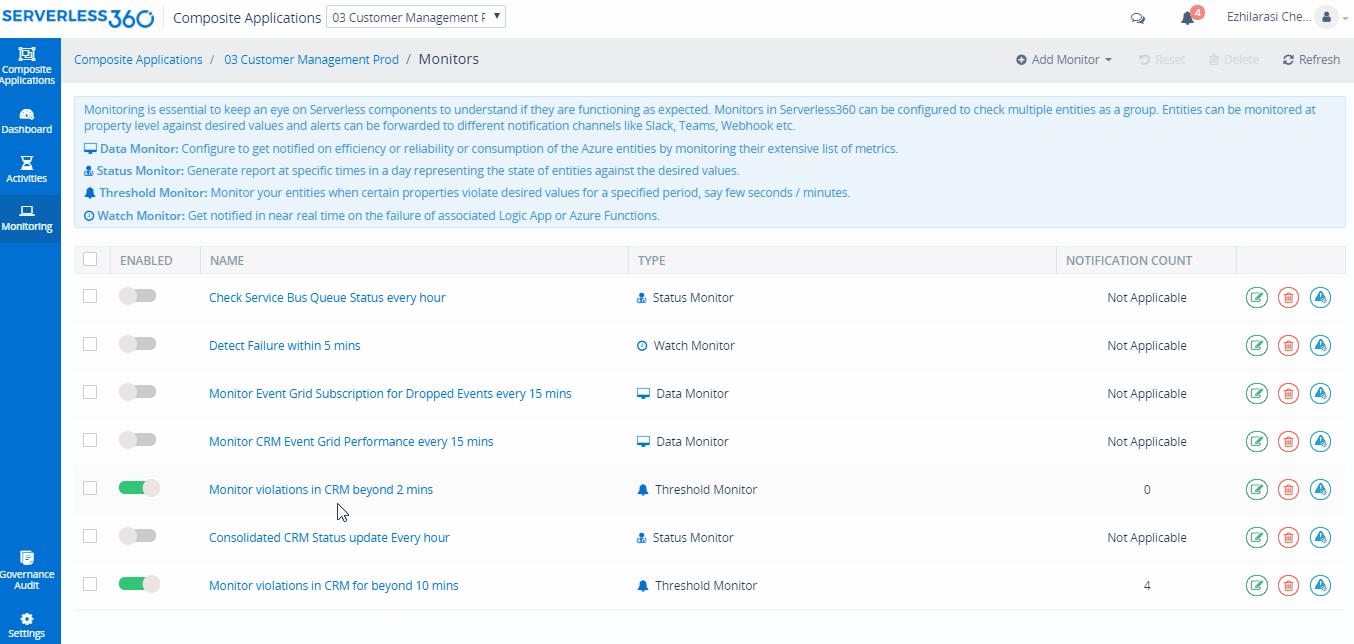 4. Relay Data Monitoring
Data Monitor Relays on their metrics to understand the performance and efficiency of Relays. Monitor for scenarios like, error in Listener or Sender connections, disconnects in Listener or sender, Bytes transferred over a period and so on.
Note
To configure Data Monitoring on a Relay it is required that the entity should be associated to Serverless360 using Service Principal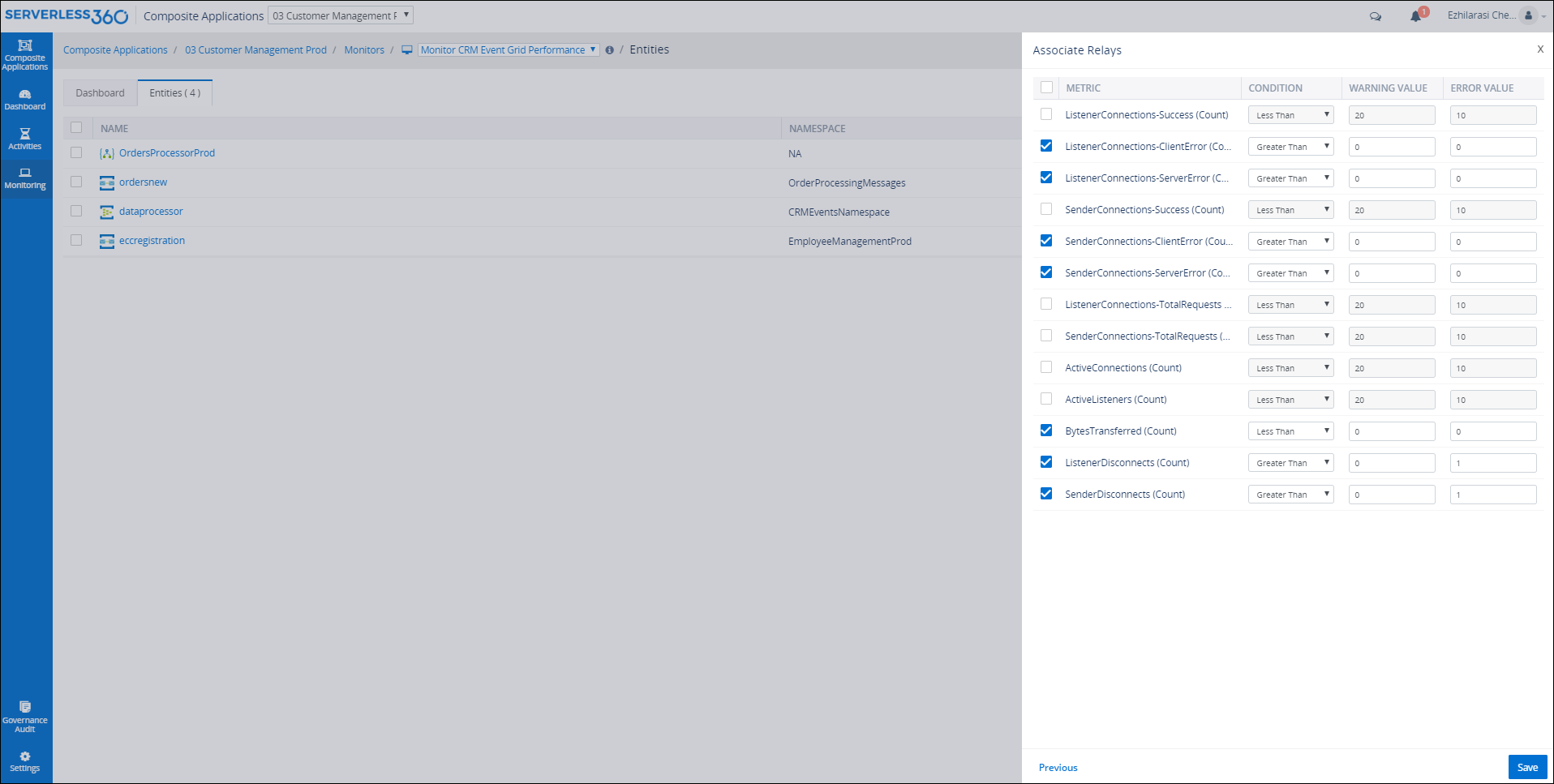 5. Dual view in Composite Application Dashboard
Considering customers with a huge number of Composite Applications, we had brought in an enhancement in the Composite Application Dashboard of Serverless360. Now user can switch between card view and the list view. Card view preferable for customers with less number of Composite Applications. Every Composite Application card would have entity type-wise count and pie chart depicting the status of the entities.
List View is exclusively for customers with huge number of Composite Applications. Every item in the list will display the Composite Application name, total number of Entities, Count of entities by their current state. The user can gather more information by getting into the entity dashboard of a Composite Application.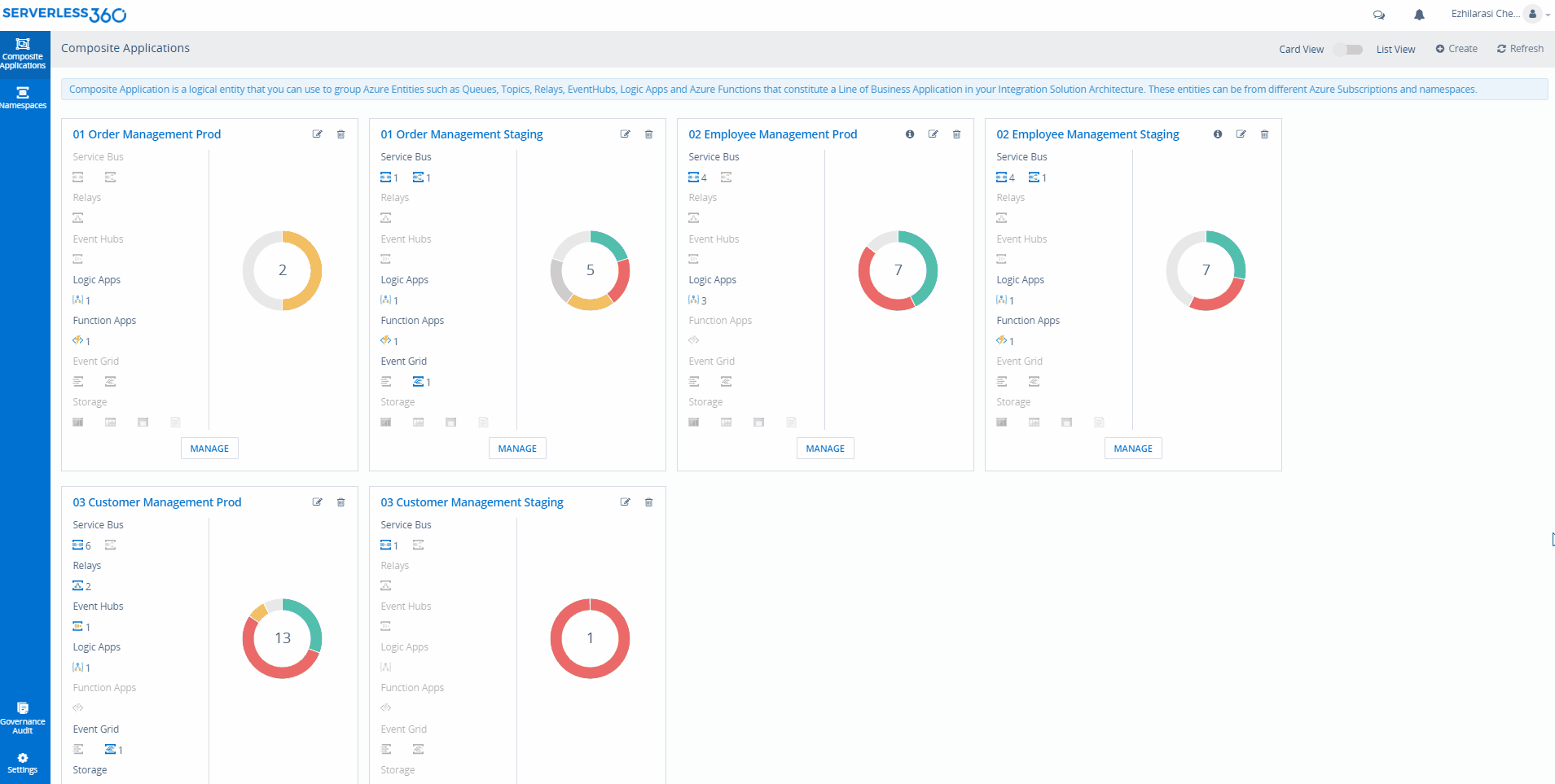 We'd love to hear your thoughts
Was this article helpful?
---