Dec 10, 2018
This had been a busy month for Serverless360 after our major release of version 2.0 in November. We had added significant capabilities mentioned below,
1. Switch Authentication Mode:
Have you selected Basic Authentication mode at the time of sign up and need to switch to Active Directory Authentication mode without loosing your Serverless360 configurations? It is now possible to switch between Basic and Active Directory authentication modes. This action will also be tracked under 'General' section of Governance and Audit for further reference.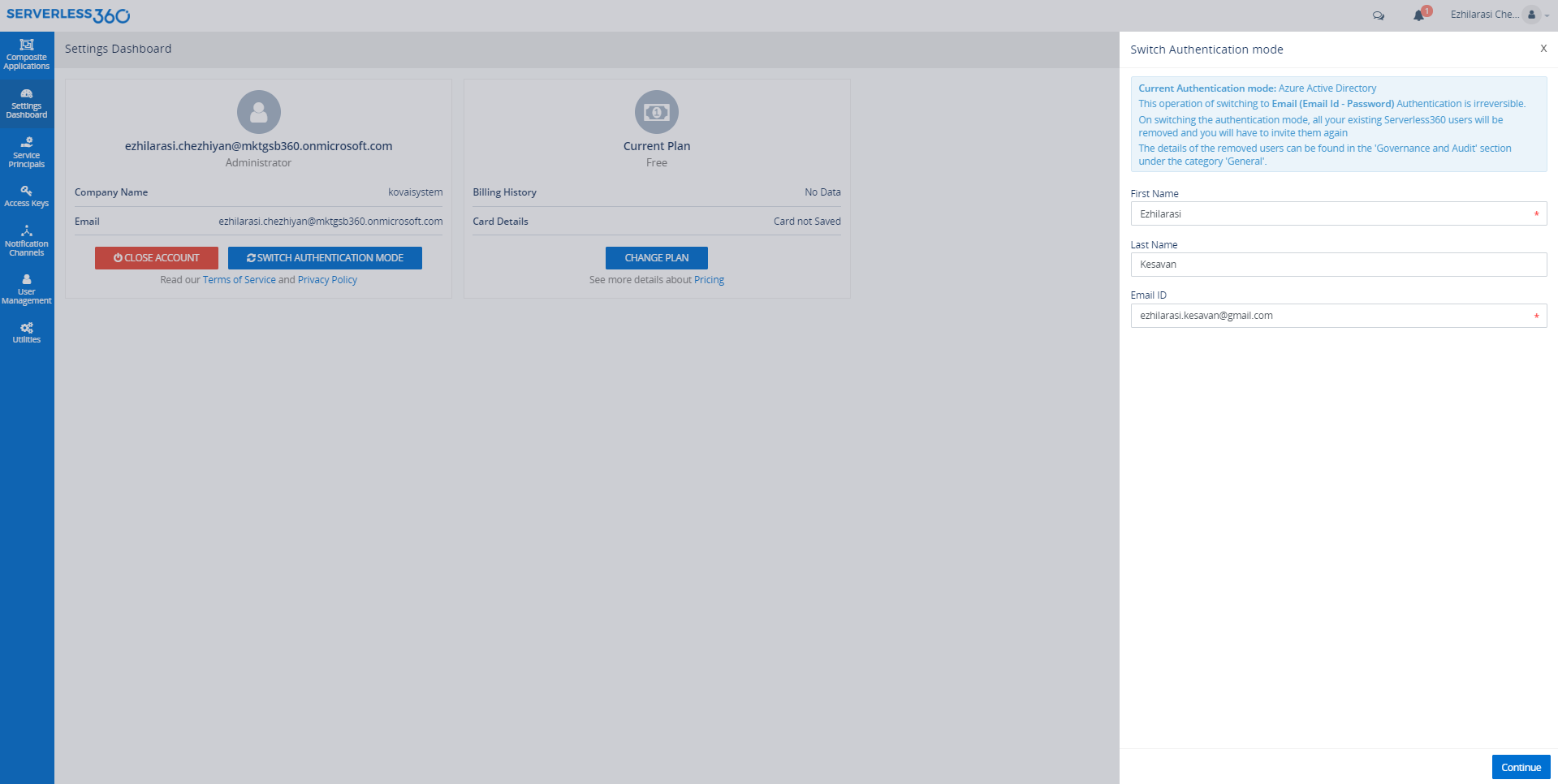 2. Hybrid Relays Management and Monitoring:
It possible now to manage and monitor hybrid relays in Serverless360. Management capabilities include the following,
Create Hybrid Relay
View Properties
Delete Relay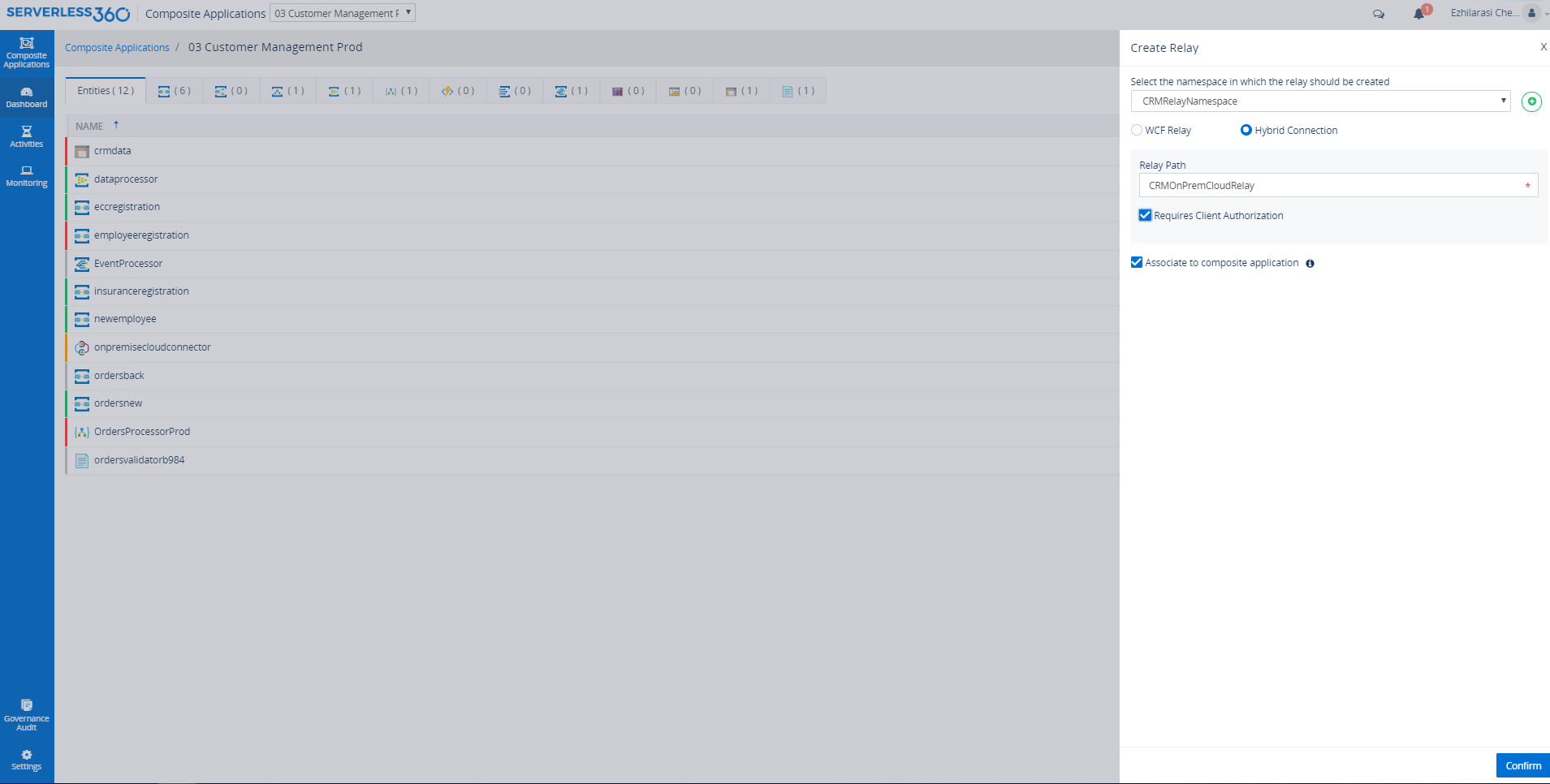 Monitoring a Hybrid relay on its Listener Count is now possible by associating it to a Status or Threshold monitor in a Serverless360 Composite Application.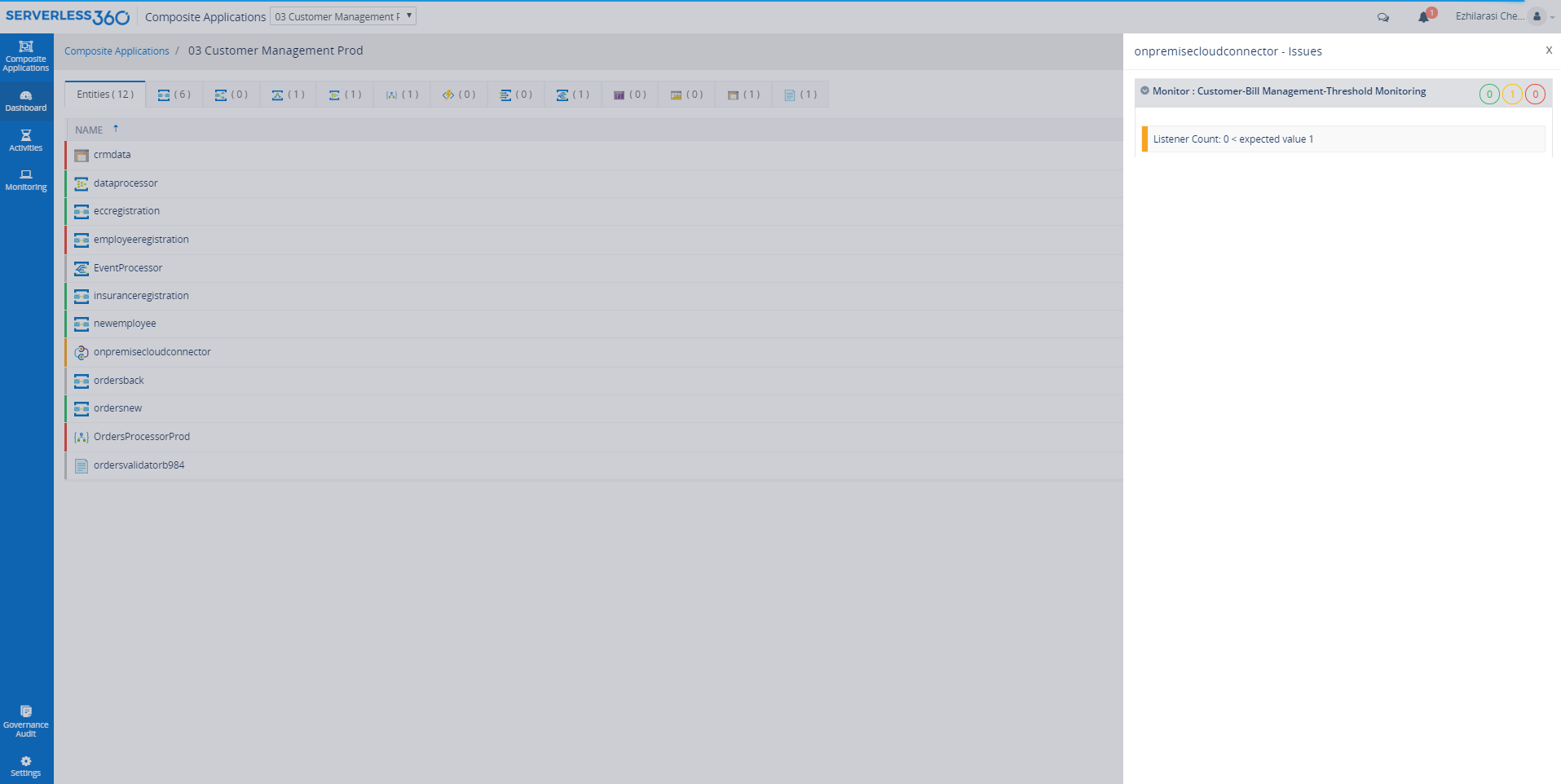 3. Relay Endpoint Monitoring:
Monitoring a relay or hybrid relay endpoint in a Status or Threshold monitor is an latest inclusion Serverless360 monitoring capabilities. It is now possible to monitor the response and responsiveness of a relay endpoint. Below is an illustration to guide on adding an relay endpoint to a Threshold monitor. Similar would be the procedure to monitor a relay end point in a Status monitor.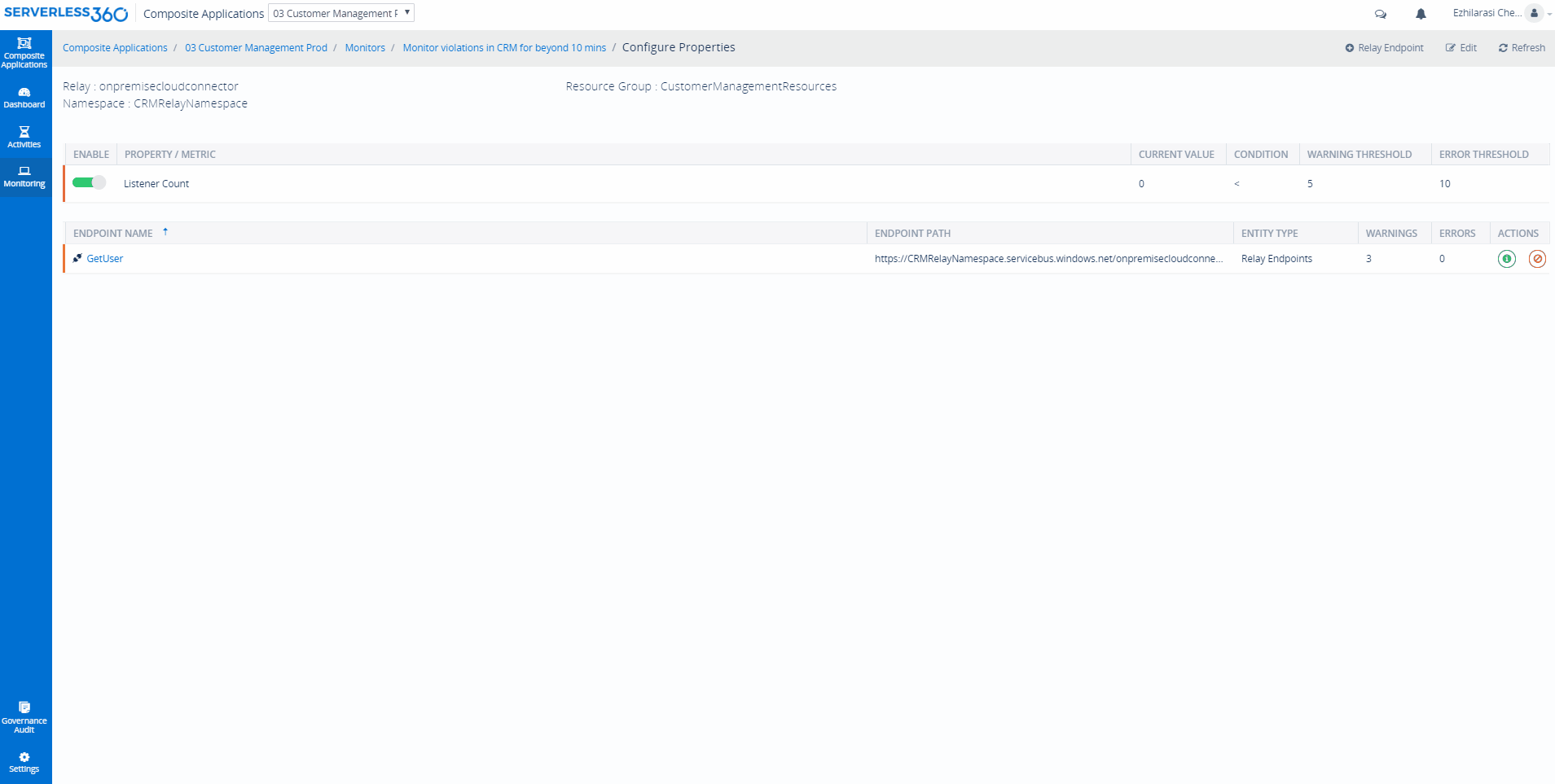 4. Watch monitor on API endpoints at custom frequency:
There was a need to custom define watch monitor frequency which was earlier predefined as 5 minutes. Now it is possible to custom define the watch monitor frequency from 5 mintutes to 15 minutes.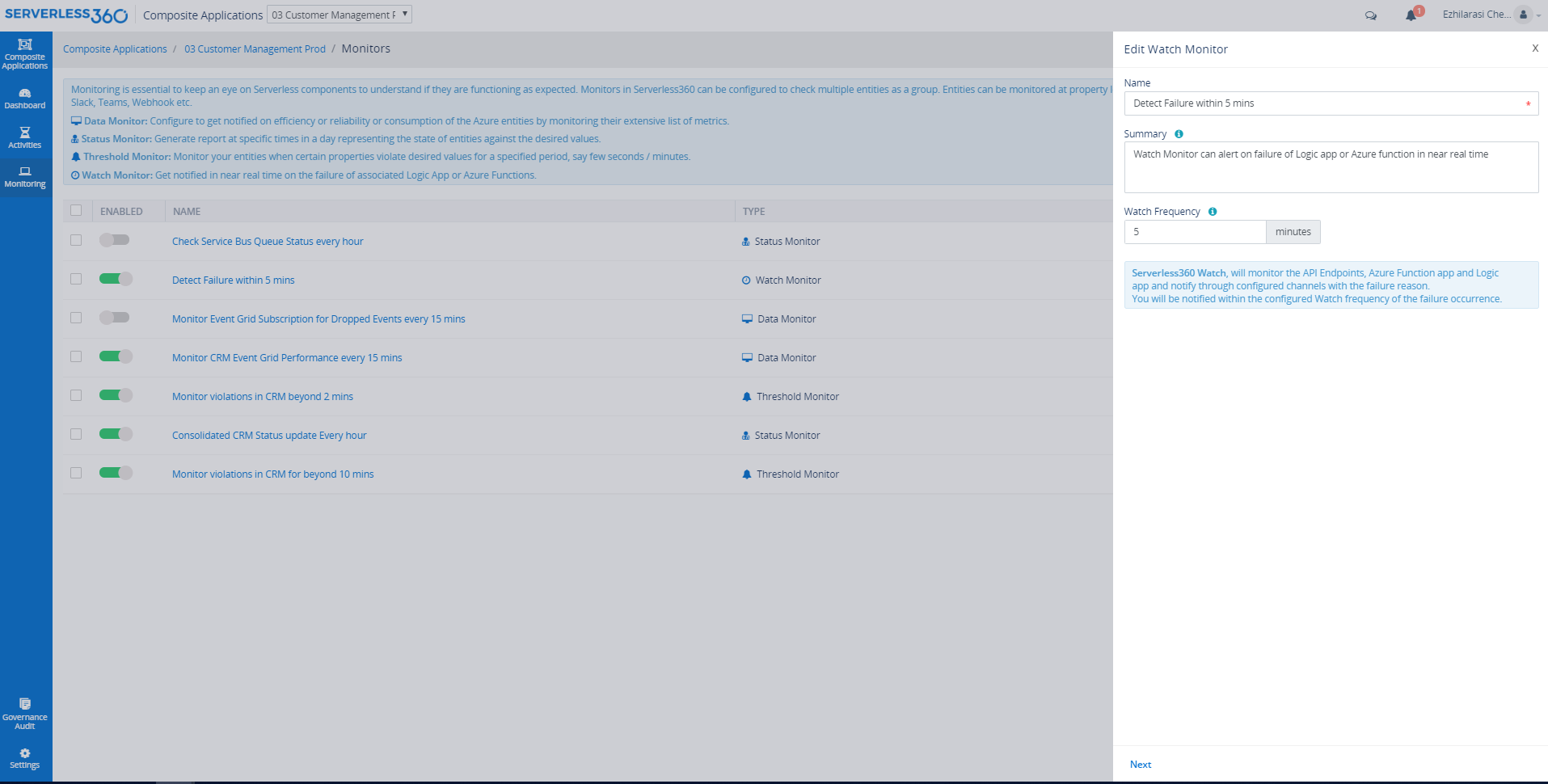 Along with Logic App and Function App watch monitor now supports API endpoints too.
API endpoint added to a Threshold monitor will be pinged every 1 minute. If this is found to be too often, monitor the api endpoints for response and responsiveness at custom defined frequency using new improved Serverless360 Watch Monitor.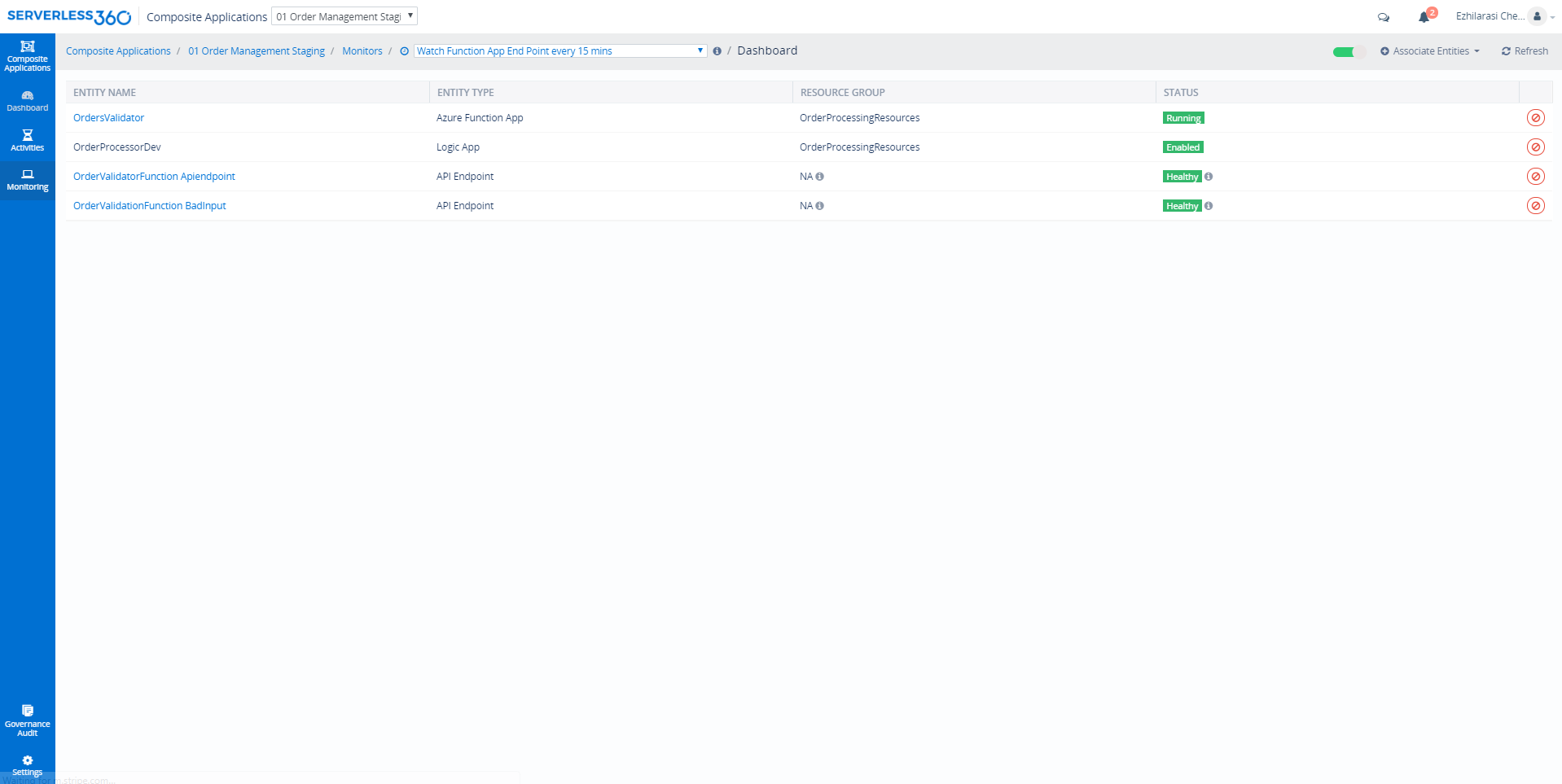 5. Resubmit to source Queue or Topic only:
Business scenarios would demand to restrict certain users from resubmitting the dead letter messages of a Service Bus Queue or Topic to any other Service Bus Queue or Topic. User Access Policy definition in Serverless360 now accomodates this requirement by letting the Administrator or Super User define custom roles with or without permissions to resubmit to Service Queues or Topics other than the Source Queue or Topic.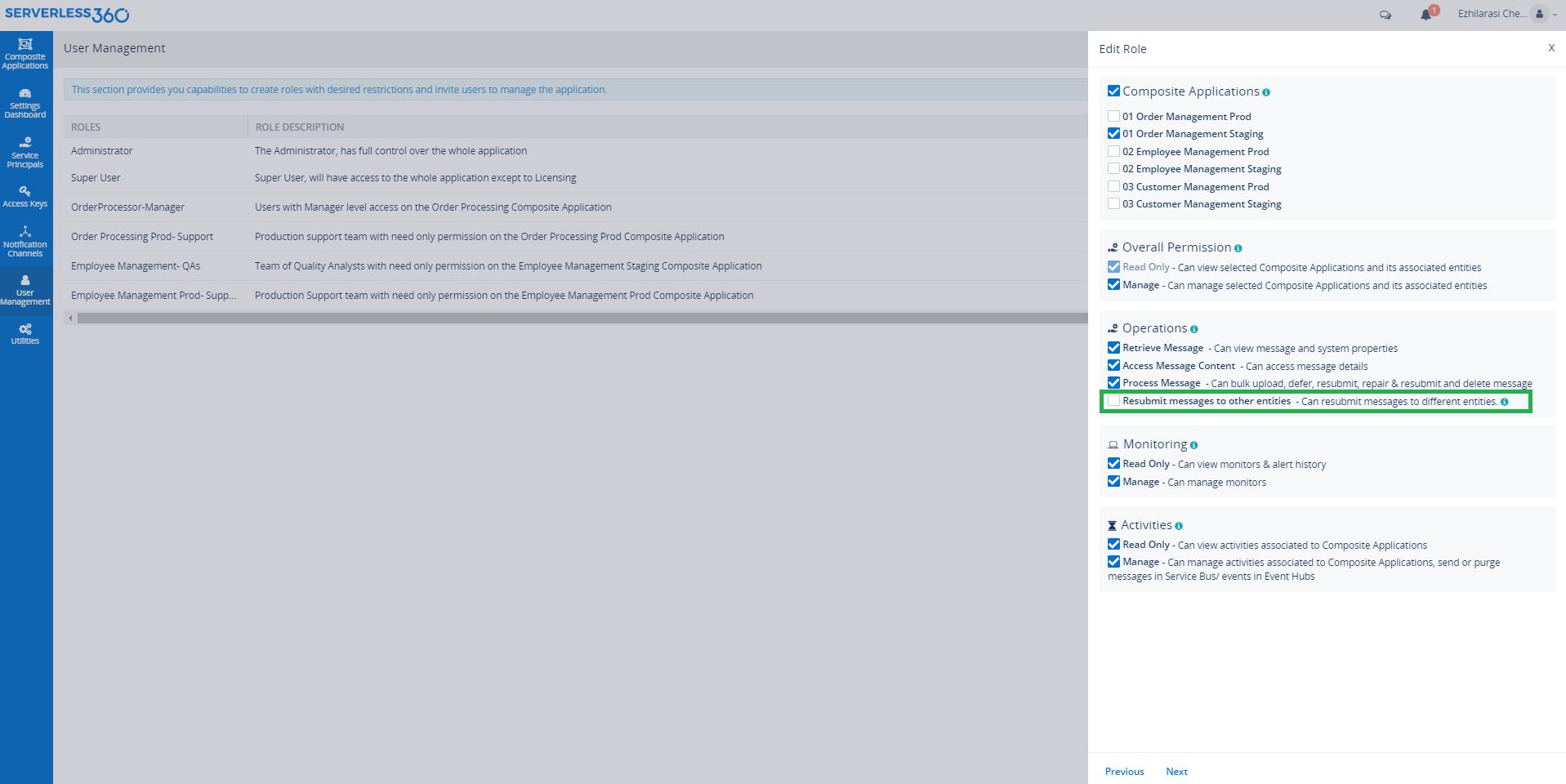 6. Bulk Monitor Configuration for similar resources:
If the requirement is to define a common monitor configuration based on the resource type at the organization level, manually repeating the same configuration definition for each resource is a redundant and time consuming process. To overcome this Serverless360 now allows the user to define the monitor configuration for multiple similar resources at a go. This is possible is Status, Threshold and Data Monitors wherever the enity monitoring configuration was applicable. Below is an illustration on bulk configuration of selected queues in a threshold monitor. Similar action is possible on Status and Datamonitor configurations too.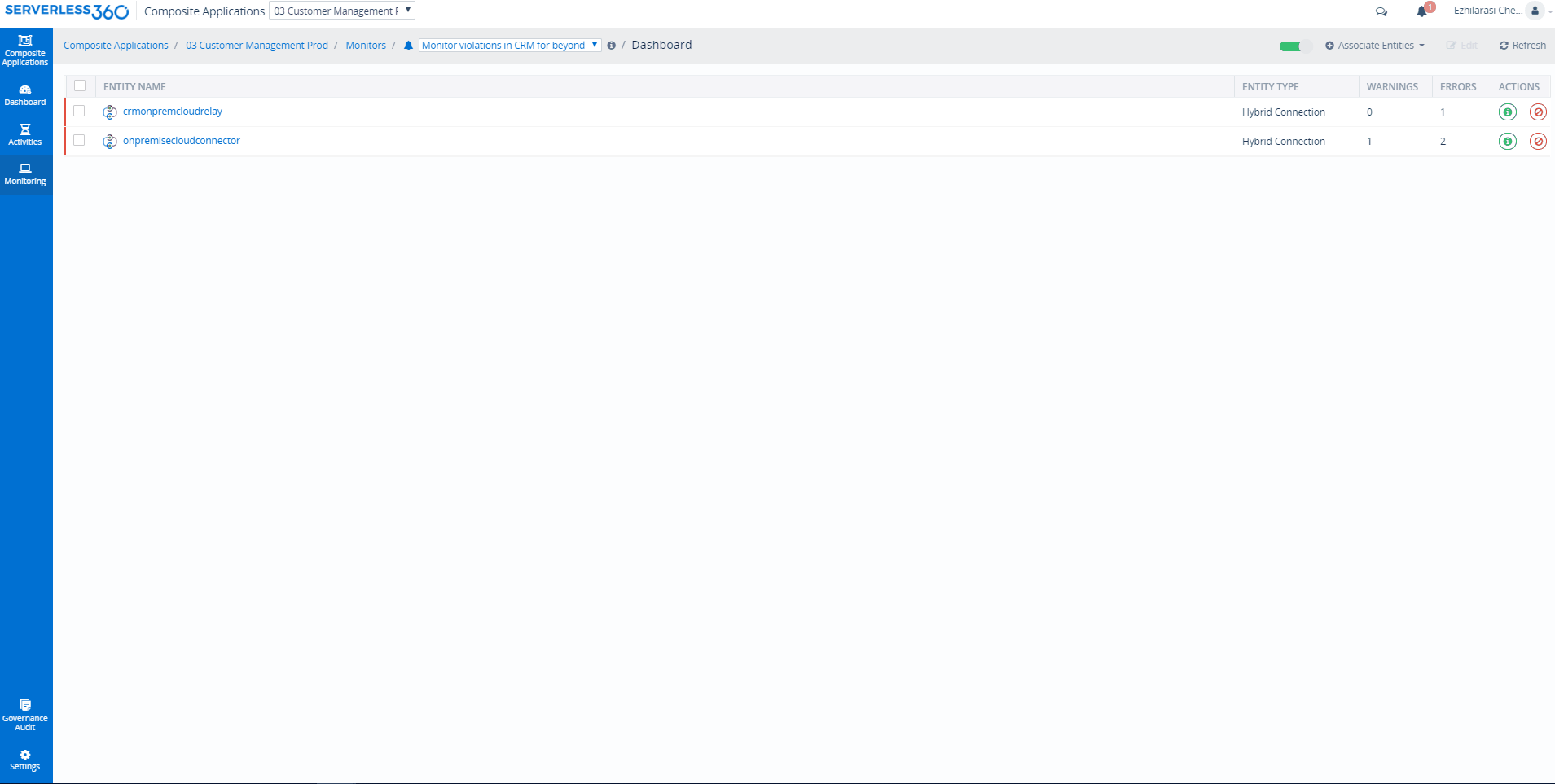 Nov 06, 2018
This marks a major release of Serverless360 version 2.0
1. Expanded Spectrum:
Serverless360 has significantly expanded its spectrum to include various Azure Serverless offerings to the existing list of Service Bus, Logic App, Function App, Event Hubs and Relays that include Event Grid, Storage Accounts. Recently added capabilities worth mentioning include,
Monitor Event Grids
Monitor Storage Accounts (blobs, queues, and files)
Upload bulk messages from excel to Azure Service Bus
Backup Azure Service Bus messages to Azure Storage blob
Improved usability with message beautification wherever applicable
Watch monitor on Logic App and Function App
2. Enhanced Composite Application dashboard:
Serverelss360 Private Hosting v2.0 brings an enhanced composite application dashboard, with graphical representation for resource monitoring status. This dashboard view provides the user an instant understanding on the associated resource status based on the configured monitors.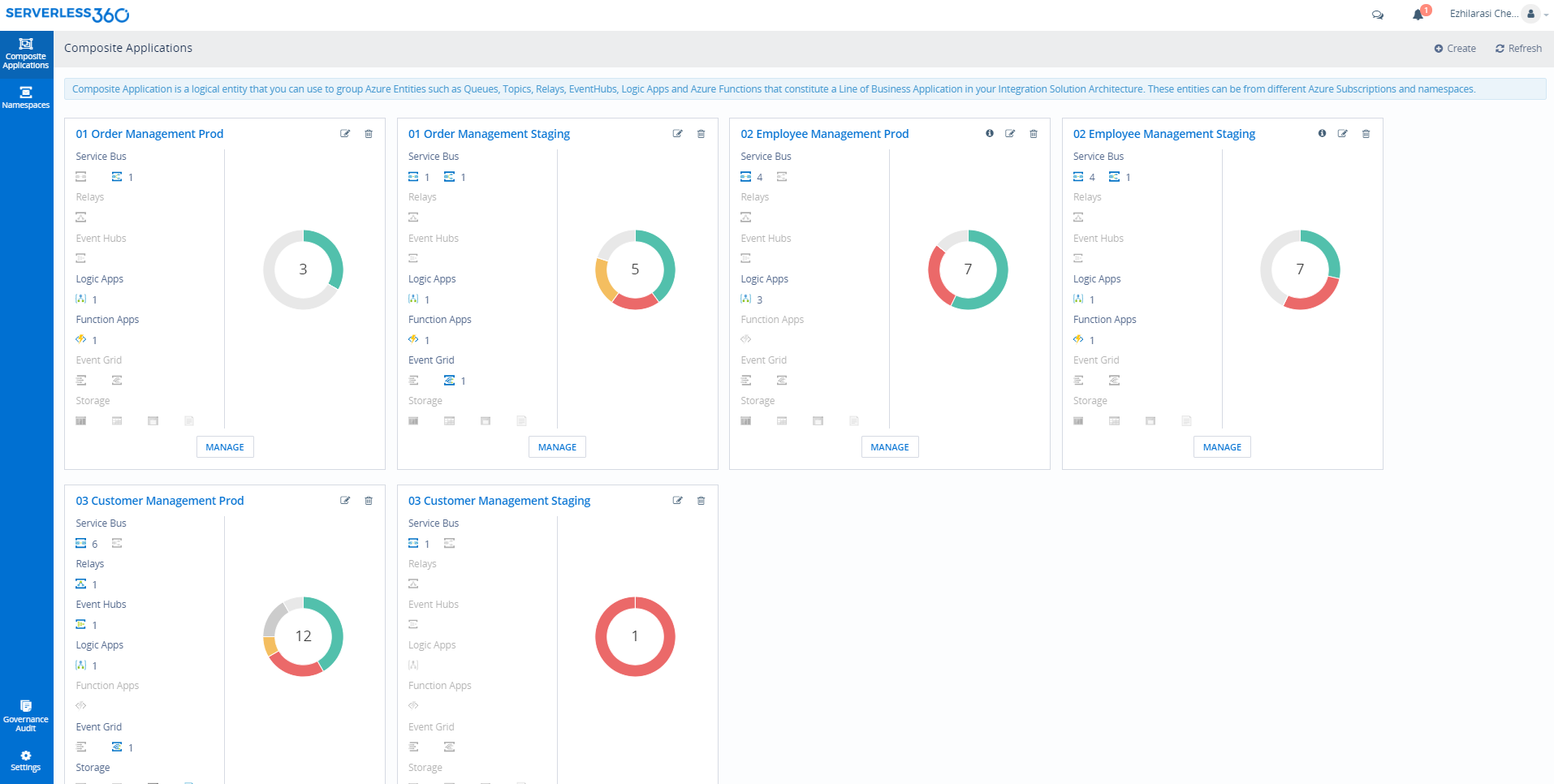 Every composite application now presents all the resources at one glance with current monitoring status and instant access to the monitoring issues in detail.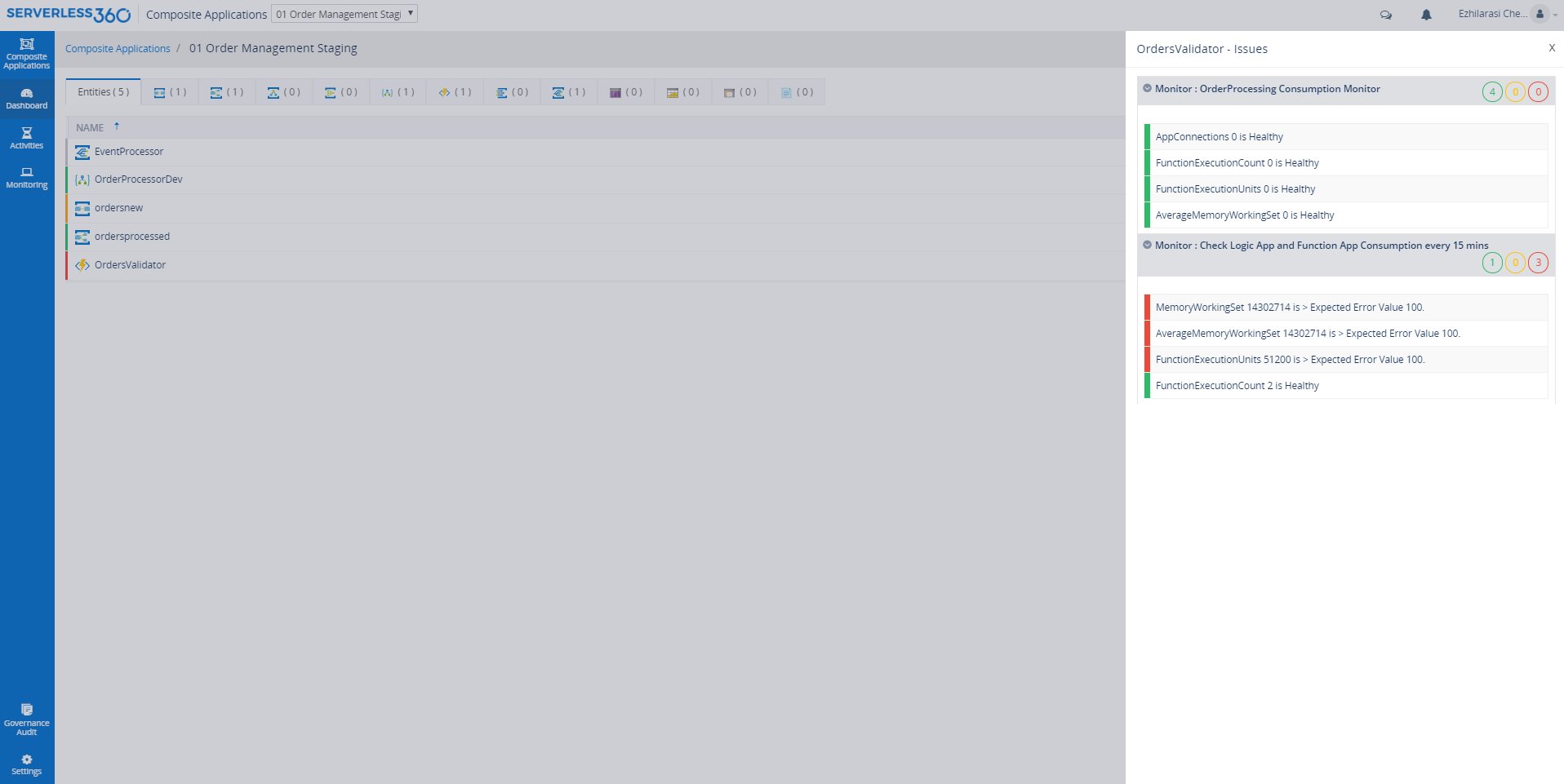 3. Choice in authentication mode, Azure Active Directory or Basic Authentication:
Serverless360 now has support to 2 authentication modes, Azure Active Directory and Basic authentication modes. The choice can be made at the time of initial configuration after successful installation of Serverless360 application.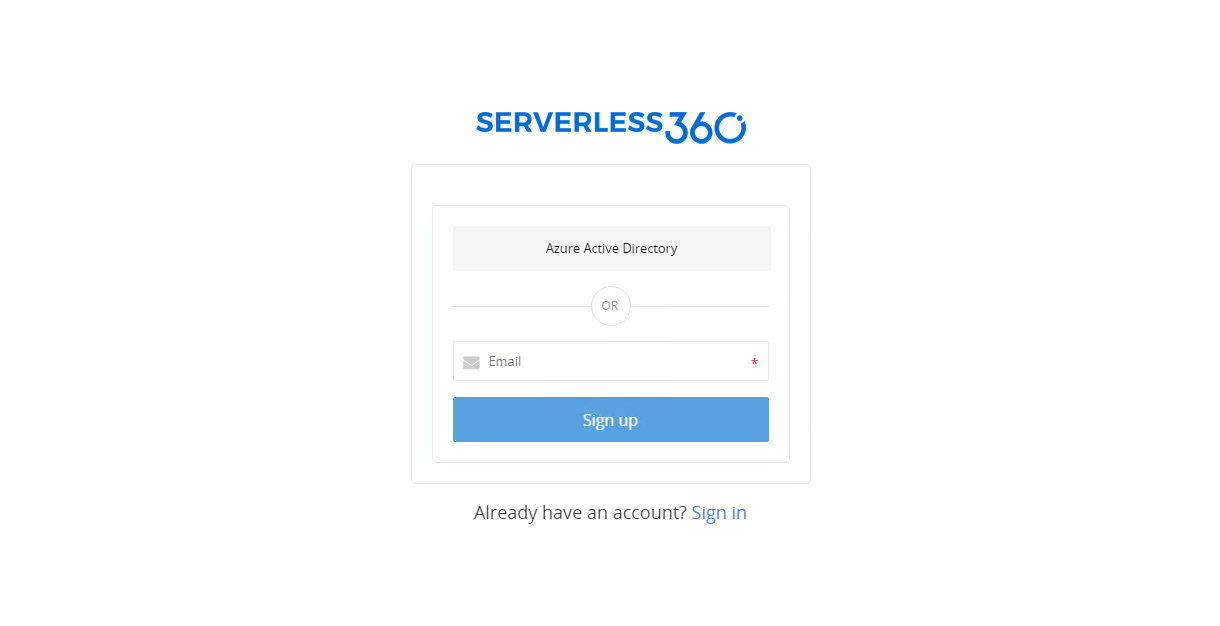 4. Comprehensive monitoring:
Monitoring is essential to keep an eye on Serverless components to understand if they are functioning as expected. All the monitors in Serverless360 can now be configured to check multiple resources as a group.Resources can be monitored at property level against desired values and alerts can be triggered to different notification channels like Slack, Microsoft Teams, Webhook etc.
You can choose from the following 4 monitors based on your use case:
Data Monitor: Configure to get notified on efficiency or reliability or consumption of the Azure resources by monitoring their extensive list of metrics.
Status Monitor: Generate report at specific times in a day representing the state of resources against the desired values.
Threshold Monitor: Monitor your resources when certain properties violate desired values for a specified period, say few seconds/minutes.
Watch Monitor: Get notified in near real time on the failure of associated Logic App or Azure Functions.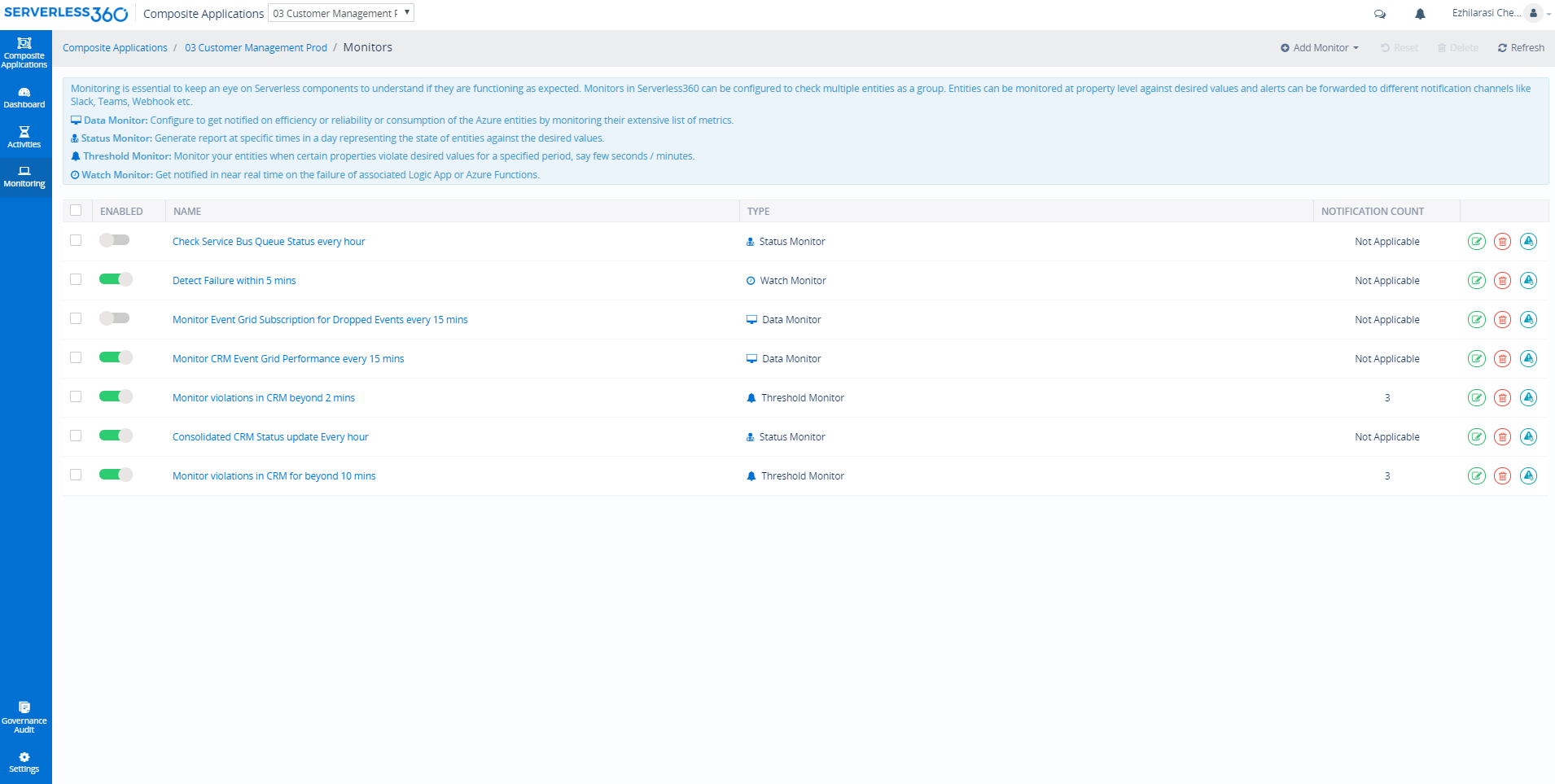 5. Namespace association using connection string:
Service Bus messaging namespace, Event Hub namespace and Relay namespace can now be associated to Serverless360 using connection string. Connection String with Manage claims policy is necessary to operate on Azure Namespaces. This can be collected from Azure Portal for any namespace at Settings -> Shared Access Policies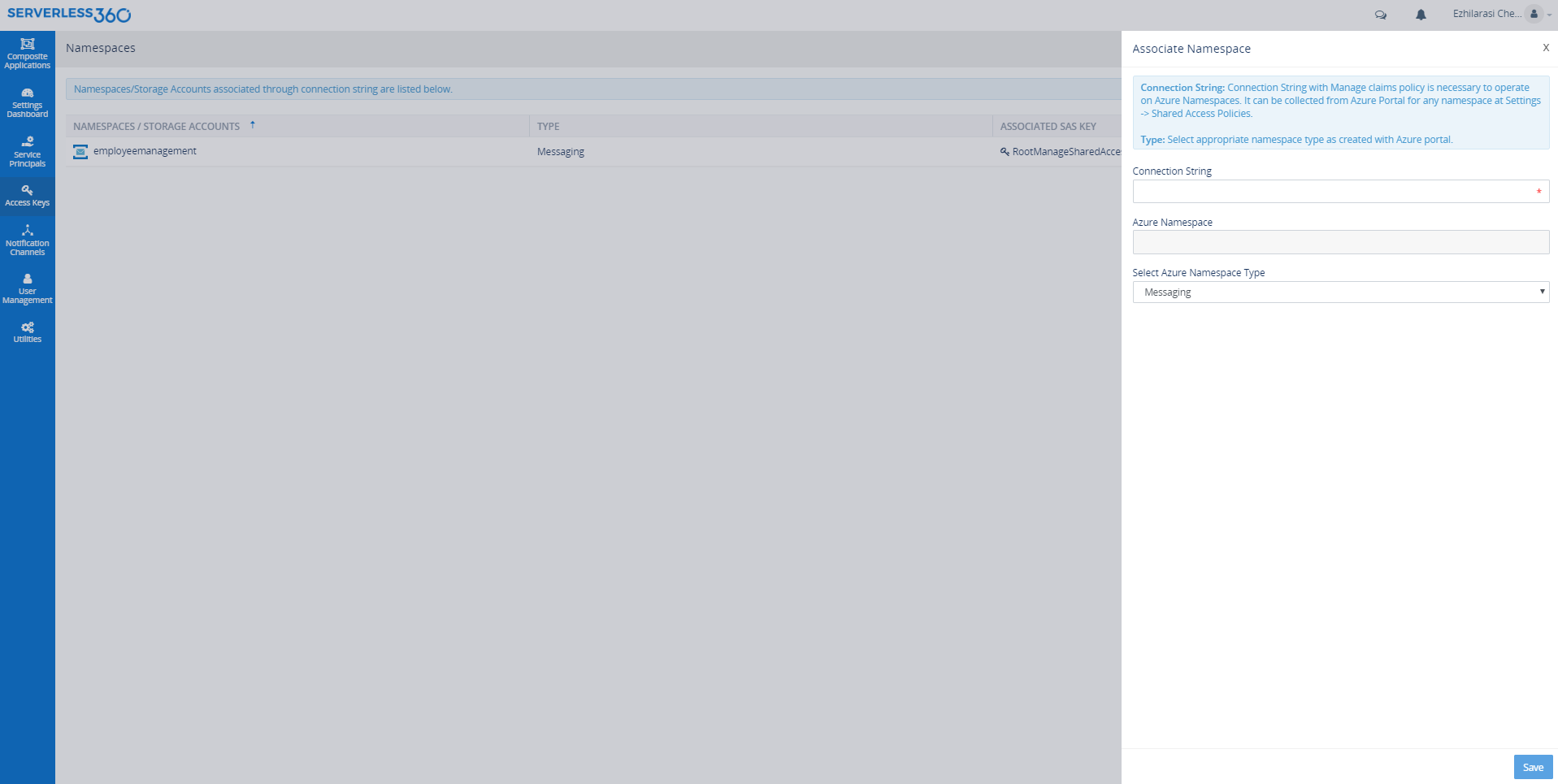 6. Resource management capabilities with in Composite Application:
No more switching between Composite Applications and Management Stack. Management actions like  creating or deleting resource , editing resource property edit, managing share access keys, enable/disable on resources along with composite application actions like send messages, upload messages etc., all can be accessed at one place. However, the user access policy still facilitates restricting permissions only to desired actions.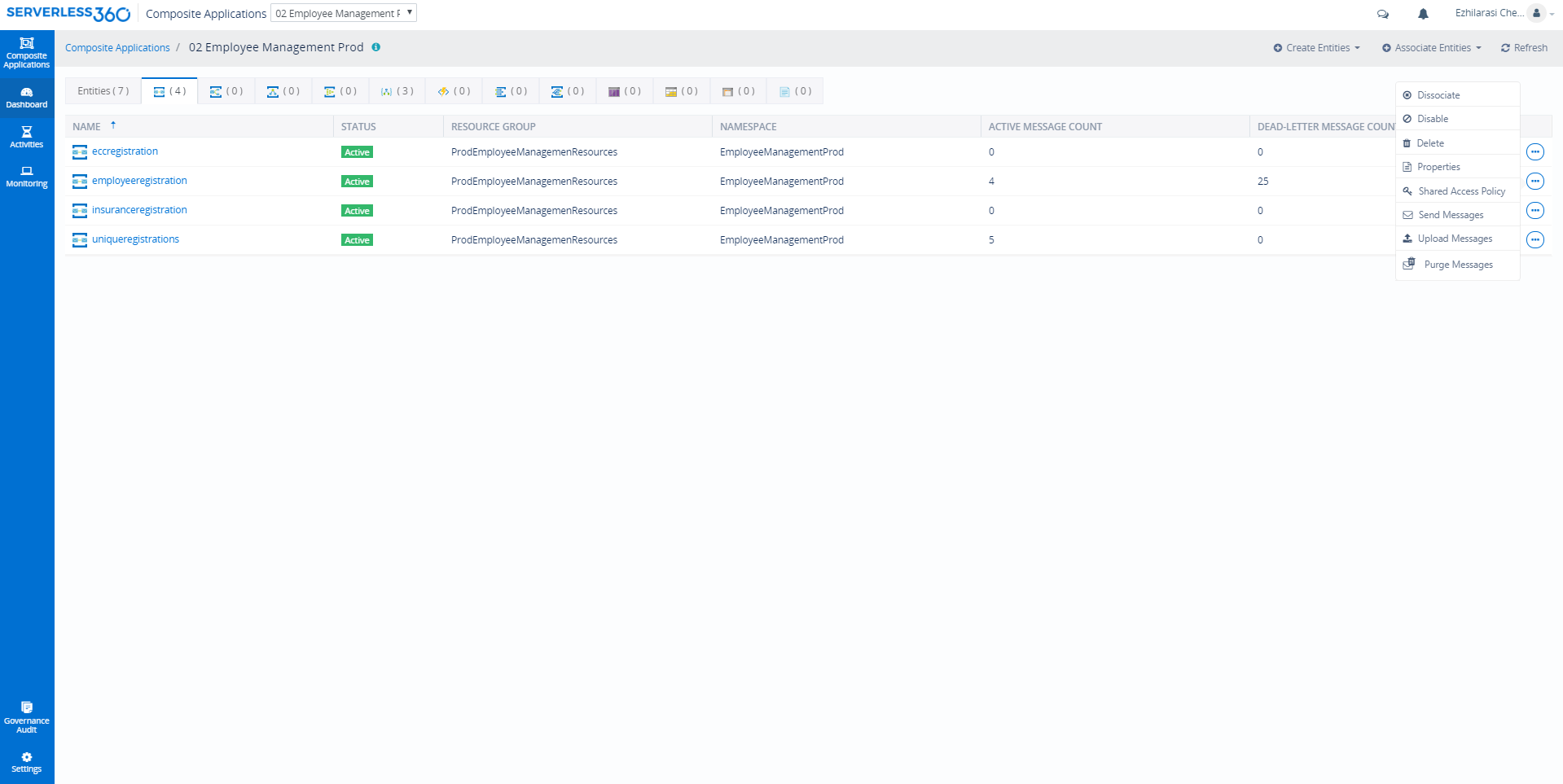 7. Enhanced Watch monitor for Logic App and Azure Function:
Watch monitor now can accommodate multiple resource mapping to a single watch monitor and provides more details in the failure reason. This will help the user to better resolve the Logic app or Azure function failure.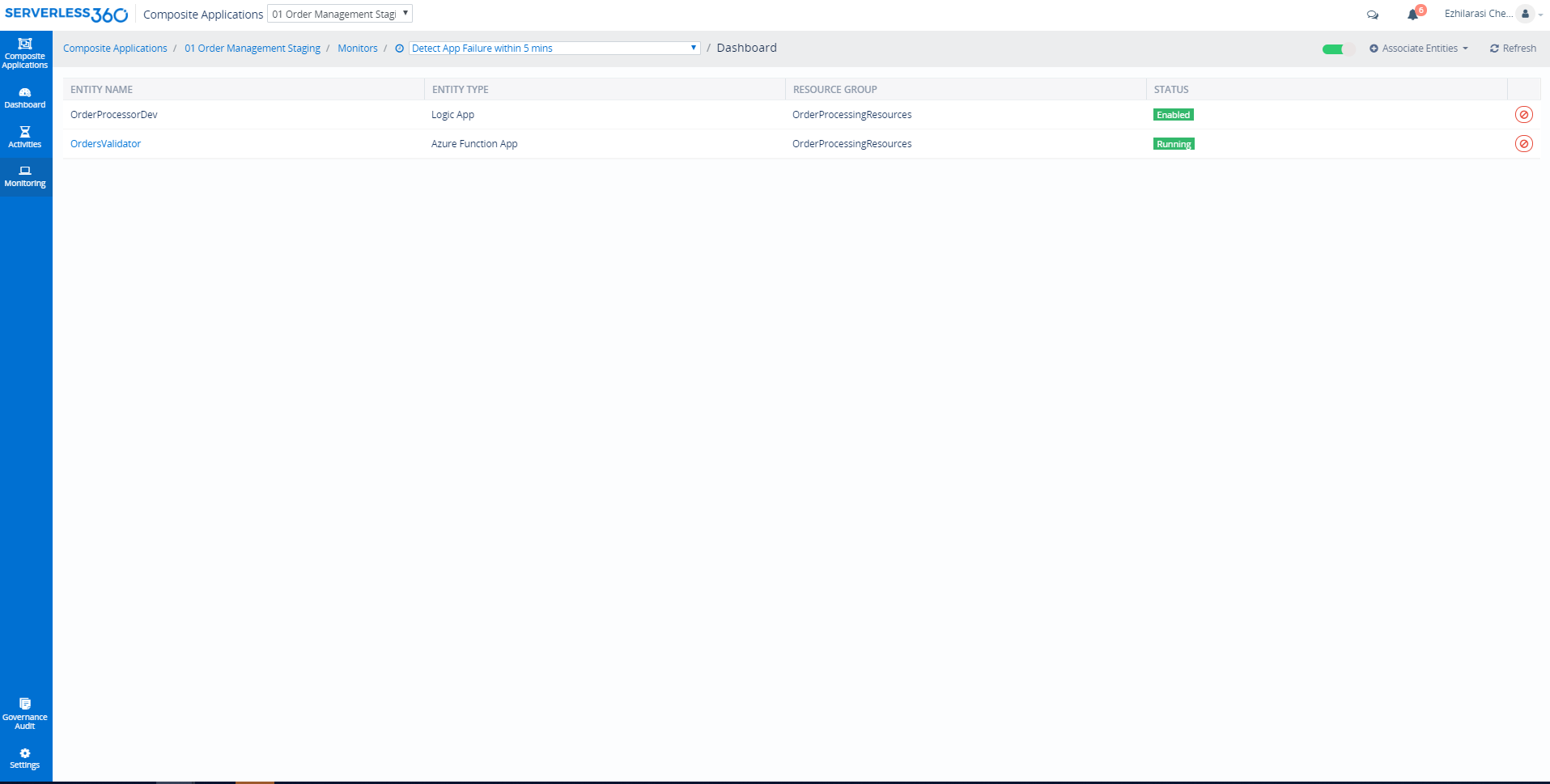 8. Improved Usability and Performance :
Usability and performance has been improved throughout the application for a better user experience.
Aug 06, 2018
1. Upload bulk messages from excel to Azure Service Bus
We have added the capability to send multiple messages from an excel sheet to the selected Azure Service Bus Queue or Topic. You can download the excel template to fill in the message details (MessageId, MessageContent, SystemProperties, CustomProperties) for multiple messages. The completed excel sheet can be uploaded to Serverless360 to process and send messages to the Azure Service Bus queue or Topic, associated to a Composite Application. Servereless360 validates the excel message before processing to the Azure Service Bus Queue or Topic.
2. Backup messages to Azure Storage blob
It is now possible to back up Azure Service Bus message to Azure blob storage at the time of message resubmission or deletion. You can do this by associating an Azure Storage Account to Serverelss360. This will be used to store any files or messages while being processed. This is not mandatory, but should be configured if you want to store data for your future analysis. Some of the operations that can use this storage are Resubmit messages, Repair & Resubmit messages and Delete messages.
3. Watch on Azure Logic Apps and Azure Functions
In this release, we are introducing watch on Azure Logic Apps and Azure Function Apps associated in Serverless360 Composite Applications. Enabling watch on an associated Logic app will continuously monitor the Logic app, triggers and run actions to notify the user, within 5 minutes of the failure along with information on error reason. Notification will be shared on the configured notification channels. Similarly, enabling watch on an associated Azure Function will continuously monitor the executions of the selected Functions under the Function Apps.
4. Timezone Fixes
We have implemented standardized TimeZone usage across the application to improve user experience. All time displays on UI will be in User Time Zone and will be handled in UTC format at Server side.
5. Product Feedback Tracker
We have integrated a new feedback portal in the application where you can log your New feature requests, and any other suggestions related to this product. You can also look in to the product roadmap to access the product for your requirements.
May 31, 2018
Download governance and audit logs: ServiceBus360 logs various user activities performed on the operations and messaging sections. Now, you can download these governance and audit logs as PDF or Excel to your local machine.
Create Topic Subscription rules: Subscribers can define which messages they want to receive from a topic. These messages are specified in the form of one or more named subscription rules. Each rule consists of a condition that selects particular messages and an action that annotates the selected message. Now you can create Rules from ServiceBus360 UI.
May 25, 2018
Azure functions: We extend our service to manage Azure Functions in Composite applications. View Invocation Logs of functions within the associated Azure function apps.
Monitoring for Azure Functions apps: Monitor Azure function app based on state and the historical data (Data Monitoring) with the help of various metrics.

State based monitoring
Data monitoring
Download Message: Download messages of Queues and Topic Subscriptions in compressed format. Once you retreive active/dead letter messages you can download the message(s).
Shared Access Policy CRUD: You can Create, Read, Update and Delete Shared Access Policy for Queues, Topics, Relays and Event Hubs within ServiceBus360 that will be reflected in your Azure portal.
User data encryption: The user information are encrypted for GDPR acceptance.
May 01, 2018
Data Monitoring for Azure Service Bus Queues and Topics: We extended the data monitoring feature to Azure Service Bus Queues and Topics. Data monitoring in ServiceBus360 is to help administrators keep a watch on specific metrics for a defined time period. Data Monitoring is the concept of alerting based on historical data. Example: "If total count of messages arriving at Azure Service Bus Queues exceeds over 500 every 30 minutes, then send me an alert". With Azure Service Bus Queues and Topics data monitoring capability, ServiceBus360 covers about 11 different metrics such as:

Successful Requests
Server Errors
User Errors
Throttled Requests
Incoming Requests
Incoming Messages
Outgoing Messages
Active Connections
Size (Bytes)
Count of Messages
Count of Active Messages
You can now Regenerate/Modify or Edit a message ID when you try to resubmit a message to a 'DuplicateDetection' enabled Queue, this will help you to prevent the message from being lost. When you choose automated regeneration, the system will assign a new GUID as Message Ids. Alternately, you can edit to set custom message ids. for eg: invoice/201#/####.
Similarly, When you schedule a dead letter activity (to resubmit messages) for a 'DuplicateDetection' enabled Queue you can automatically regenerate the Id of the messages to prevent it from getting lost. In this scenario, the message id's will be replaced with randomly generated GUID.
Activity History is moved from Governance and Audit section to the Activities section. This will help the users to find the Activity audit log within that section.
Jan 5, 2018
Associate Namespaces using Connection String
With the new portal, we made the switch to using Service Principals to associate namespaces. Based on customer feedback, we brought back this facility of associating namespaces using a connection string. Now, the user has both these capabilities to associate namespaces.
Audit repair and resubmitting messages to Queue or Topic
ServiceBus360 had the capability to repair and resubmit messages back to the queue or topic. This activity got recorded in the Governance/Audit as a single activity under "Messaging" called "Message Resubmitted". Now, we improved the functionality for the audit log to reflect the old message, the newly modified message, and the status will now reflect as the message is "Repaired and resubmitted" back to the queue/topic.
Monitor multiple metrics in data monitoring
ServiceBus360 allows configuring multiple metrics in a single data monitor settings. For example, the user can measure the count of runs started, runs failed and runs successful in a single data monitor configuration.
Send messages to session enabled topic-subscriptions
User can now send messages to topic-subscriptions with the "session id" parameter. In case, the session id parameter is not provided while sending the message, the message will automatically become dead-lettered.
Display namespace name and resource group in Monitoring Dashboard
Monitoring dashboard will display the Namespace name and the Resource group of the resources associated with an alarm. When the Namespace is associated using Service Principal, then both the Namespace Name and Resource group will be displayed. If the Namespace is associated using the Connection String, then only the Resource group will be displayed.
We'd love to hear your thoughts
Was This Article Helpful?
---