License Types
This article links to a list of the available licensing types in Serverelss360. Once you install Serverless360, the first and foremost step is to activate the license. Serverless360 offers the following licensing options,
Trial - A trial license lets you run Serverless360 in trial mode allowing access to all features for a specified period (usually 15 days). The trial period will start from the date of activation.
Commercial - On successful trial if you find Serverless360 to solve your challenges, purchase a commercial license. The commercial license period starts from the date of issue.
How to get a commercial license?
To procure a commercial license contact the Serverless360 licensing team at contact@serverless360.com
Requesting a License
Let's assume that you have evaluated Serverelss360 trial and requested for a commercial license to Serverless360 licensing team by sending an email to contact@serverless360.com. You will receive a License and Service Certificate issued by Serverless360 licensing team (as shown below) with the details required to activate the license for the environment.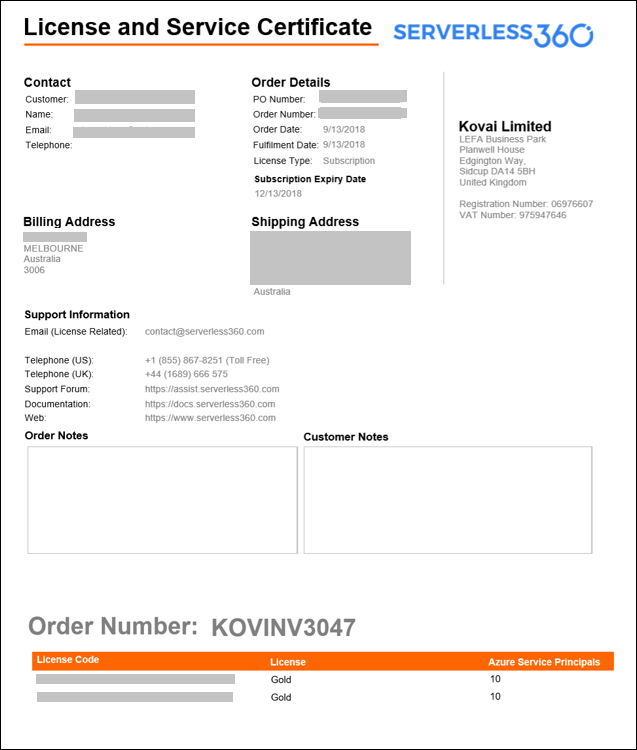 Activating a License
On receiving the license information, Order Number and the License code, activate the license at Serverless360 application. The application will prompt the user to provide a valid trial or commercial license.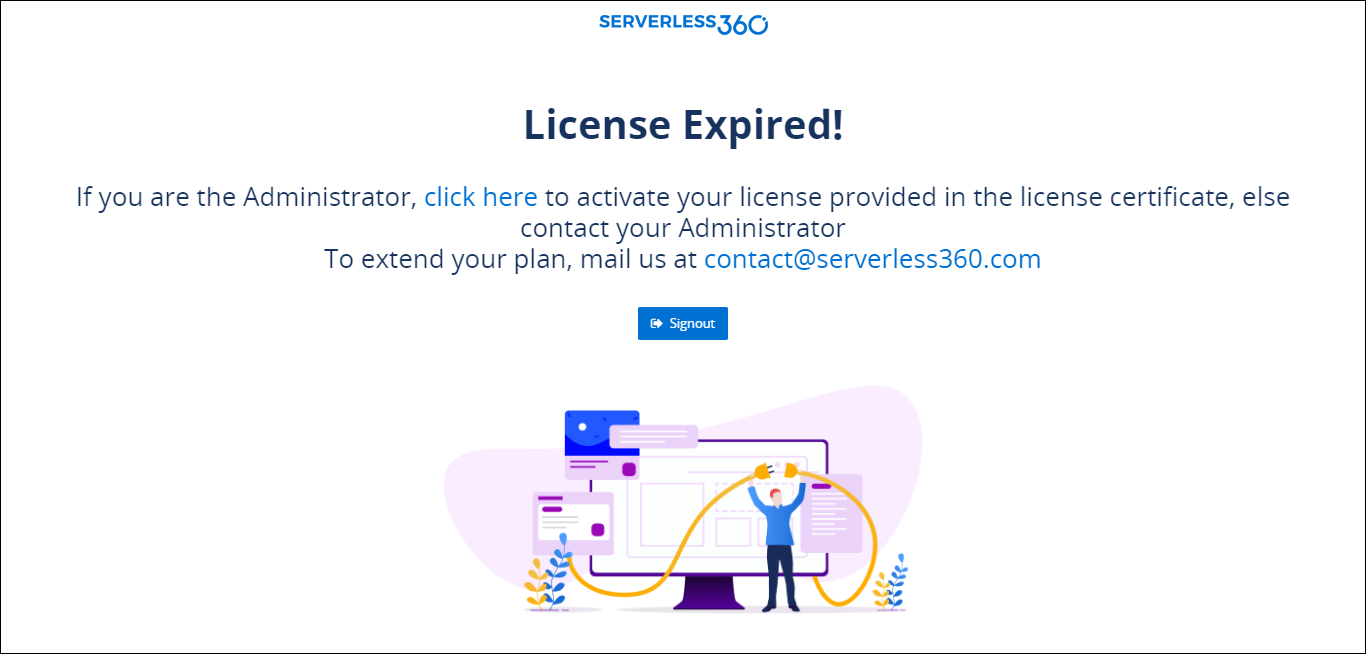 Supplying the valid order numer and License code found in the issued License certificate would activate the license.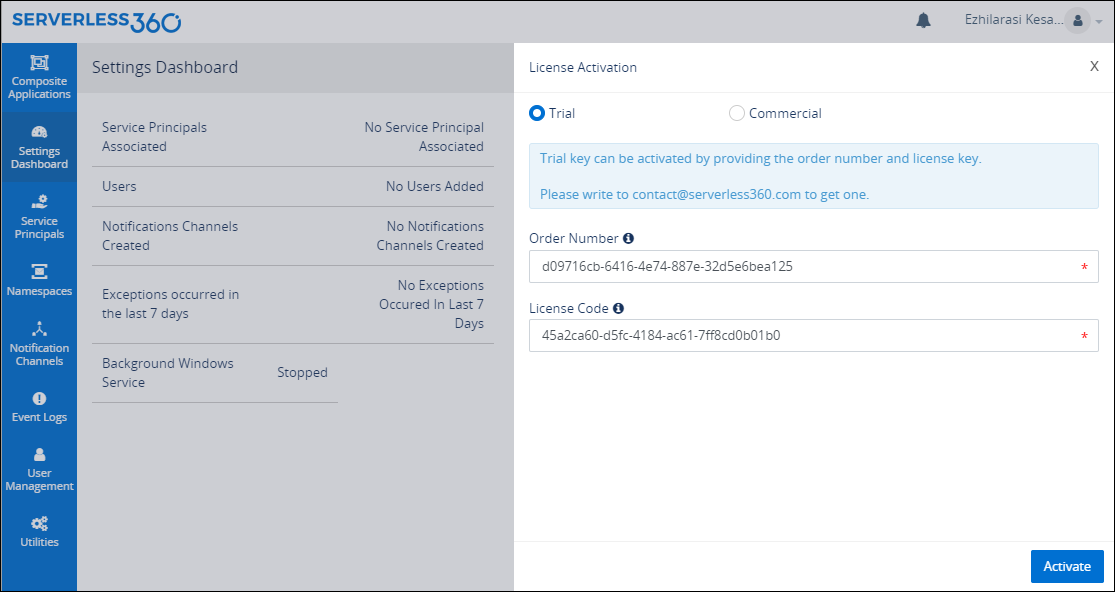 Moving from Trial License to Commercial License
Serverless360 user with the Administrator role can upgrade from existing trial license to valid Commercial license by following the steps below,
Deactivate the trial license from the Setting dashboard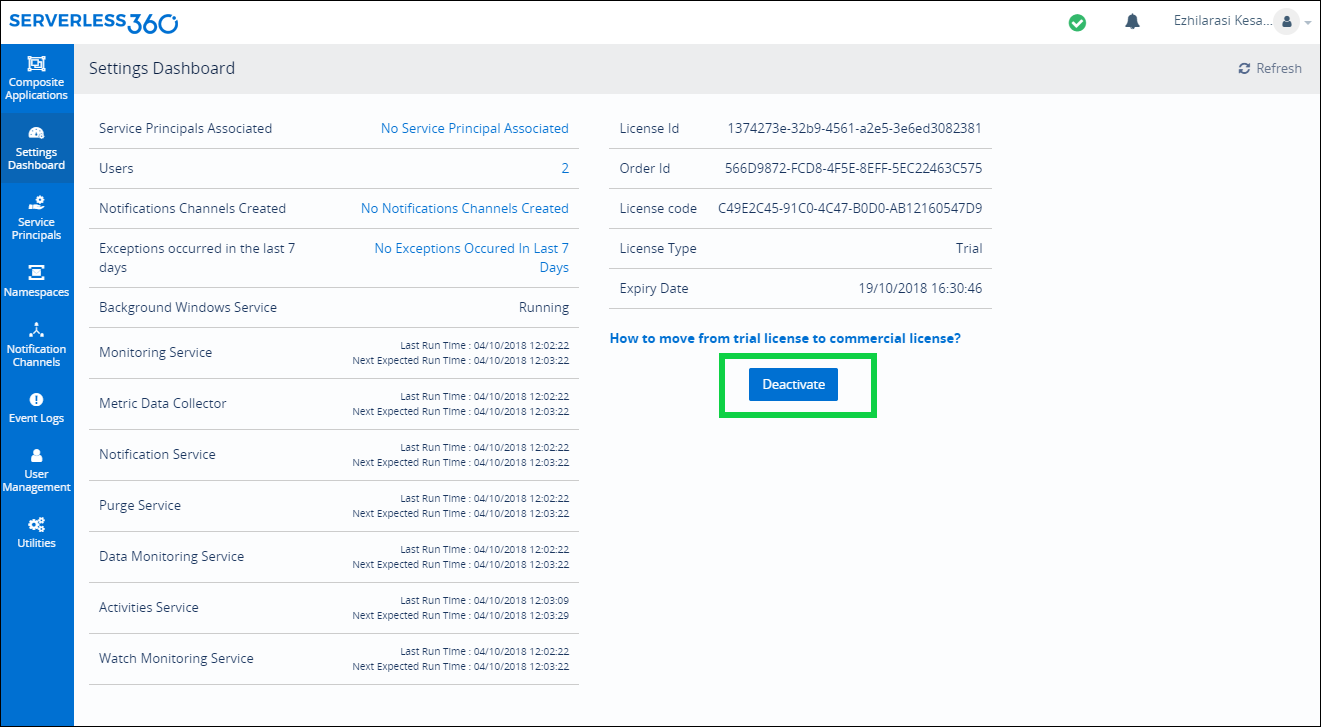 The application would prompt to provide a valid license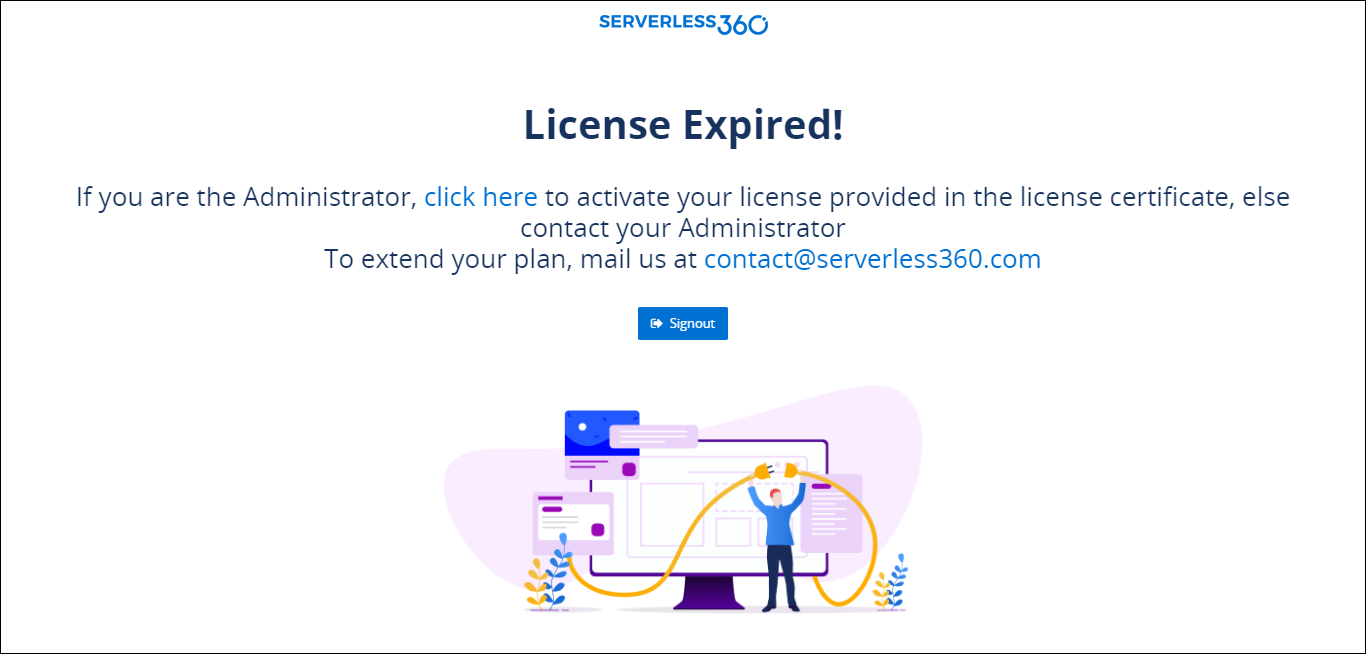 Activate the commercial license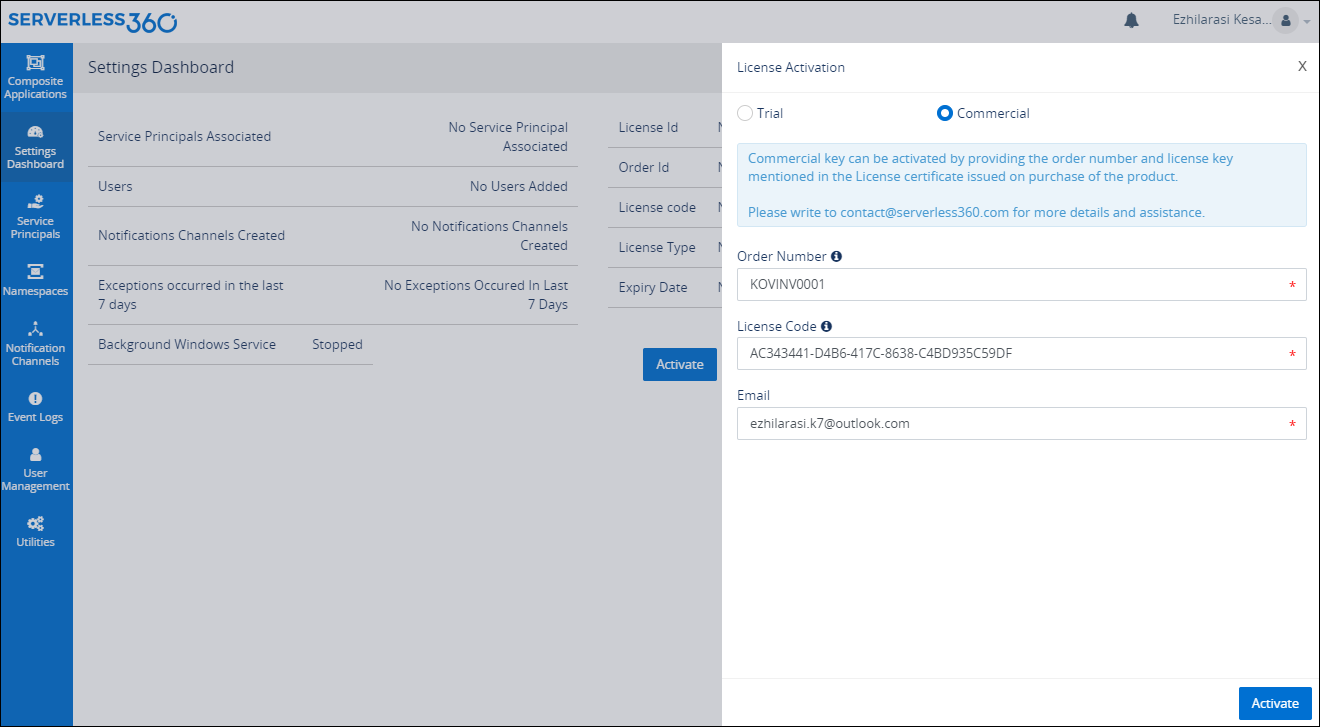 License Violation
Serverless360 provides three types of licenses namely Azure only, BAM only and Azure plus BAM licenses. There are restrictions for the ** number of resources**
associated with Serverless360, **number automated task transactions ** and number of BAM Events consumed. When the usage consumption exceeds 50% user will be alerted in the Serverless360 portal. The alert can be seen by clicking the License icon in the top bar.
Since the Automated Tasks Transactions and BAM events count are reset every month, make sure you don't exceed your purchased units.
If you exceed the purchased units, you will not be able to access the Serverless360 portal for the remaining days of the month. You will see the following screen when you exceed your purchased automated task transactions or BAM events count for the current month.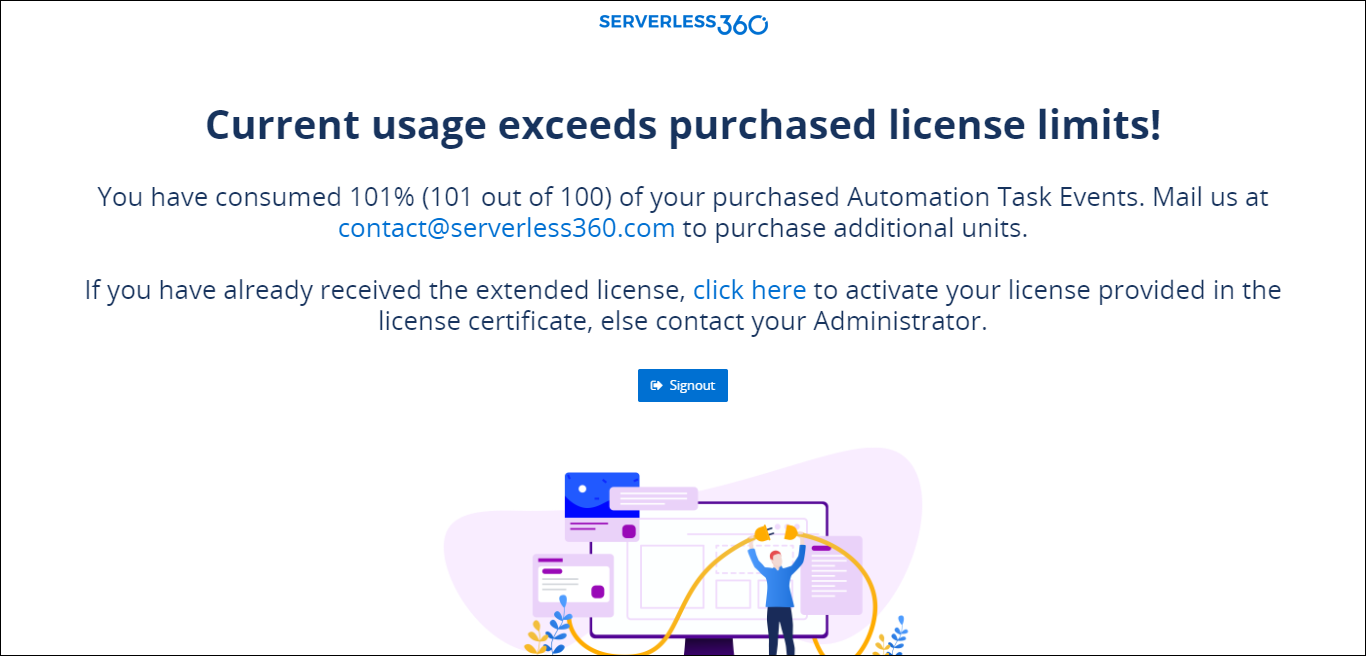 To continue using Serverless360 after you have exceeded your purchased units, reach out to our licensing team by emailing contact@serverless360.com to extend the License.
Once this extension is done, you can deactivate and activate the license.
Restart the Serverless360 background Services.
Now we are all set to start using Serverless360. Proceed with Adding resources to Serverless360 to manage and monitor them.
We'd love to hear your thoughts
Was this article helpful?
---