Introduction
In Serverless360 SaaS, users are assigned a Trial license by default during the sign up which is valid for 15 days.
Commercial - on successful trial completion, customers can continue using their Serverless360 solutions by purchasing a Commercial license. The Commercial license period begins on the date of issuance.
All the subscription(s) are billed Annually.
How to upgrade to Commercial?
Login to your Serverless360 account.
Click Settings--->License Consumption.
You can either click on Contact sales, where you will be assisted by our support team, or click Upgrade, where you will be privileged to upgrade your subscription by yourself.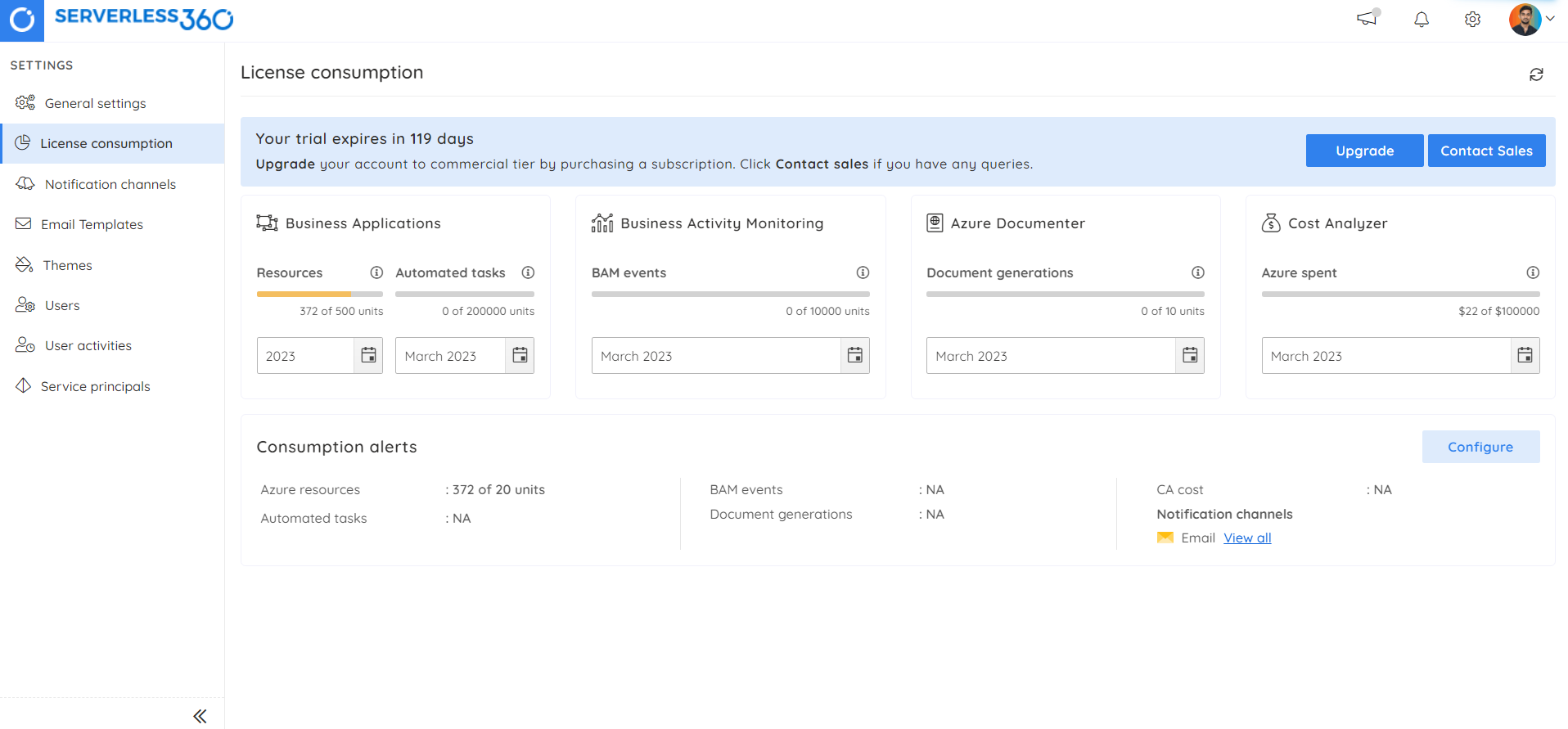 Pricing plans
Serverless360 offers the following pricing plans for Business Applications, Business Activity Monitoring, Azure Documenter, and Cost Analyzer as shown in the below image: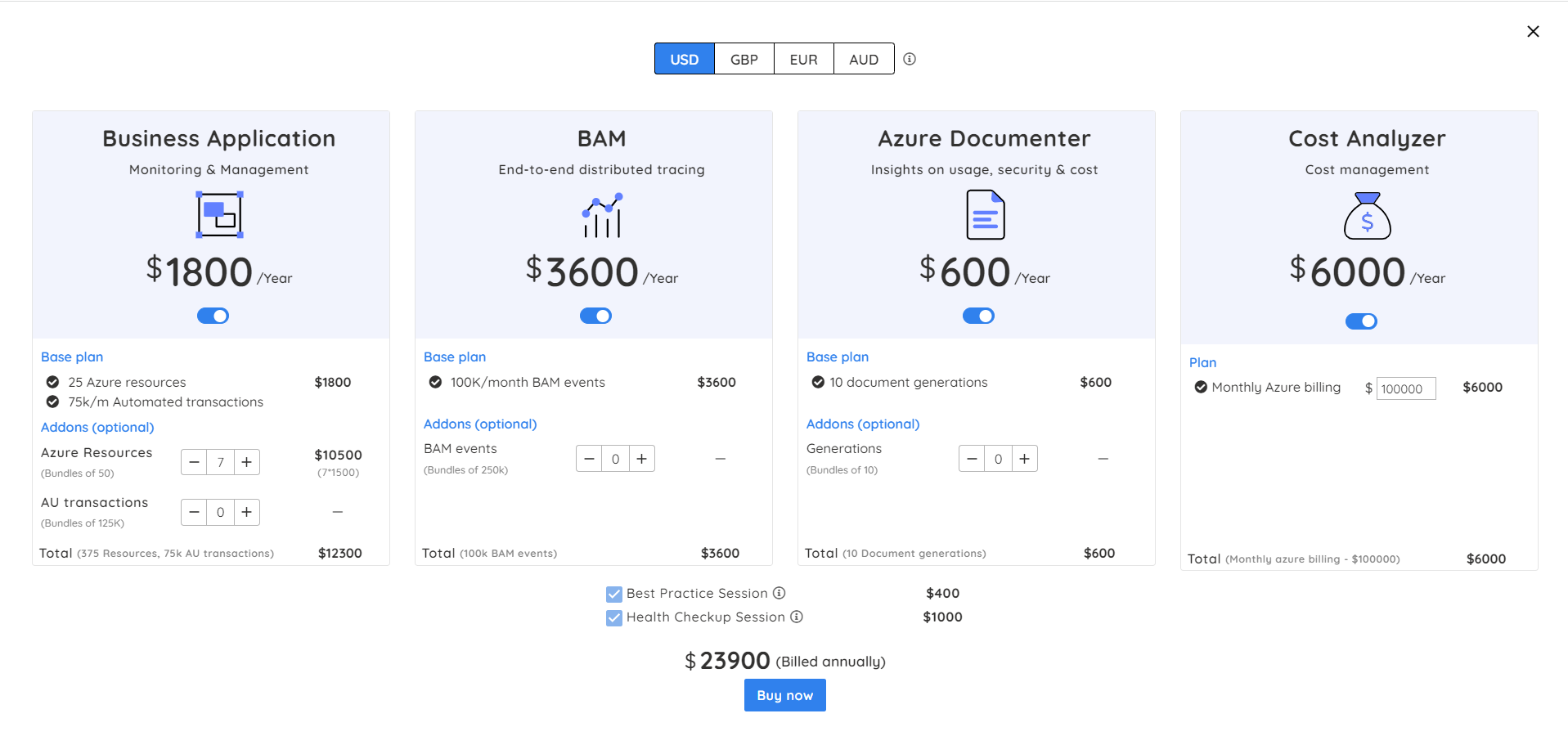 All the products will be provided with a base plan and additional add-ons(optional), which will account for the final transaction cost.

Cost Analyzer pricing plan exceeds the base price when the monthly billing cost value exceeds a certain value.
Serverless360 supports four types of currency, namely:
1. USD
2. GBP
3. EUR
4. AUD

The selected currency will be set as the default currency type for future transactions. You cannot change it further.
How to Upgrade plans?
Choose your desired plan and click Buy now.
You will be navigated to Your order page, Where you will be listed with the order purchase you have made.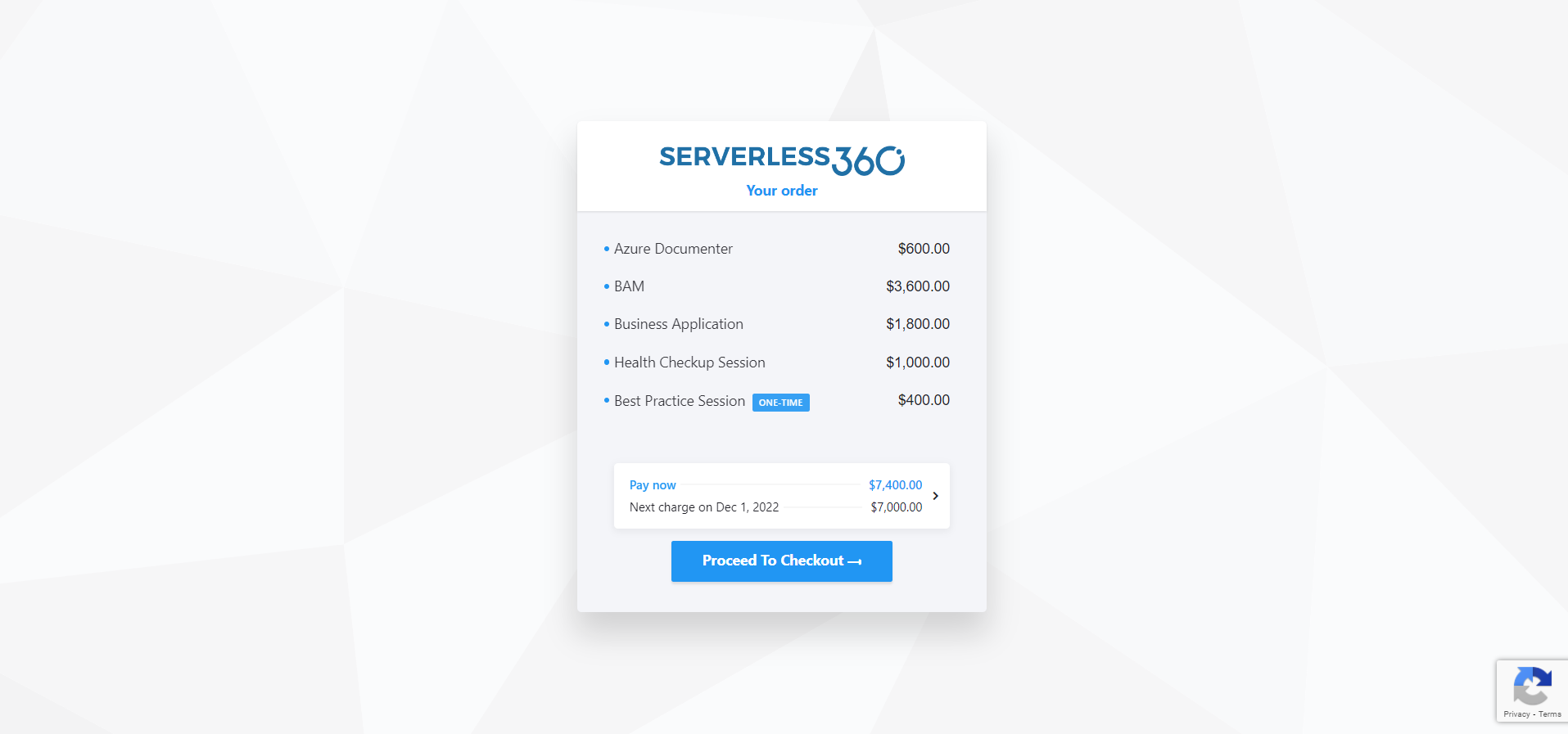 Click Proceed to Checkout by confirming.
Provide valid details in Add your Billing Address for name, Phone number, Address, City, Zip, Country, State and click Next.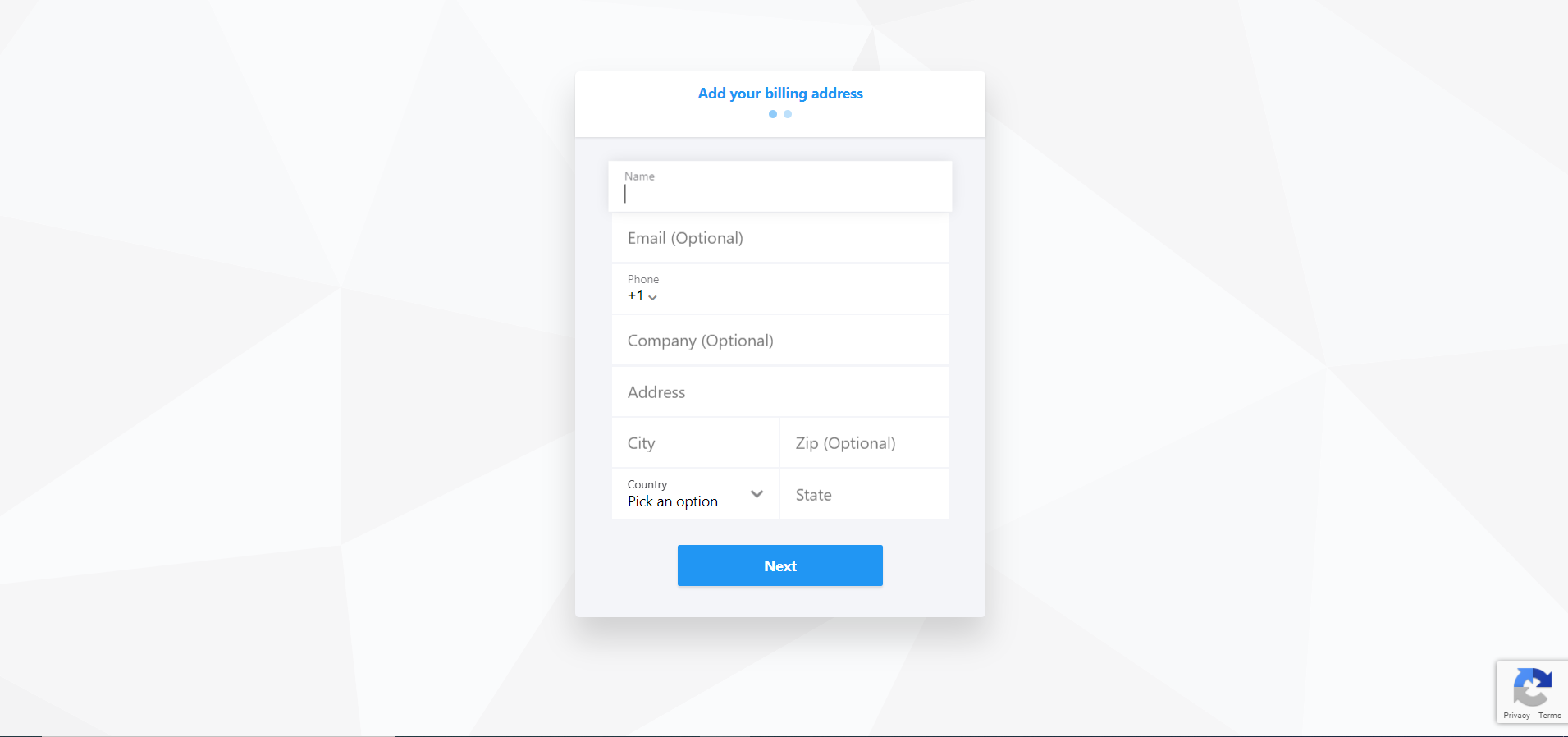 In Add your payment details, provide your card details and click on Next.
Click on Pay & Subscribe in Complete your order by ensuring you have added the required addons.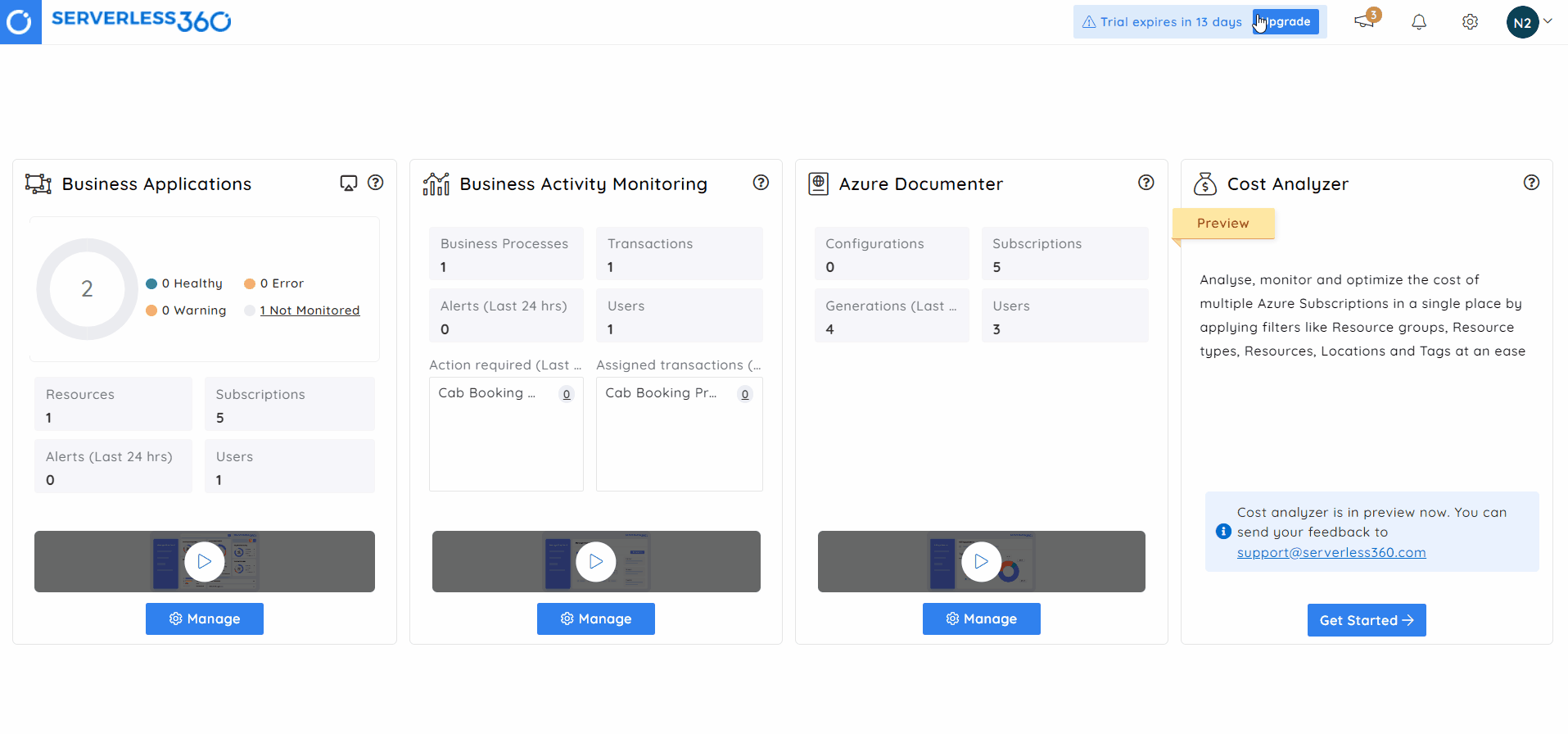 The Billing address and Payment details can be edited in Complete your order by clicking the edit option.
Once the transaction is complete, an acknowledgment message appears with a confirmation mail sent to the mail id provided.
---
Was this article helpful?
---
What's Next