What is PagerDuty channel?
PagerDuty empowers developers, DevOps, IT operations and business leaders to prevent and resolve business-impacting incidents for exceptional customer experience. When revenue and brand reputation depend on customer satisfaction, PagerDuty arms organizations with the insight to proactively manage events that may impact customers across their IT environment. With hundreds of native integrations, on-call scheduling & escalations, machine learning, business-wide response orchestration, analytics, and much more, PagerDuty gets the right data in the hands of the right people in real time, every time.
Business use case
PagerDuty has got the ability to customize notification rules for Serverless360 (i.e. text or call me if it's high-urgency, send me a push notification or email if it's low-urgency). From enriching and aggregating events to correlating them into actionable incidents, PagerDuty provides insights so you can intelligently respond to critical violations. Monitoring alerts from Serverless360 can be configured to be sent on PagerDuty notification channel to facilitate further correlation.
How to set up?
To associate your PagerDuty account as a Notification Channel in Serverless360 you would require 'Integration Key'. Following are the steps to acquire the same.
In PagerDuty
1. Create a PagerDuty service
Assuming you already have a valid PagerDuty account, login using valid email and password.
Required User Permissions on PagerDuty Account to create a Service
Starter & Platform Team Plans: Only User, Admin or Account Owner roles can create services.
Platform Business & Enterprise Plans: Only Manager, Global Admin or Account Owner roles can create services.
Navigate to Configuration → Services. If you are creating a new service, click Add New Service.

Under General Settings enter a Name that represents the application, component or team that you wish to open incidents against (example: "Serverless360"). Please note that when an incident is triggered, this is the service name it will be associated with.

Add a Description of what this service represents in your infrastructure.

Then select your app from the Integration Type menu and enter an Integration name in the format monitoring-tool-service-name (e.g. "Serverless360-Ecommerce").


Under Incident Settings, select an Escalation Policy and Notification Urgency

Under Incident Behaviour, select whether you would like to Create alerts and incidents or Create incidents.

Finally, click Add Service to save your new service.
2. Add integration to the service
Go to Configuration → Services and select a service to add an integration to. Open the Integrations tab and click New Integration.
Select your integration type as described above and name your integration. Click Save.

On successful save, Integration Key can be acquired from the Integrations tab under PagerDuty services.

In Serverless360
1. Create PagerDuty notification channel in Serverless360
With the acquired integration key, the illustration below can guide you through configuring a PagerDuty notification channel in Serverless360.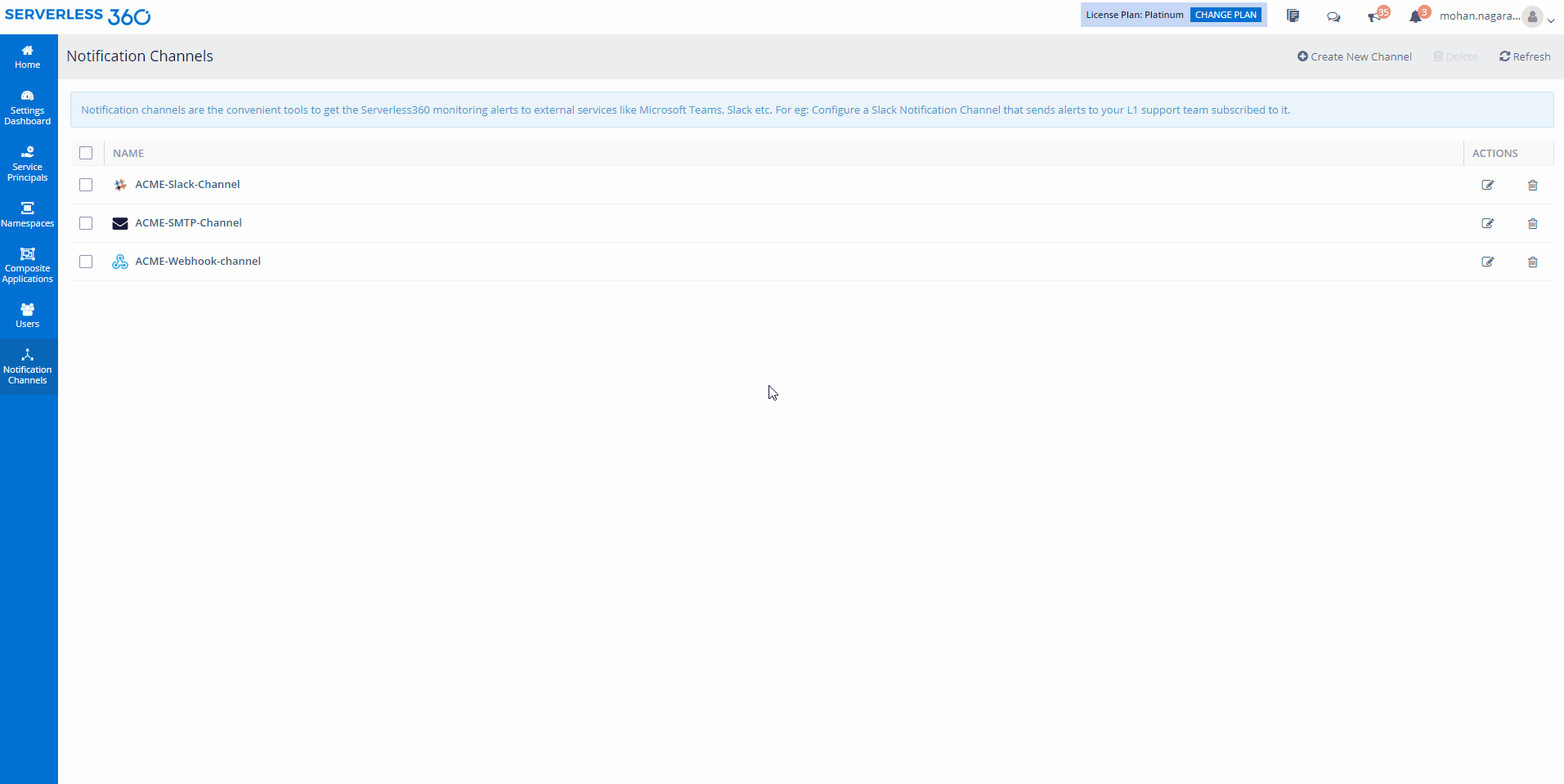 We'd love to hear your thoughts
Was This Article Helpful?
---