Preferred methods of communication have changed over the years—pagers, SMS, email, and now online messaging platforms like Webhook, Slack, Microsoft Teams etc. Today's workforce is no longer in a single location but is distributed, making timely communication more challenging. Sending alerts to an email in most cases result in an alert going unnoticed for too long.
One of the core pillars of Serverless360 is the capability to monitor your Azure Services and notify whenever there is a threshold violation. In the initial stages, notifications from Serverless360 could be sent only through Email. Progressively, we are adding the capability for Serverless360 to be able to trigger notifications to external notification channels. What this means for customers is that if you are already using either of these channels in your organization, it becomes easier to receive alerts from Serverless360 right into these channels. Triggering alerts to external notification channels works exactly the same way as sending an email notification.
In order to trigger notifications from Serverless360 to external notification channels, you need to make some basic configuration settings under "Notifications Channels" section in Serverless360. In this article, we will see the steps to configure external notification channels in Serverless360.
Notification Channel Setup
On the Notification Channels page, just click the Add Notification Channel button to go the page where you can configure and setup a new Notification Channel. You specify a name and a type, and type specific options to setup the notification channel. Serverless360 ships with the following set of notification types:
Webhook
SMTP
Slack
PagerDuty
Operations Management Suite (OMS)
Microsoft Teams
Webhook
The webhook notification is a simple way to send information about a violation over HTTP to a custom endpoint. For a better integration between Serverless360 and your application, Serverless360 provides you with webhooks. When configured, a webhook is used to send out any violation/health status notification to your application.
Once you've configured the URL, Serverless360 will Put/Post the notifications as a JSON/XML to your webhook URL. For example, if the number of dead letter messages breaches the set threshold level, then a notification is sent to the specified URL. Follow the below image to set up a webhook channel in Serverless360.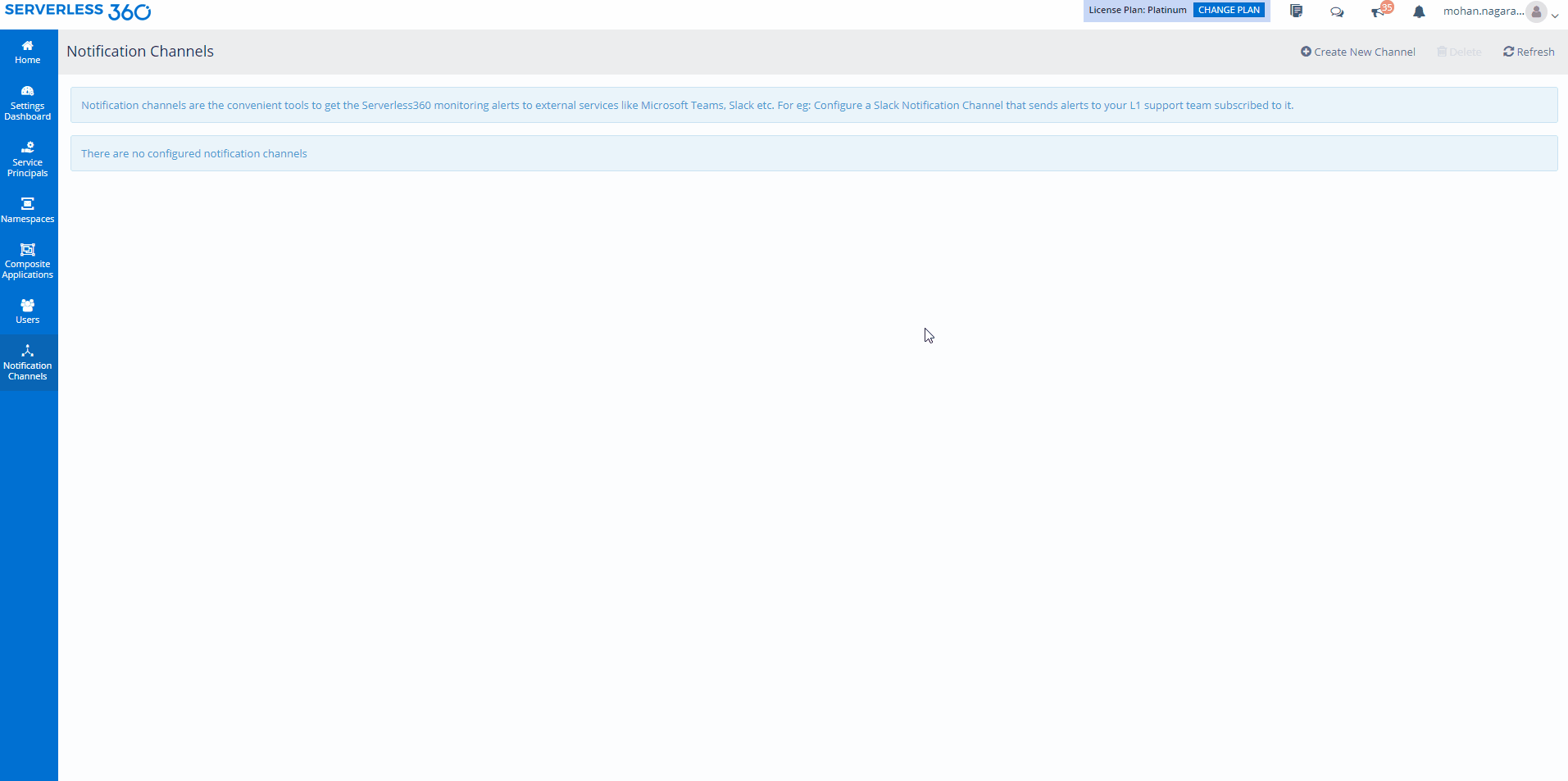 SMTP
In order to send email notifications, Simple Mail Transfer Protocol (SMTP) settings must be configured for the outgoing mail server and logon account information must be configured. The following table provides descriptions of the configuration fields and indicates whether they are required. The section that follows this table provides example configurations.
| Field | Required? | Description |
| --- | --- | --- |
| Friendly Name | Required | Friendly name of your SMTP channel |
| SMTP Username | Required only if SMTP Authentication is true | Your user name for the SMTP server |
| SMTP Password | Required only if SMTP Authentication is true | Your password for the SMTP server |
| SMTP Server Address | Required | Host address of your SMTP server |
| SMTP Port | Required | The port that Serverless360 uses to connect to the SMTP server |
| EMail To | Required | Email address of the notification recepients |
| Email From | Required | Email address of the notification sender |
| CC | Optional | Email address of the notification recepients |
| BCC | Optional | Email address of the notification recepients |
| EMail Importance | Optional | Set the severity of the notification |
The following table provides example configurations for some common SMTP email servers.
| SMTP Server | Server | Authentication | Port |
| --- | --- | --- | --- |
| Gmail | smtp.gmail.com | SSL | 587 |
| Office365.com | smtp.office365.com | SSL | 587 |
| Zoho Mail | smtp.zoho.com | SSL | 587 |
| Hot Mail | smtp-mail.outlook.com | SSL | 587 |
Follow the below image to set up a SMTP channel in Serverless360.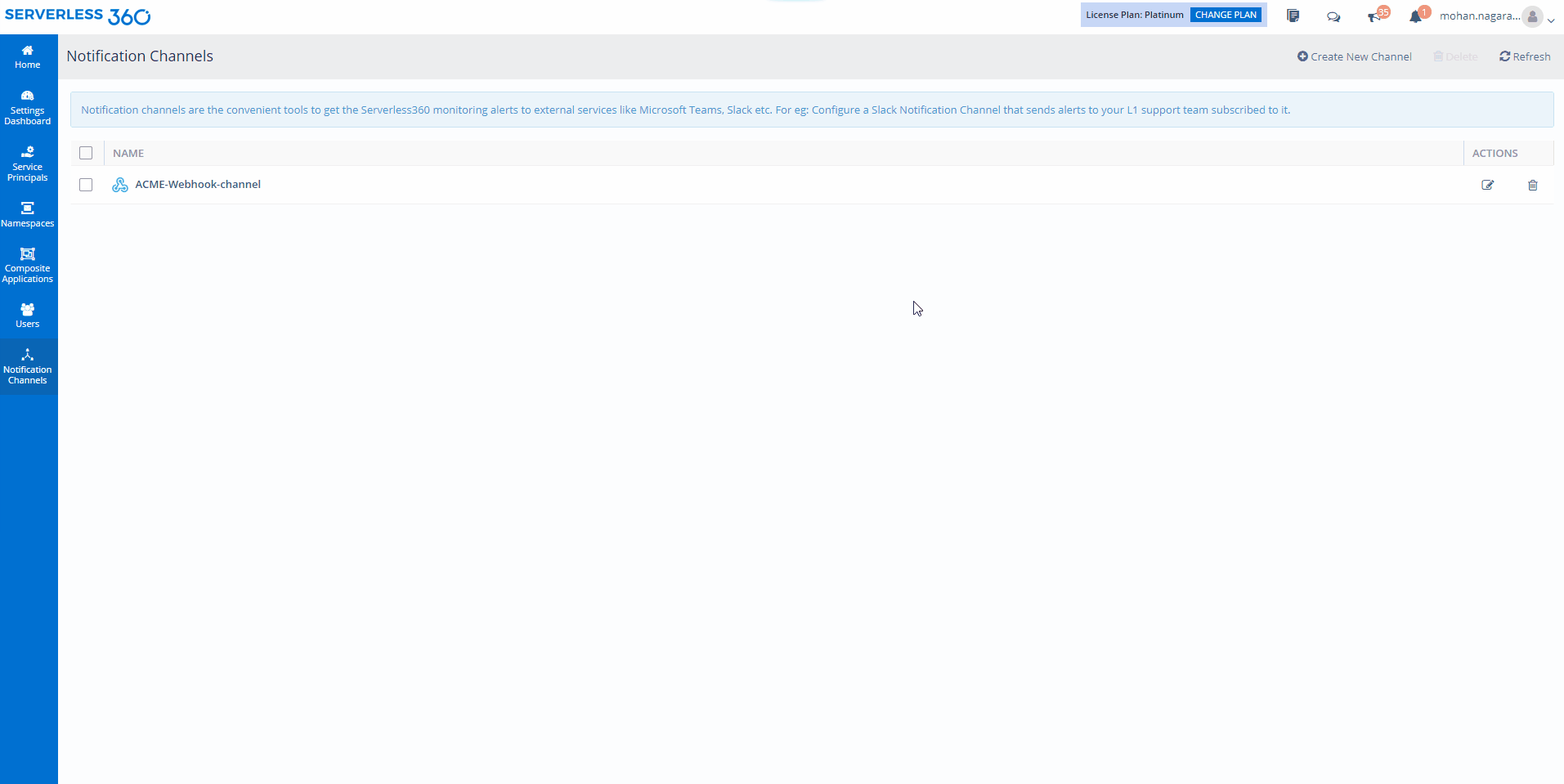 To Authenticate SMTP in Gmail
While configuring Gmail SMTP channel in Serverless360, it requires additional authentication. Follow the below steps to authenticate in Gmail:
Log into your 'Gmail account'
Click the 'My Account' button on your profile picture
On the My Account page, click 'Sign-in-security' tab and choose the 2step verification Turn On option
Click 'Get Started' button. Gmail redirects you to the login confirmation page to enter the password.
Gmail requests you to enter your mobile number to get a verification code. Once you enter a verification code, click 'Next to Turn On'.
Click the Back button to move back to the Sign-in & security page and click the 'App Password' option
Enter the 'Password' on the login page, Gmail will send a text message with a 6-digit verification code to your mobile number
Enter the code and click 'Next '
In the 'App Passwords' page enter the App name as 'Serverless360' and click 'Generate' button
Password for the application will be generated. Use this password as the SMTP password in Serverless360 portal.
Slack
Slack is a widely used cloud based collaborative software. At its core, Slack is an instant messaging app that provides company wide, and private channels, direct messaging and notifications. If you and your team use Slack to communicate internally, you can receive important Serverless360 notifications in the Slack channel of your choice. The first step is to get your Webhook URL from the Slack app. Once you connect your Slack Team to Serverless360, you can easily add a Webhook that pushes Serverless360 notifications directly to any Slack channel.
This allows you to fit Serverless360 notification in a place you know your team is checking all day, making it even easier to monitor what's going within your integration scenario.
You have to note that anyone with access to the Slack channel will be able to see the notifications, regardless of the Serverless360 User Access Policy that may be in place. If you need to limit visibility of these notifications in Slack, make sure to set your Slack channel's permissions to private.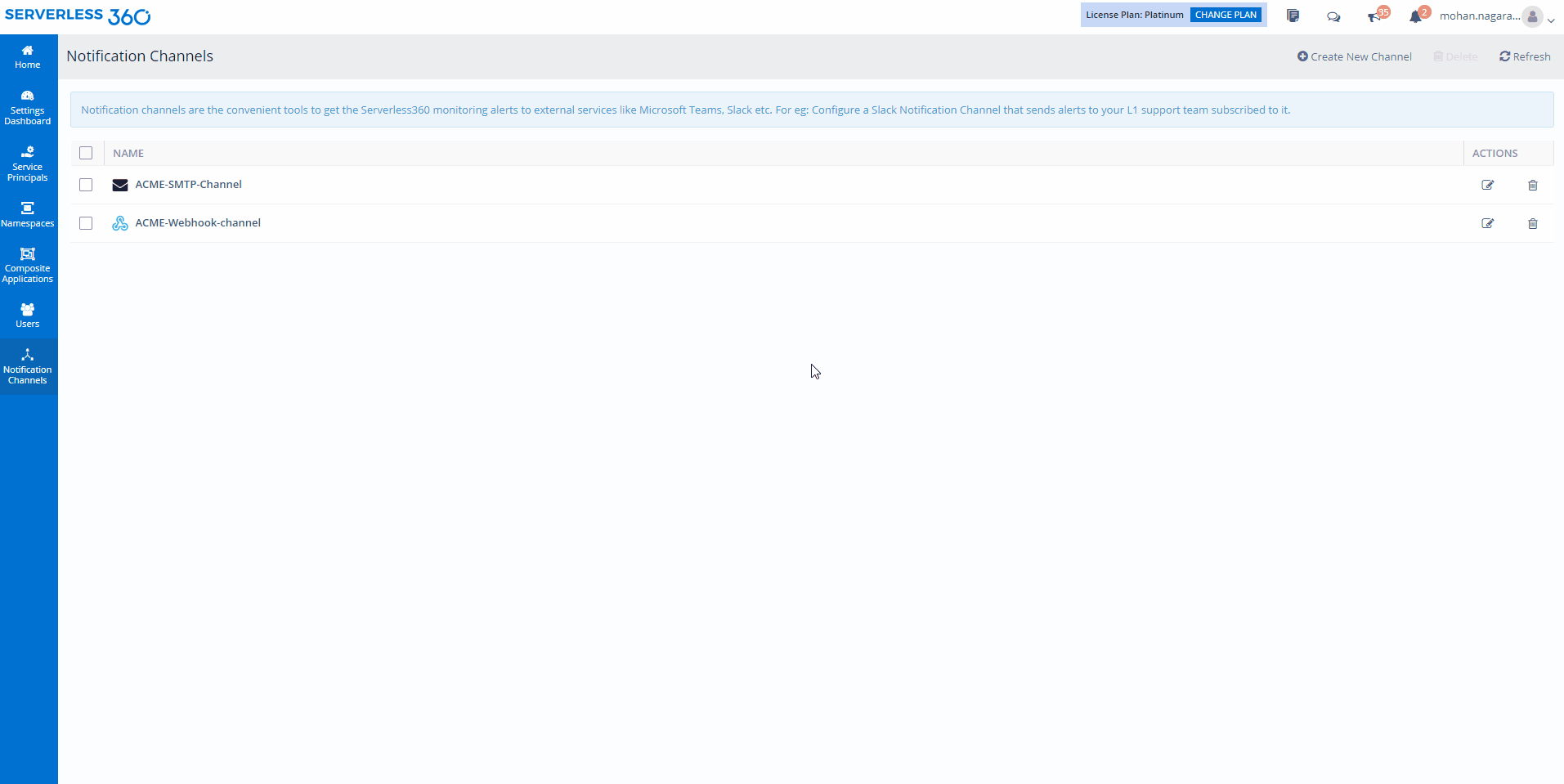 PagerDuty
PagerDuty is a operations management platform that integrates with ITOps and DevOps monitoring stacks to improve operational reliability and agility. From enriching and aggregating events to correlating them into actionable incidents, PagerDuty provides insights so you can intelligently respond to critical violations. TThe first step is to create a PagerDuty account by clicking the 'Sign Up" button at PagerDuty.com and have your PagerDuty credentials available (account, password and Integration Key).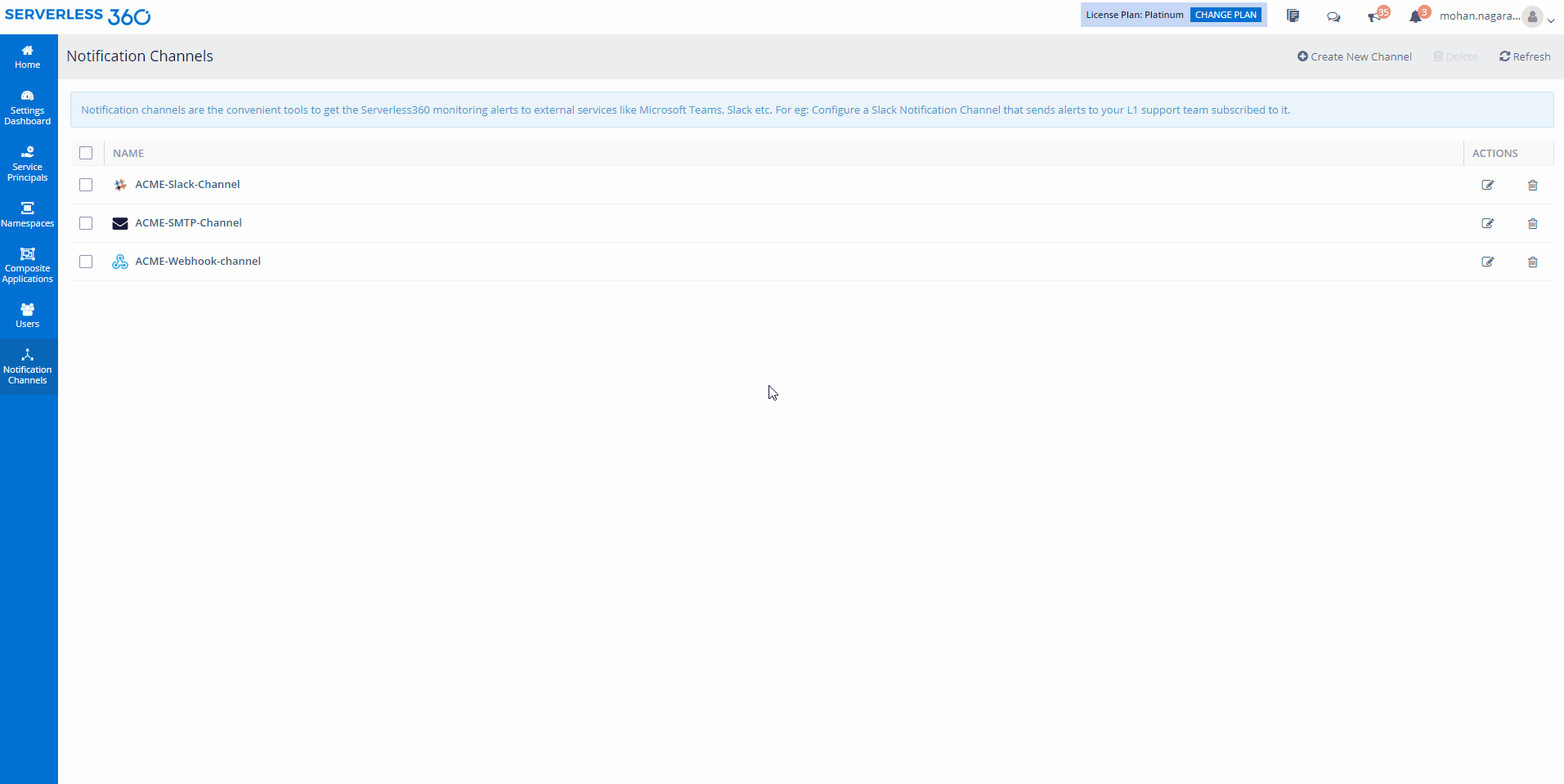 Operations Management Suite (OMS)
Serverless360 monitoring services gives you a lot of information about the status and health of your Azure Integration scenarios. And the Operations Management Suite (OMS) takes that one step further with excellent analysis of log data your integration scenario generates. By integrating Serverless360 with OMS, you can get more control over your system. To connect OMS with Serverless360 you wil need specify details like Log Type, Workspace ID, and Shared Key.


Currently, the log type supports only alpha characters. It does not support numerics or special characters.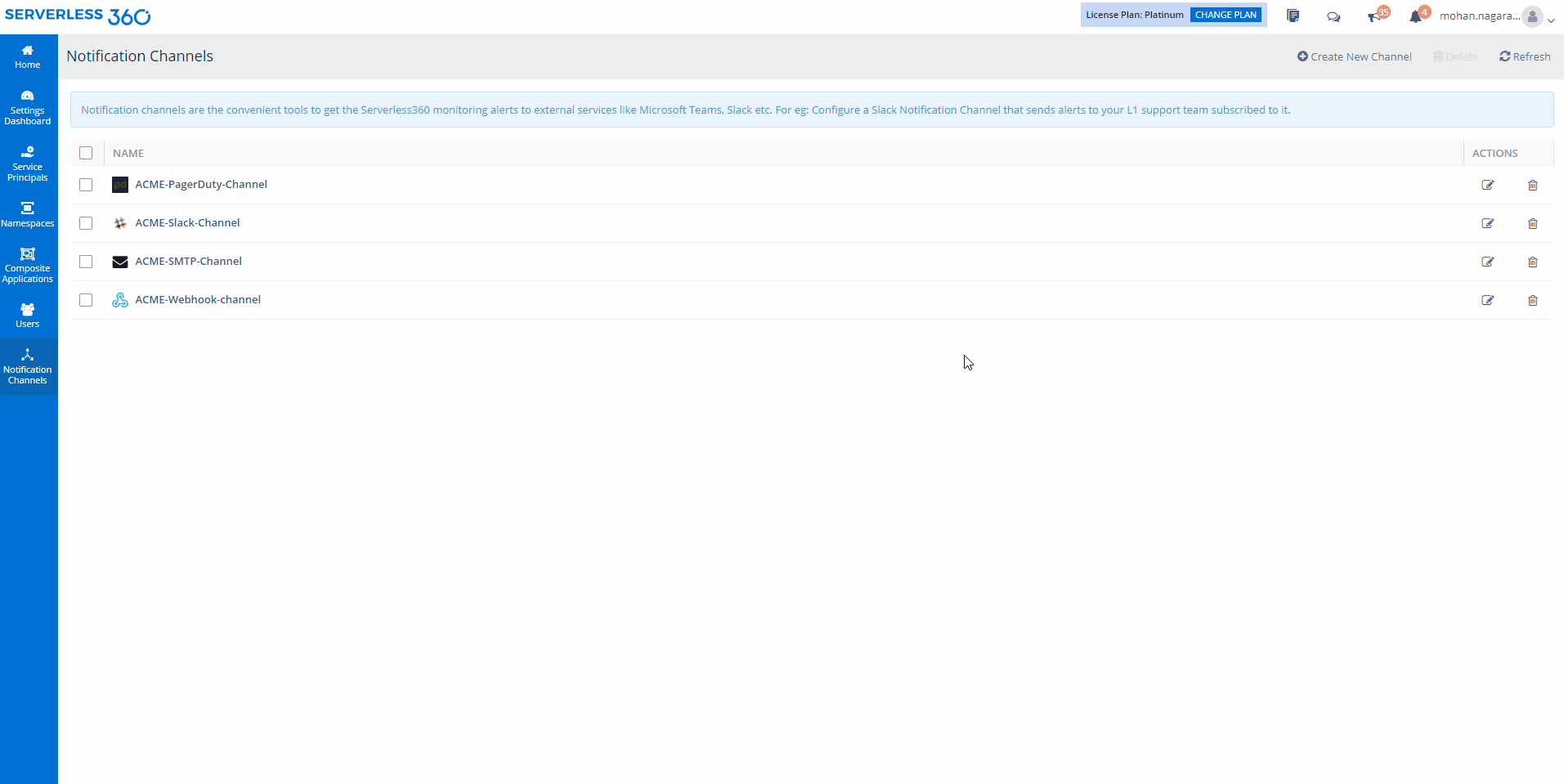 Microsoft Teams
When you have a large monitoring setup you need to know when something important is failing. If you have setup Microsoft Teams you can send a message to a channel to let the support team repair the service or device with minimal down time. From your Microsoft Teams channel, click the conectors option to a Incoming Webhook. The incoming Webhook connector enables Serverless360 to notify you about the alerts that you want to track.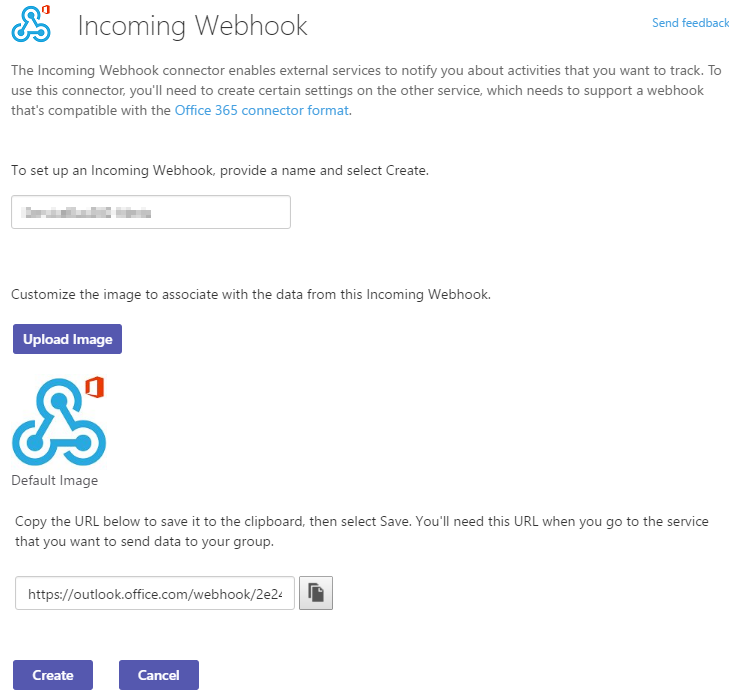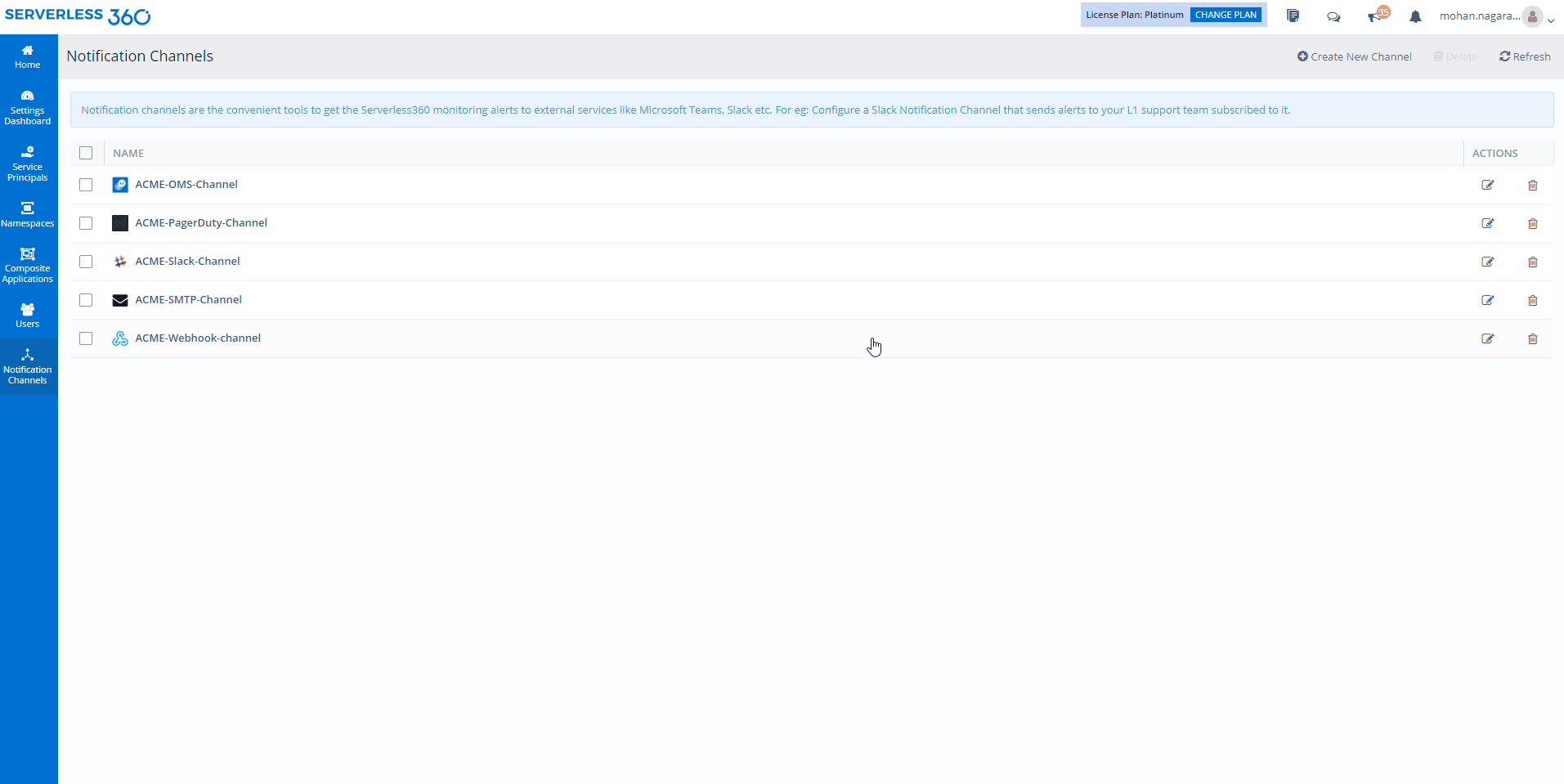 We'd love to hear your thoughts
Was this article helpful?
---