Managing Views
08 Nov 2023

2 Minutes to read
Managing Views
Updated on 08 Nov 2023

2 Minutes to read
---
Share feedback
Thanks for sharing your feedback!
Add a View
Click the + icon in the Analysis section of a Cost group to add a new view
Each view displays the cost spent on the selected subscriptions based on the filters applied.
Save a View
Click Save in any view to save the analysis view for future use.
Enter a name to the view and provide any description, if required
The user can pin this view to be one of the default views in the Analysis section by selecting Pin to tabs checkbox
Click Save
All the saved views can be accessed by using the Saved Views option. The Saved Views wizard allows users to update, pin (or) unpin, open, and delete saved views.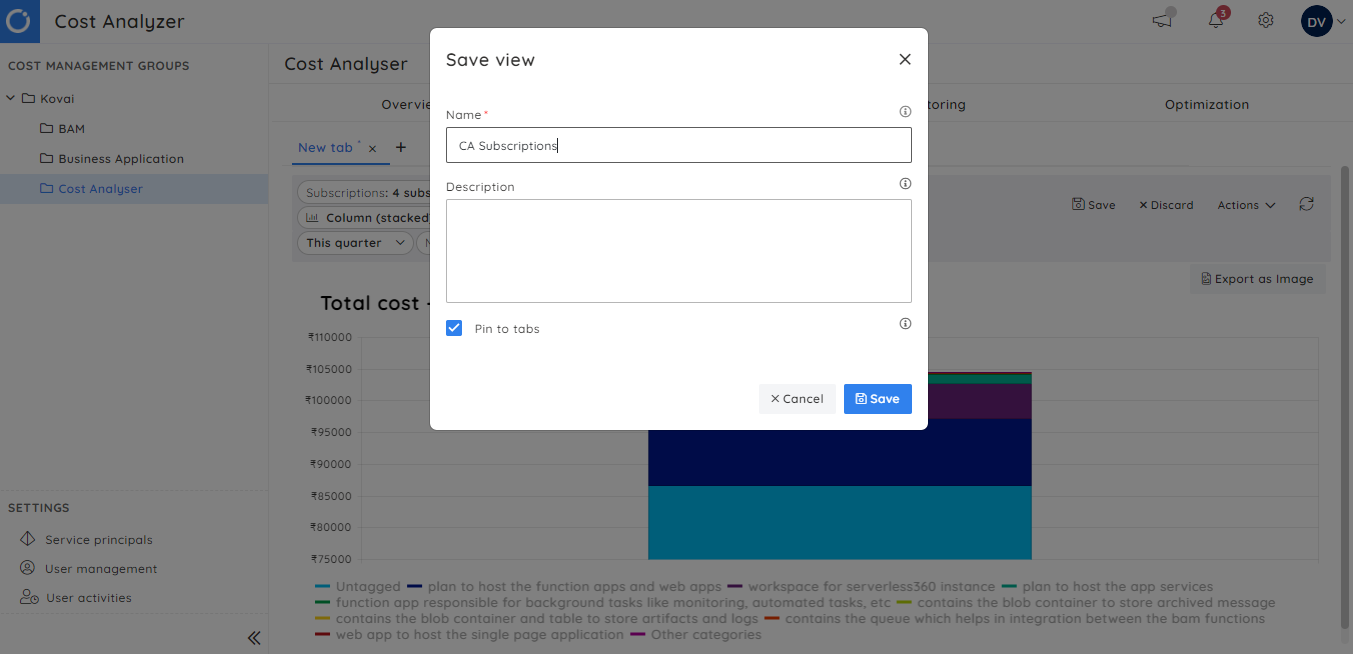 Pin a View
Analysis views can be pinned to be displayed by default.
This can be done either from the Saved Views section or by clicking the pin or unpin icon in the respective tab.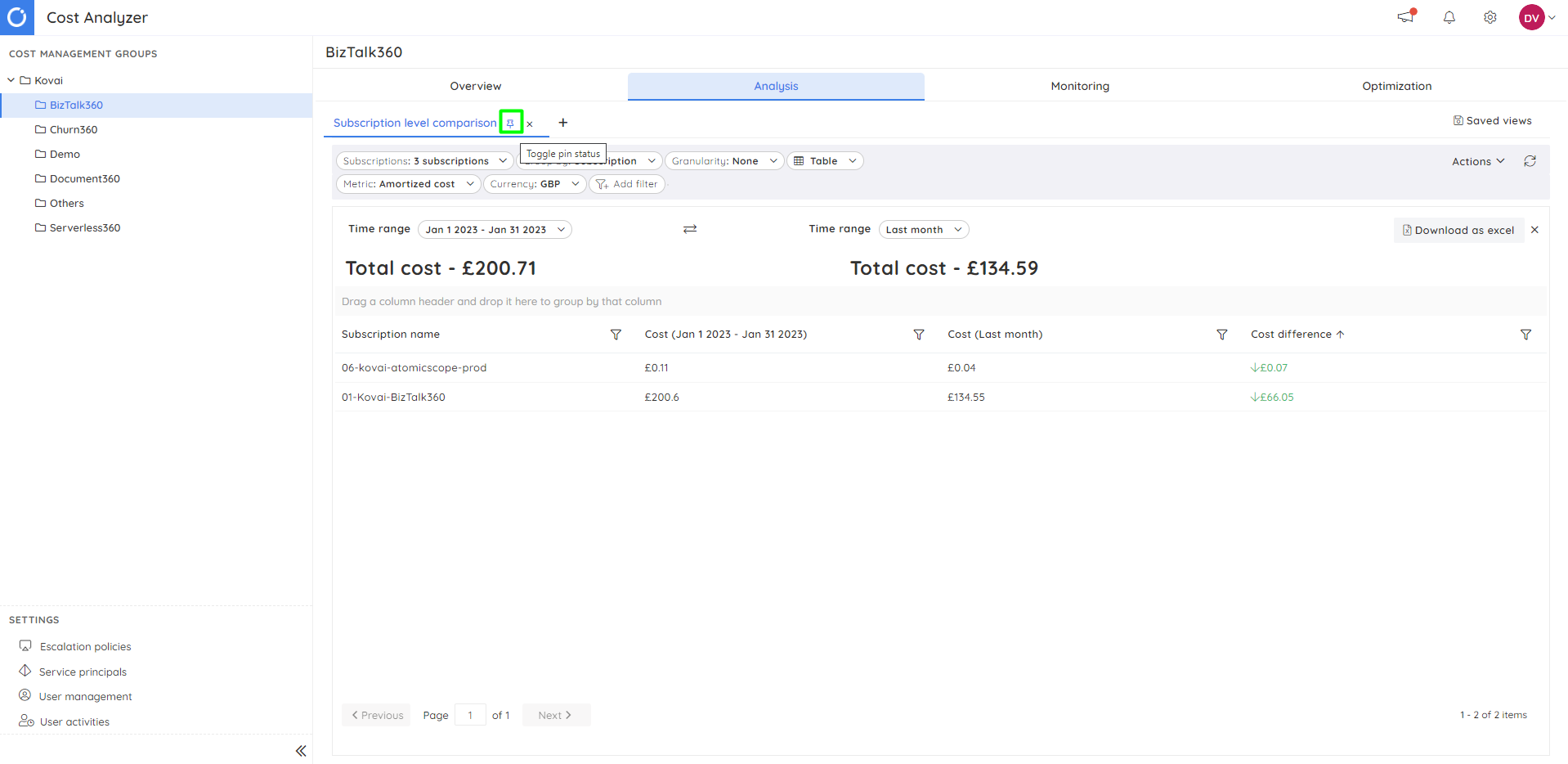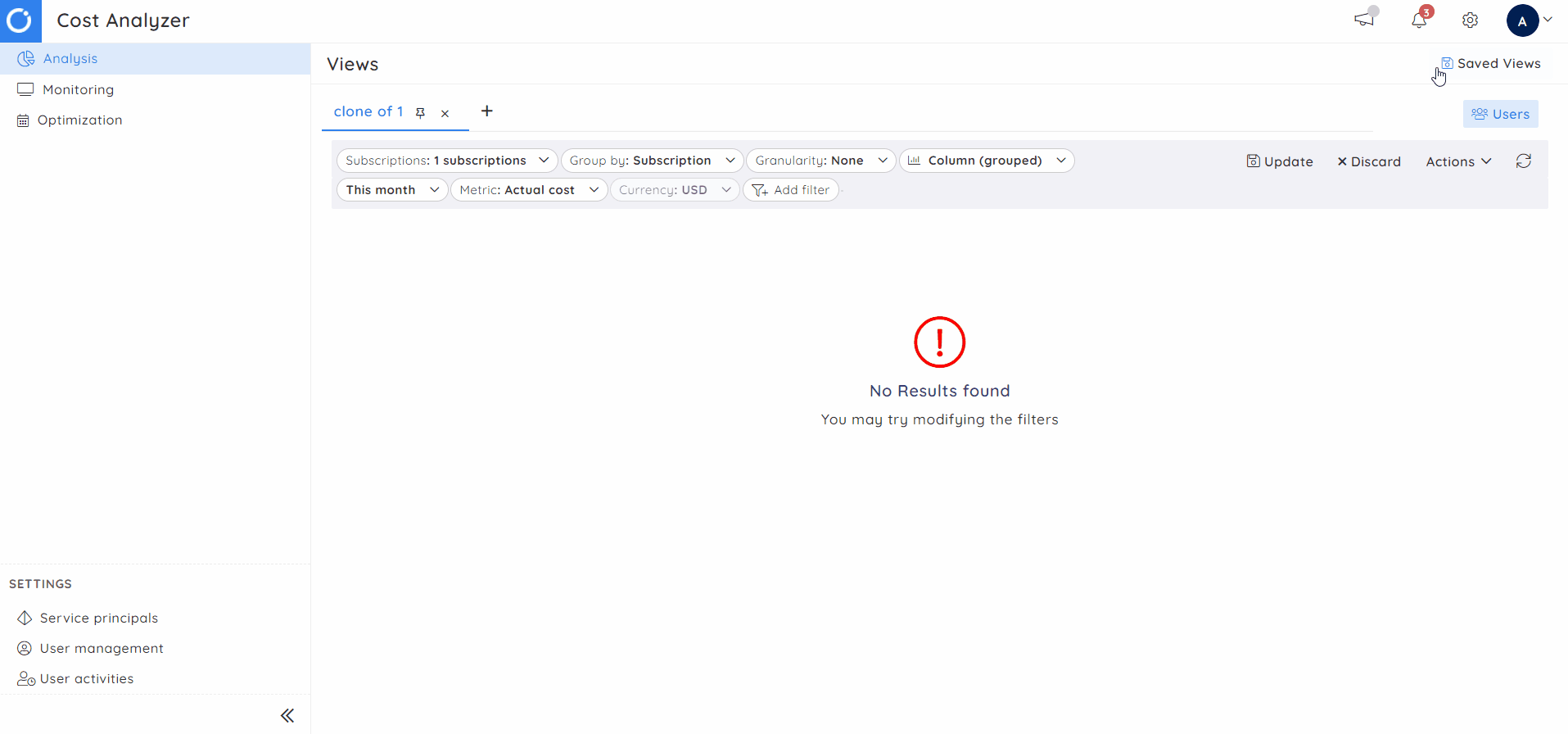 Clone a View
Click Actions dropdown -> Clone in an analysis view to clone an existing view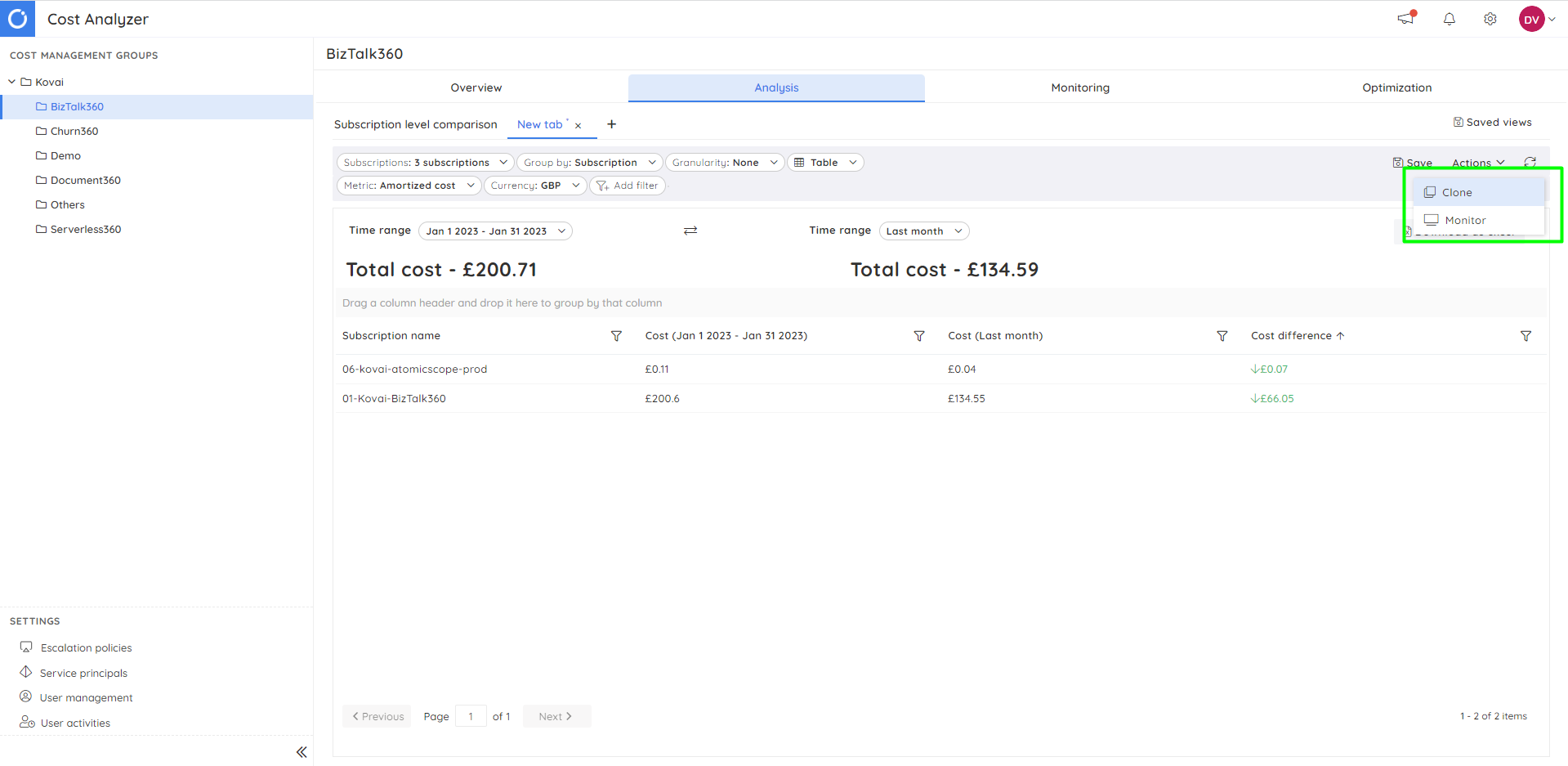 (or)
Click the Clone icon in a Saved view
Enter a name to the view to be cloned
Select Pin to tabs if the view needs to be displayed by default
Click Clone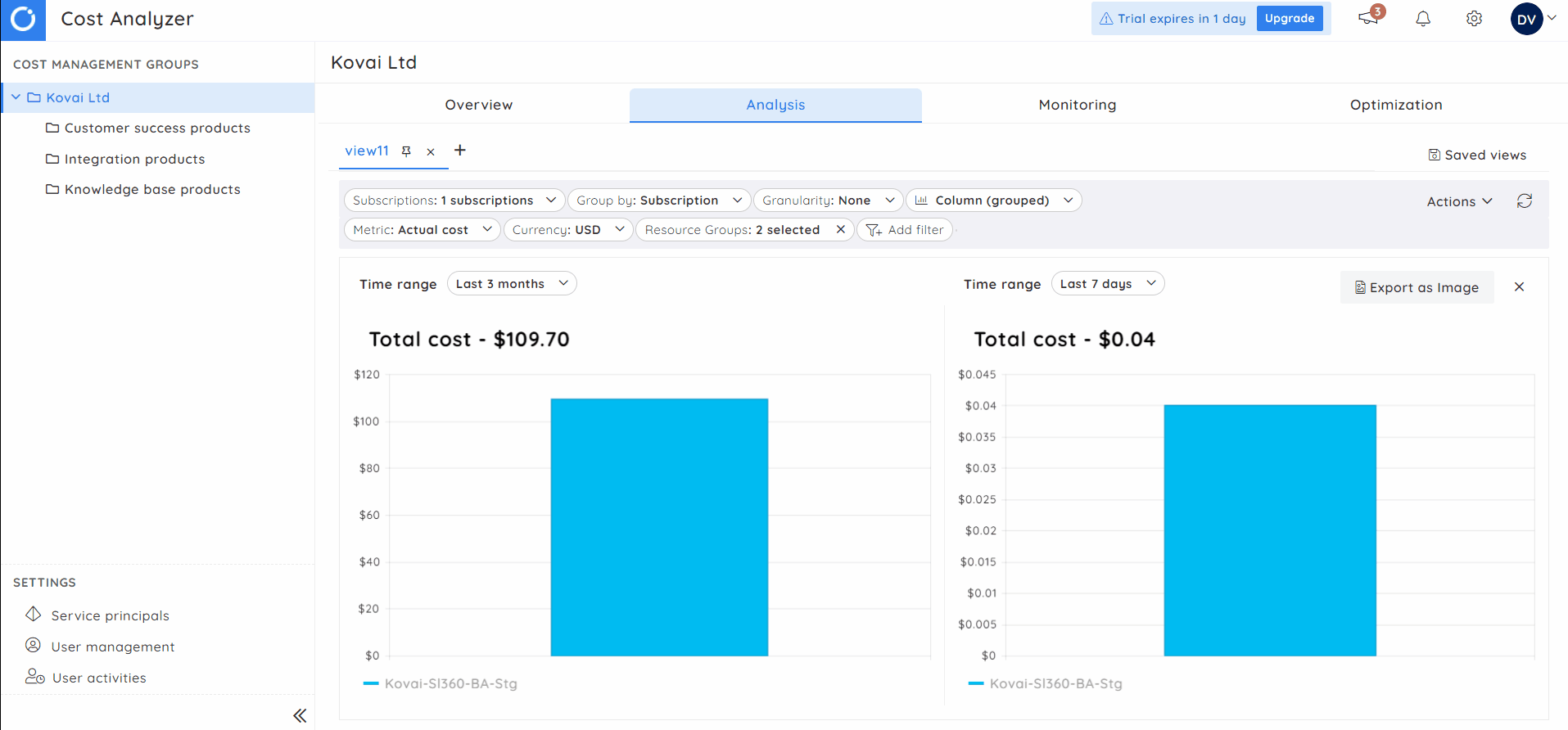 Delete a View
Click Saved views in the Analysis section of a Cost group
Click the Delete icon next to a saved view
Click Delete in the confirmation box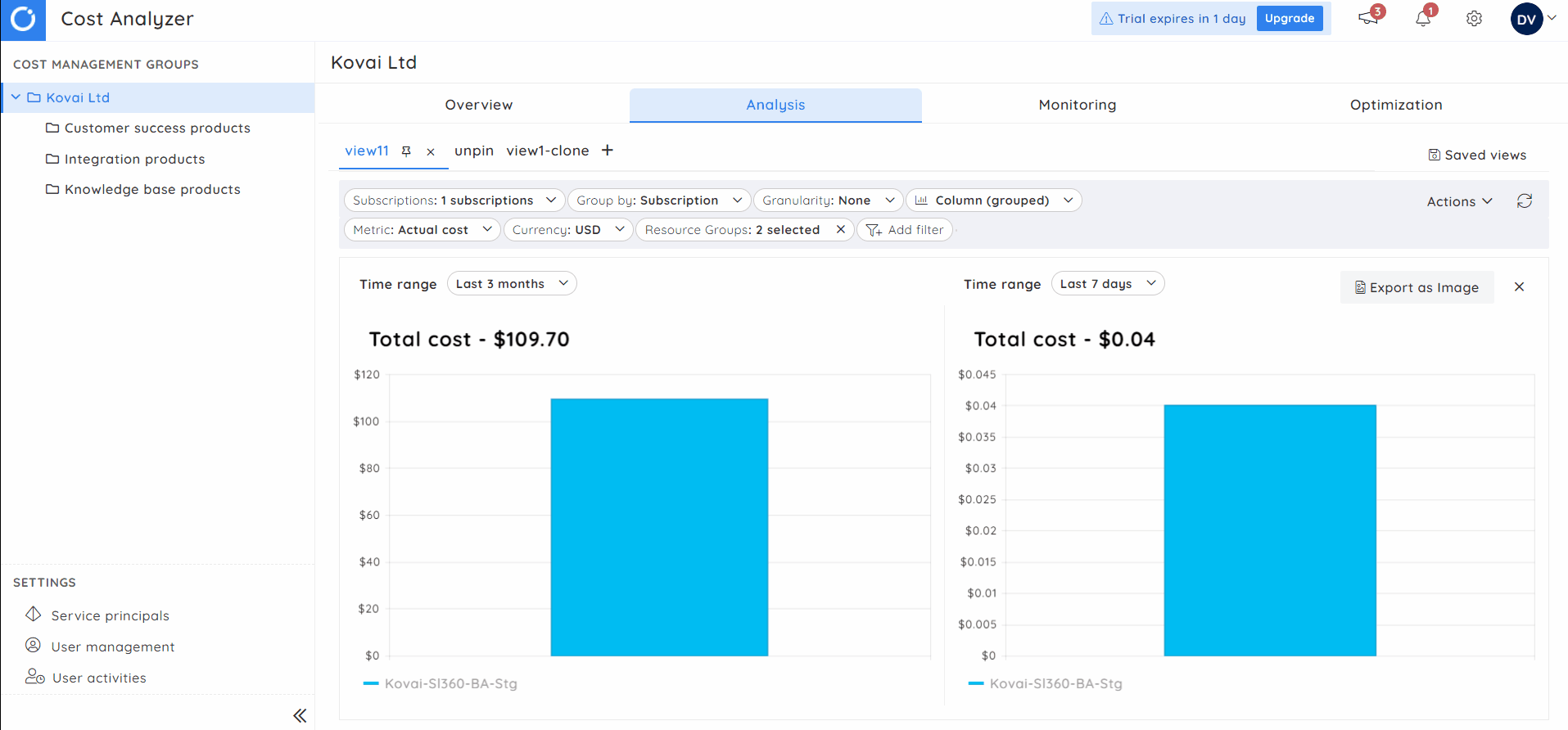 A view will not be completely removed by closing it from the View tab. It just closes the selected view and you can access it again in the Saved Views list.
Monitor a View
Cost Monitors can be created from the views by using Monitor option under Actions drop down.

The monitors created from here considers the filters applied to the corresponding analysis view as its monitoring rules.

Any changes made to the filters within the view will be reflected on the associated monitor.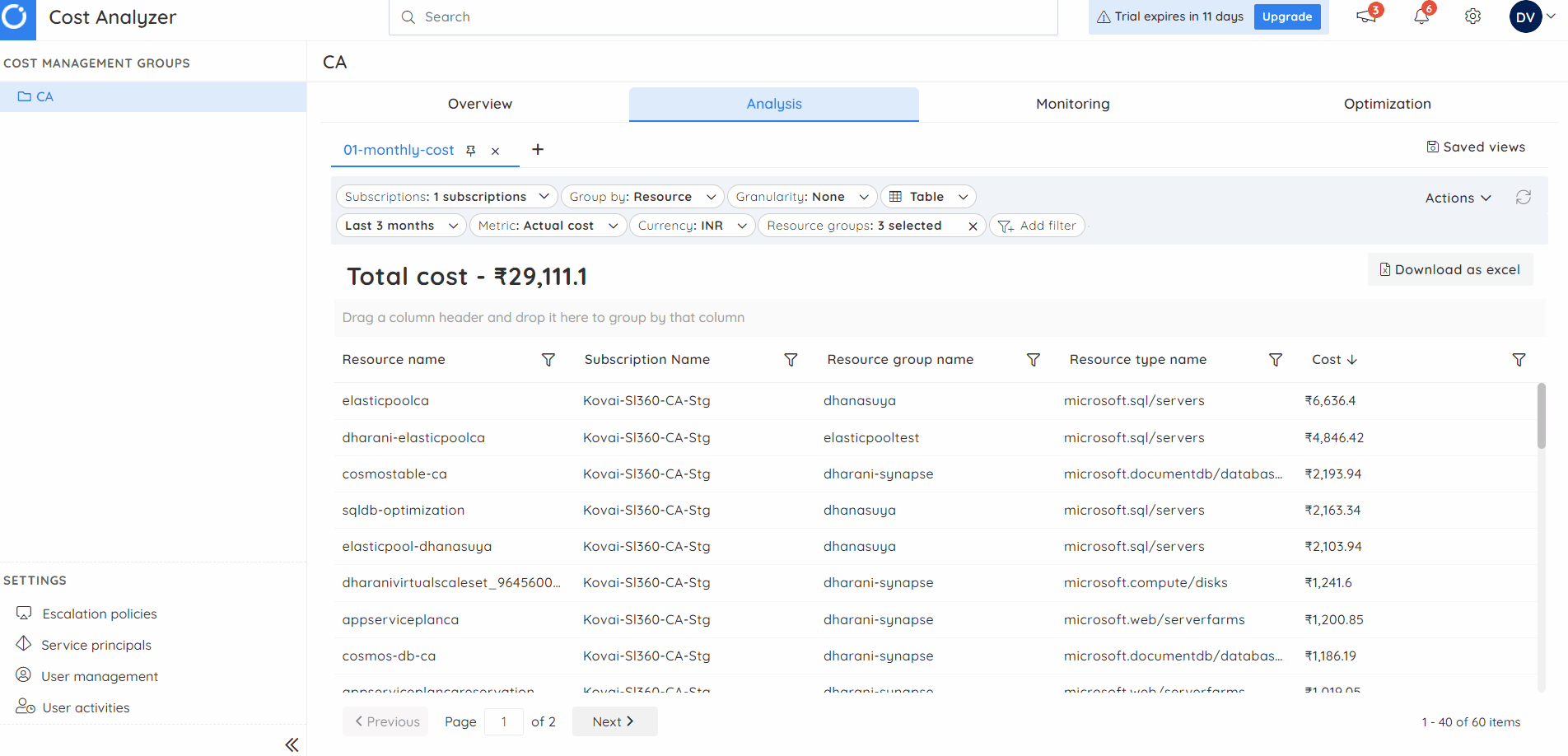 The user will only be able to view the subscription and filters that have been applied to the monitoring rule within the monitor. It will not be possible for the user to add further filters or subscriptions to the monitoring rule.
Views that are associated with a Cost monitor will be indicated with an alarm icon.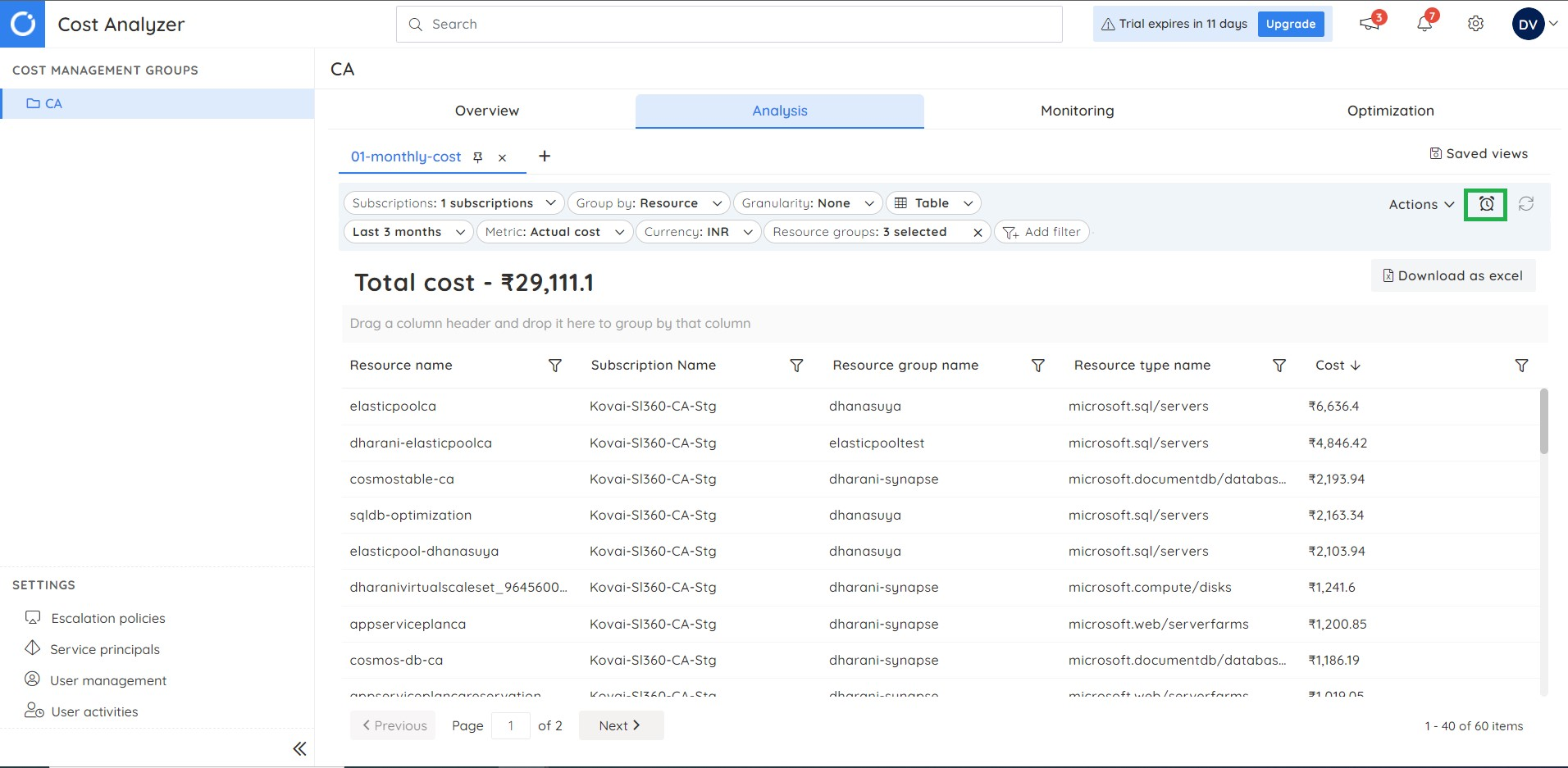 Compare Cost
Azure subscription costs for two different time ranges can be compared by using Compare option available for each Analysis View in Actions.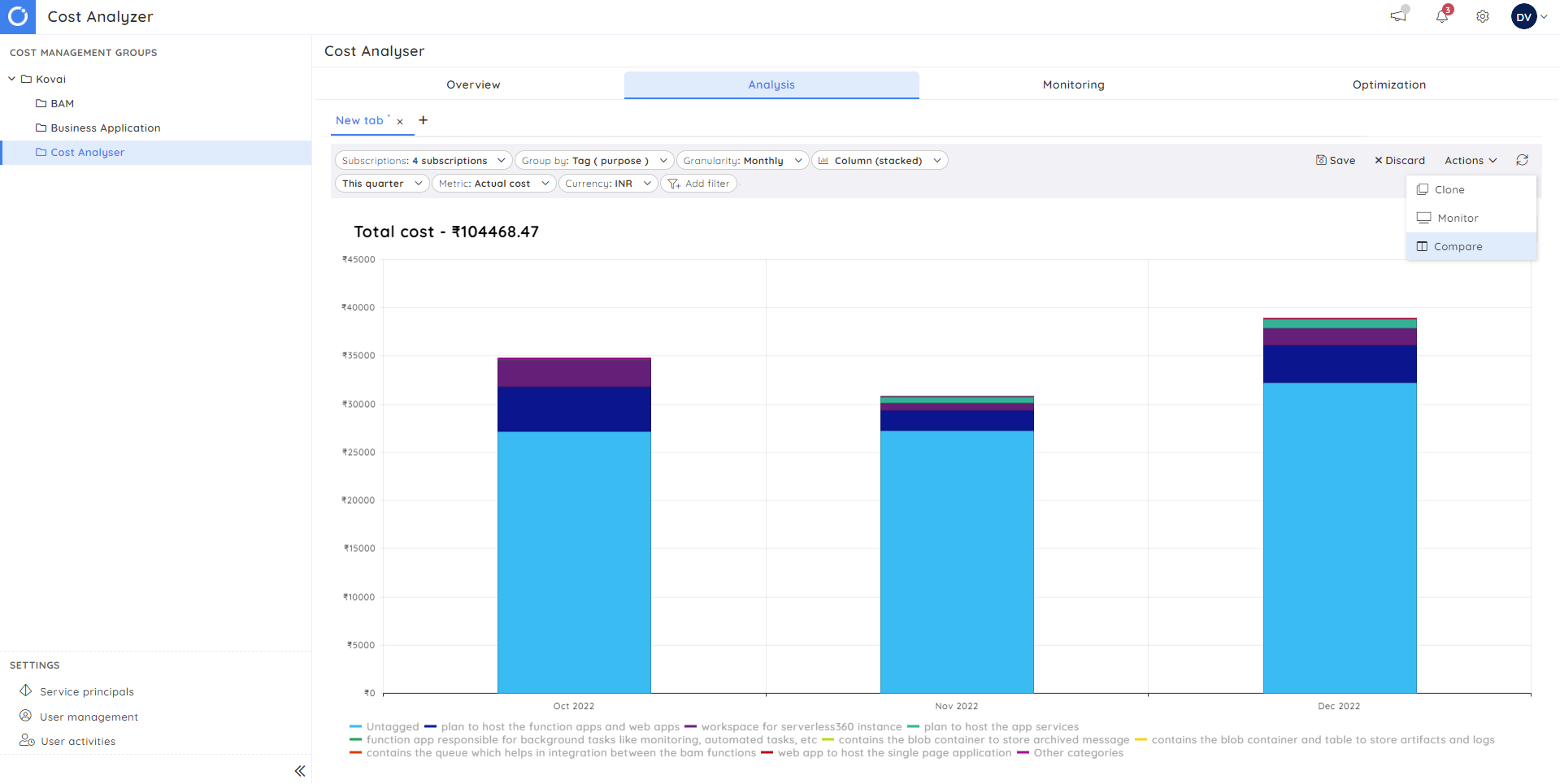 Customize the filters and time ranges to visualize cost comparison for the selected subscriptions.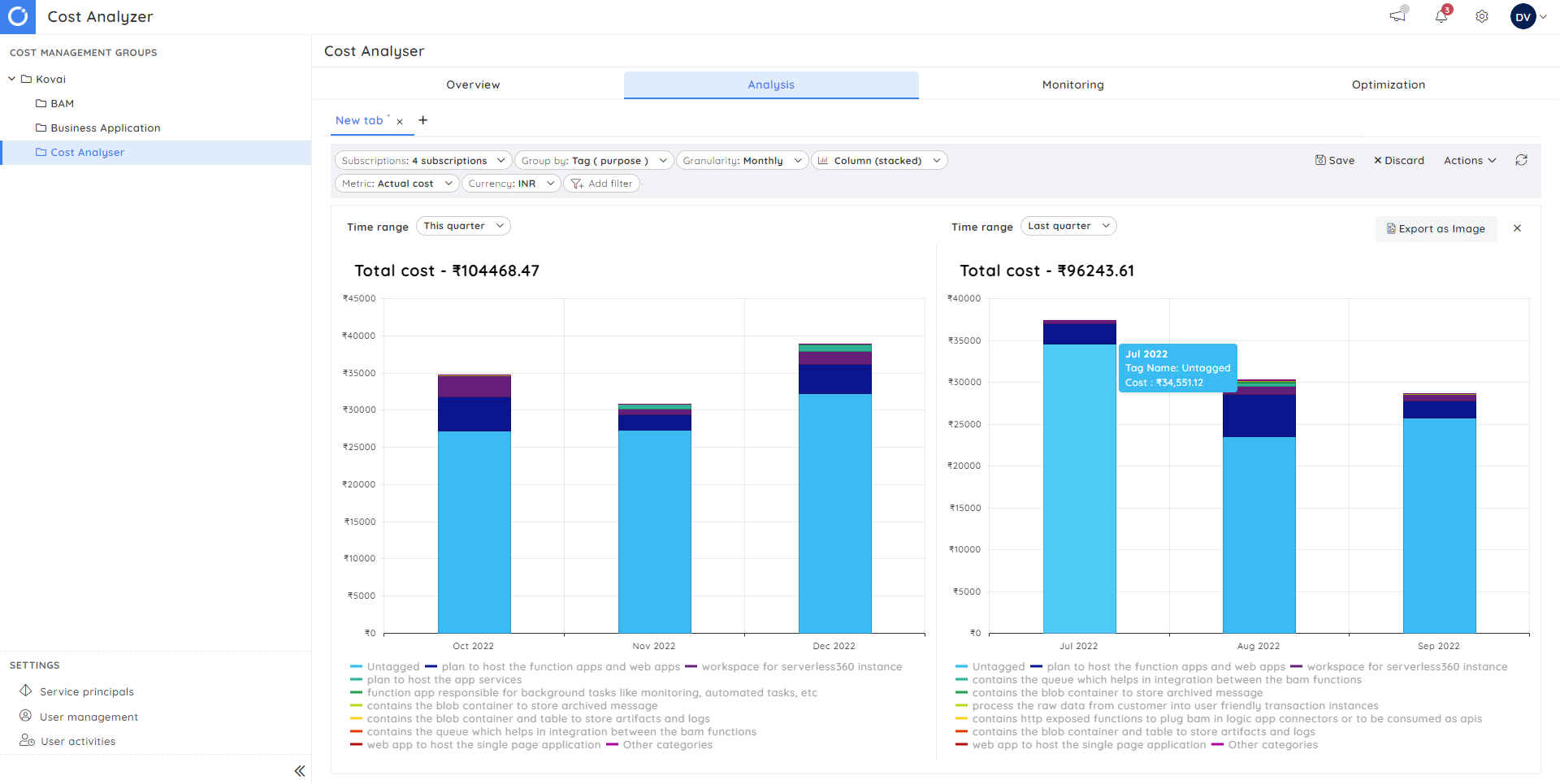 There are two unique features of the Table chart that set it apart from other types of charts:
The cost difference between two different time ranges for individual subscriptions can be viewed using a Table chart.
It is also possible to swap the time ranges only while using a Table chart.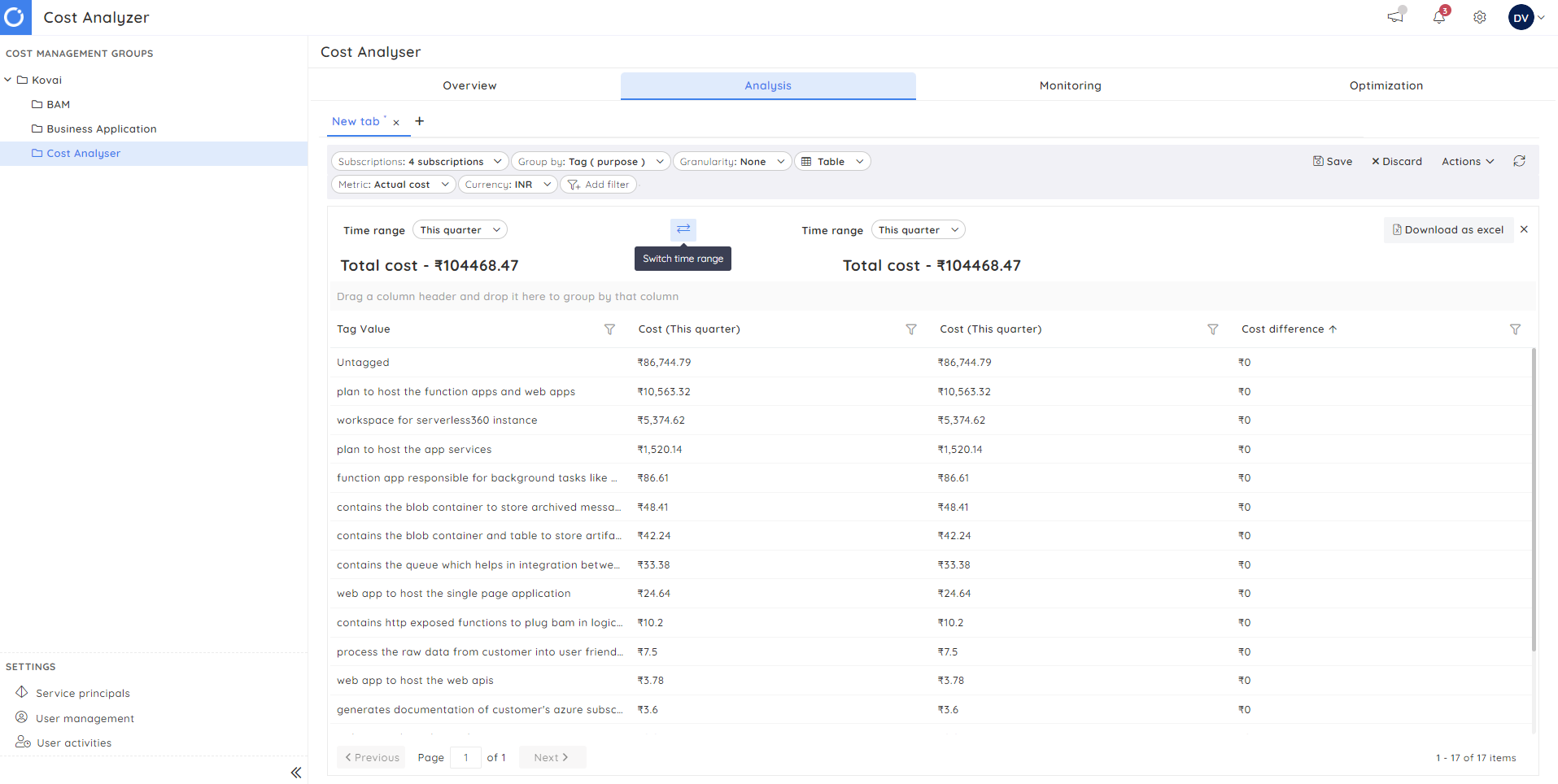 The Table chart supports Compare option only when the Granularity value is set to None.
---
Was this article helpful?
---
What's Next