Introduction
This article discusses the various licensing options and provides all the pertinent information for licensing in the Serverless360 private instance.
Licensing Types
The most important step following the deployment of a Serverless360 private instance is to activate the license.
Serverless360 offers the following licensing options:
Trial - this license enables users to run Serverless360 private instances in trial mode, giving them access to all features for a set period of time (usually 15 days). The trial period will begin on the date of activation.

Commercial - on successful trial completion, customers can continue using their Serverless360 solutions by purchasing Commercial license. The Commercial license period begins on the date of issuance.

How to get a Commercial license?

To purchase a commercial license, please contact the Serverless360 licensing team at contact@serverless360.com.
Requesting a License
Assume you've tried out Serverless360 and sent an email to contact@serverless360.com requesting a commercial license.

The Serverless360 licensing team will issue you a License and Service Certificate with the information needed to activate the license for the Serverless360 private instance.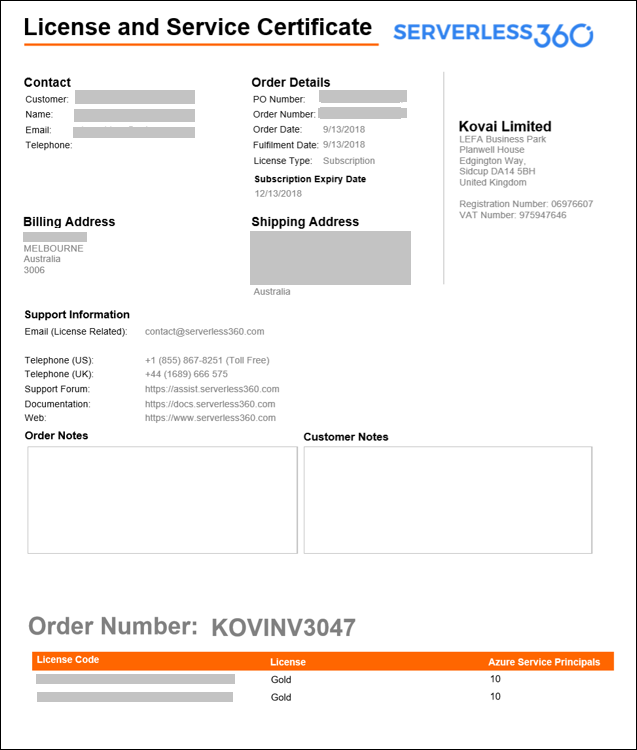 Activating a License
Once you've received the license information, such as the Order Number and License Code, activate the license in your Serverless360 private instance.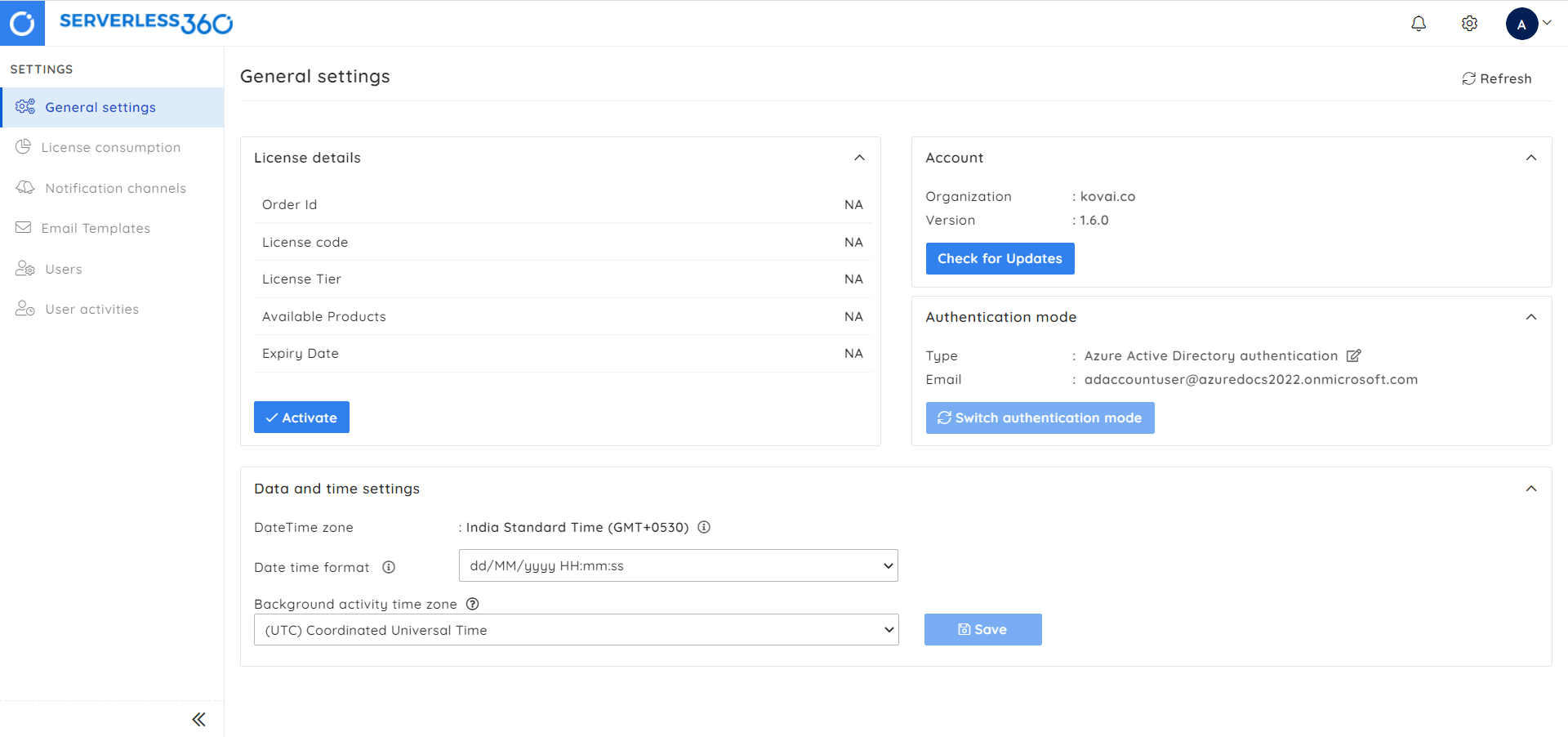 Providing the valid Order Number and License Code found in the issued License Certificate would activate the license.
Moving from Trial License to Commercial License
By following the steps below, Serverless360 users with the Administrator role can upgrade from an existing Trial license to a valid Commercial license:
Step 1: Deactivate the Trial License from the General Settings section.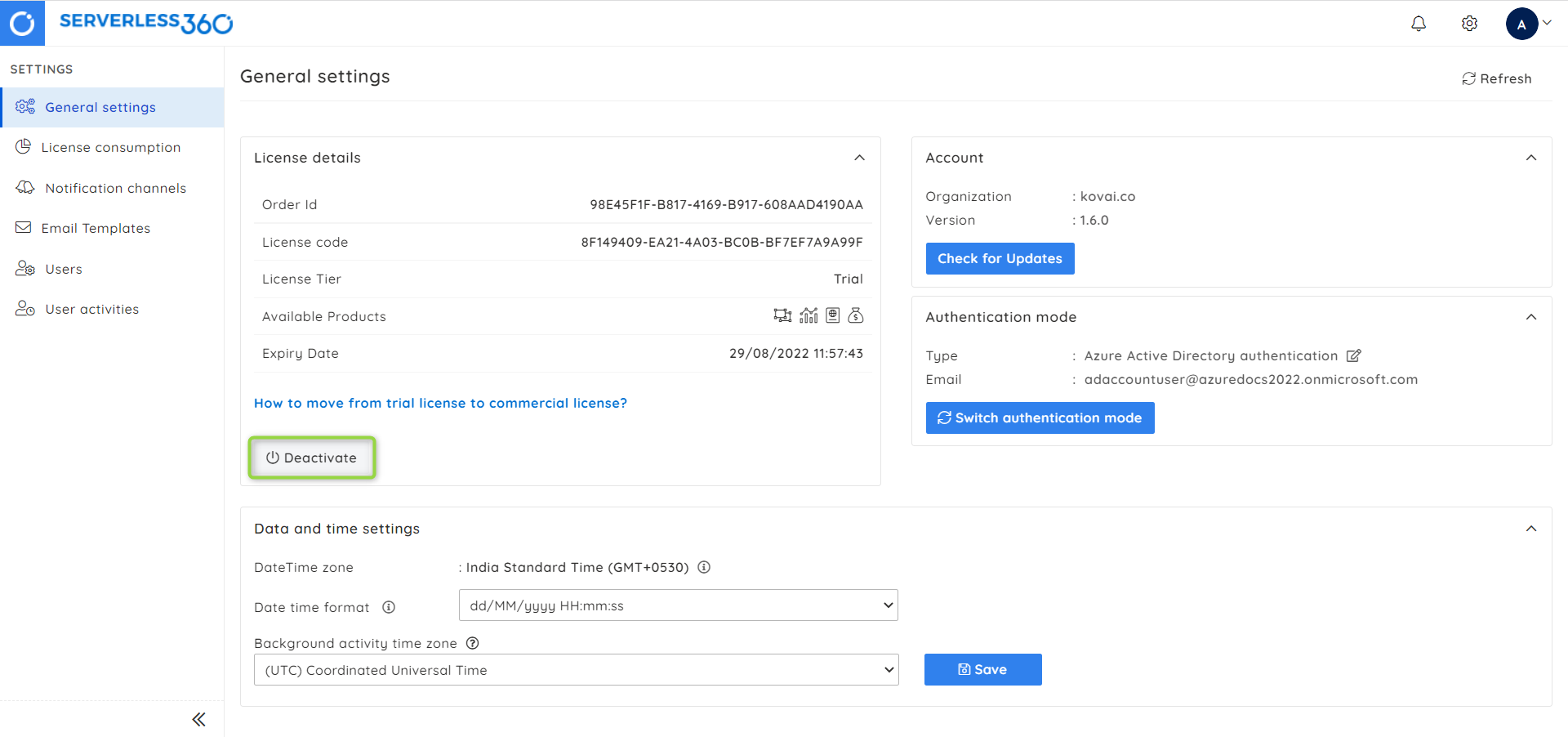 Step 2: The application would prompt the user to provide a valid license.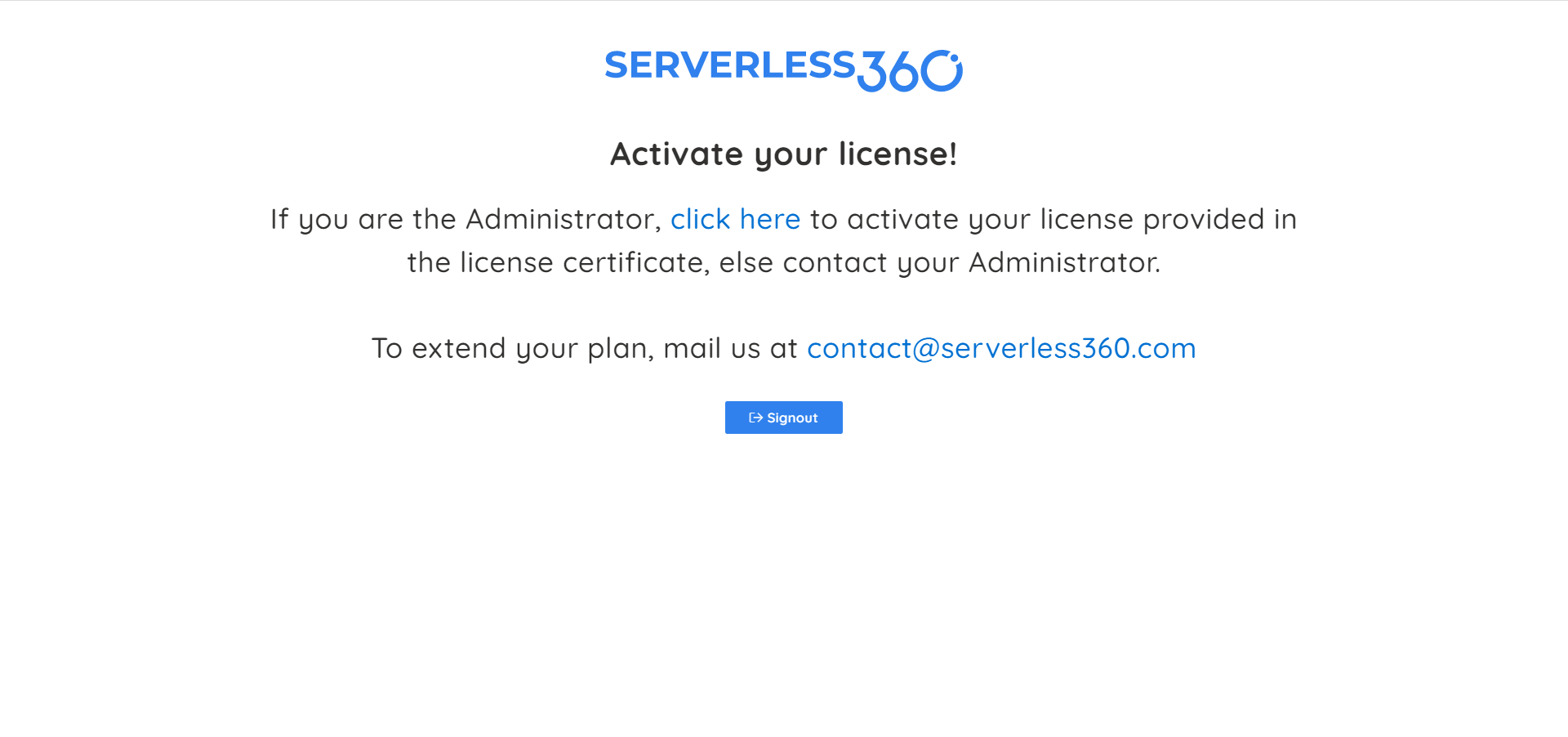 Step 3: Activate the Commercial license with valid information.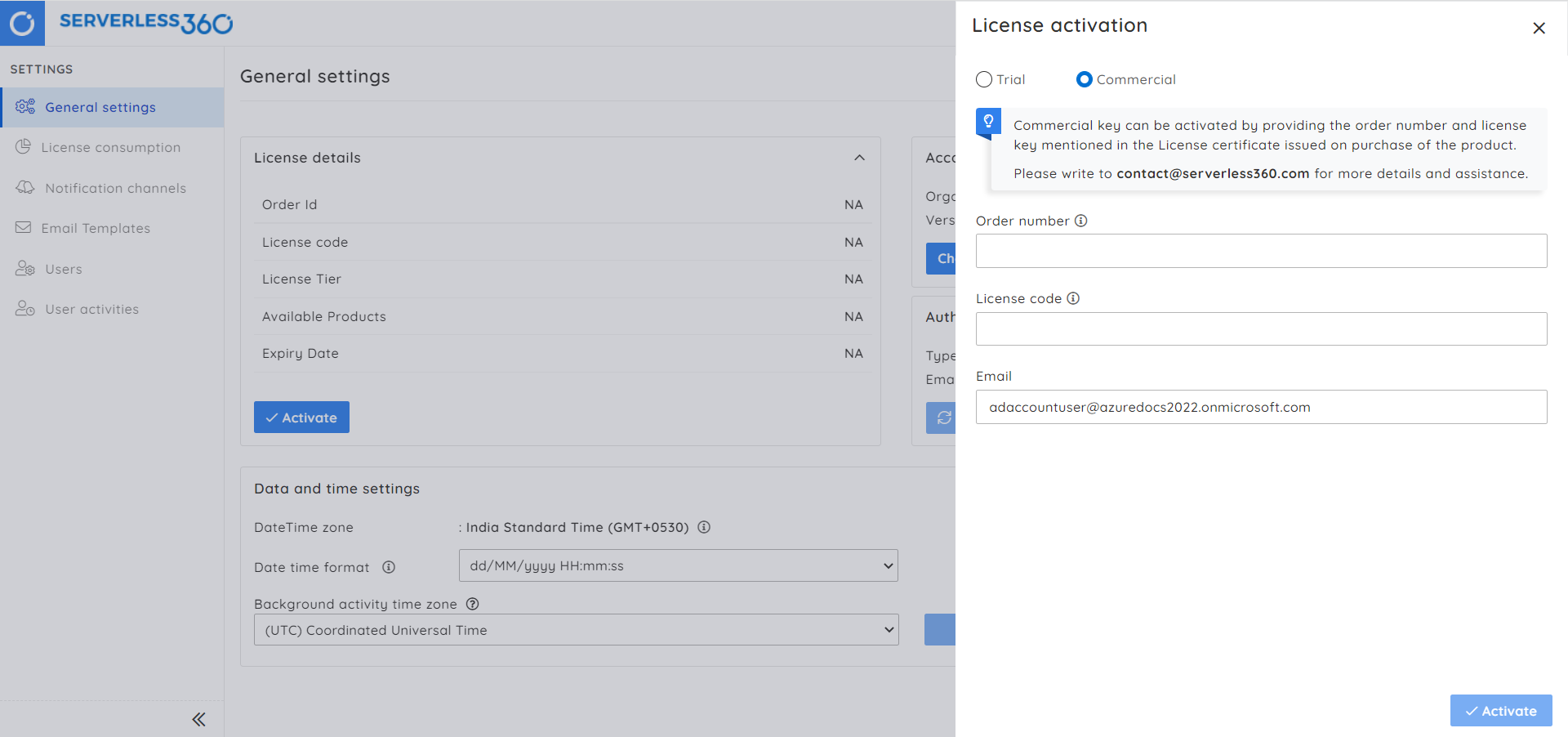 License Violation
In terms of licensing, the following operations have limitations in the respective Serverless360 modules:

* Number of resources associated with Serverless360 (Business Applications)
* Number of automated task transactions (Business Applications)
* Number of BAM Events consumed (BAM)
* Number of Azure documents to be generated (Azure Documenter)

Users will be notified in their Serverless360 private instance if their usage consumption exceeds 50%. Clicking the License icon in the top bar will reveal the alert.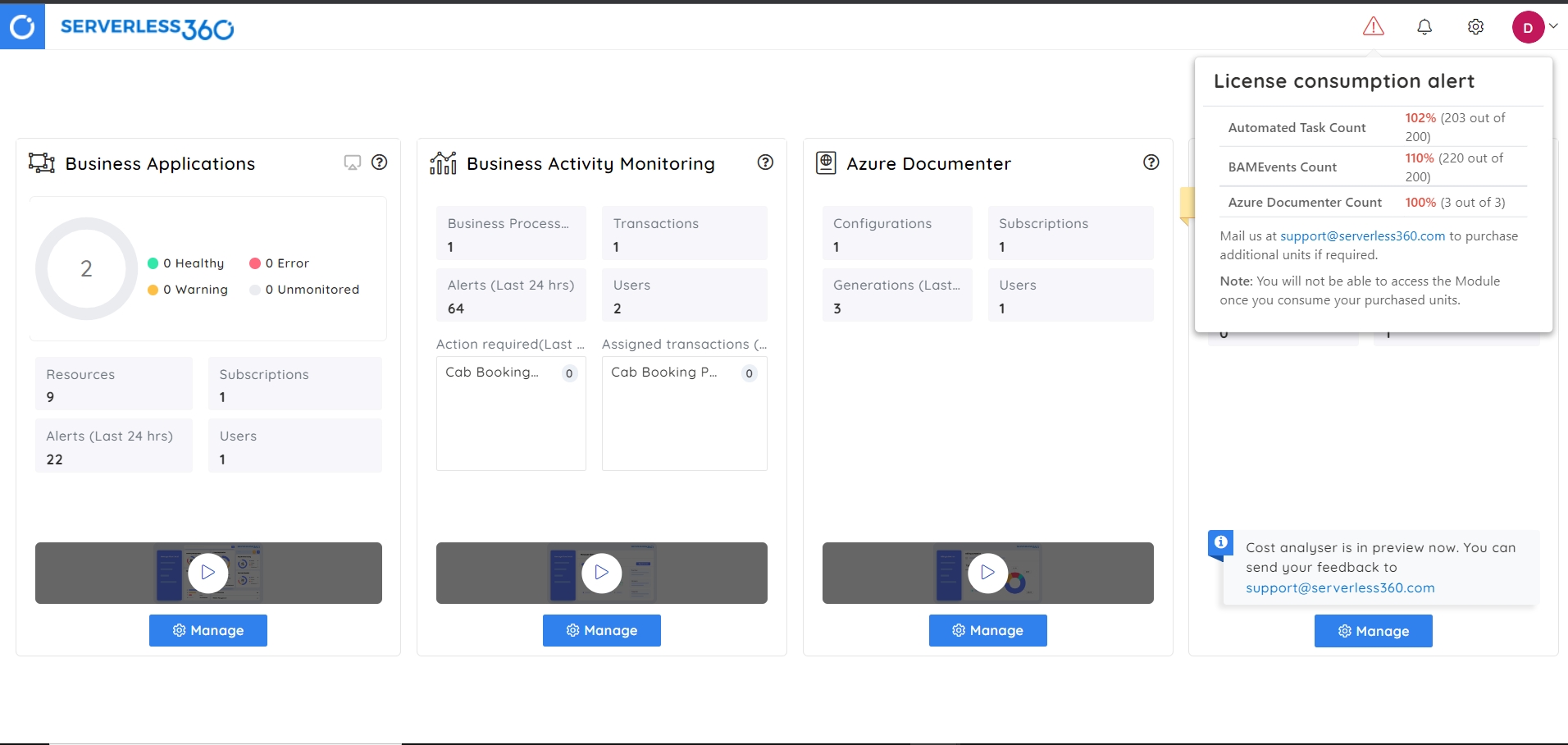 Since the Automated Tasks Transactions and BAM events counts are refreshed every month, kindly make sure you don't exceed your purchased units.

You will be unable to access the Serverless360 portal for the rest of the month if you exceed the purchased units.

When you exceed the number of purchased automated task transactions or BAM events for the current month, you will see the screen below: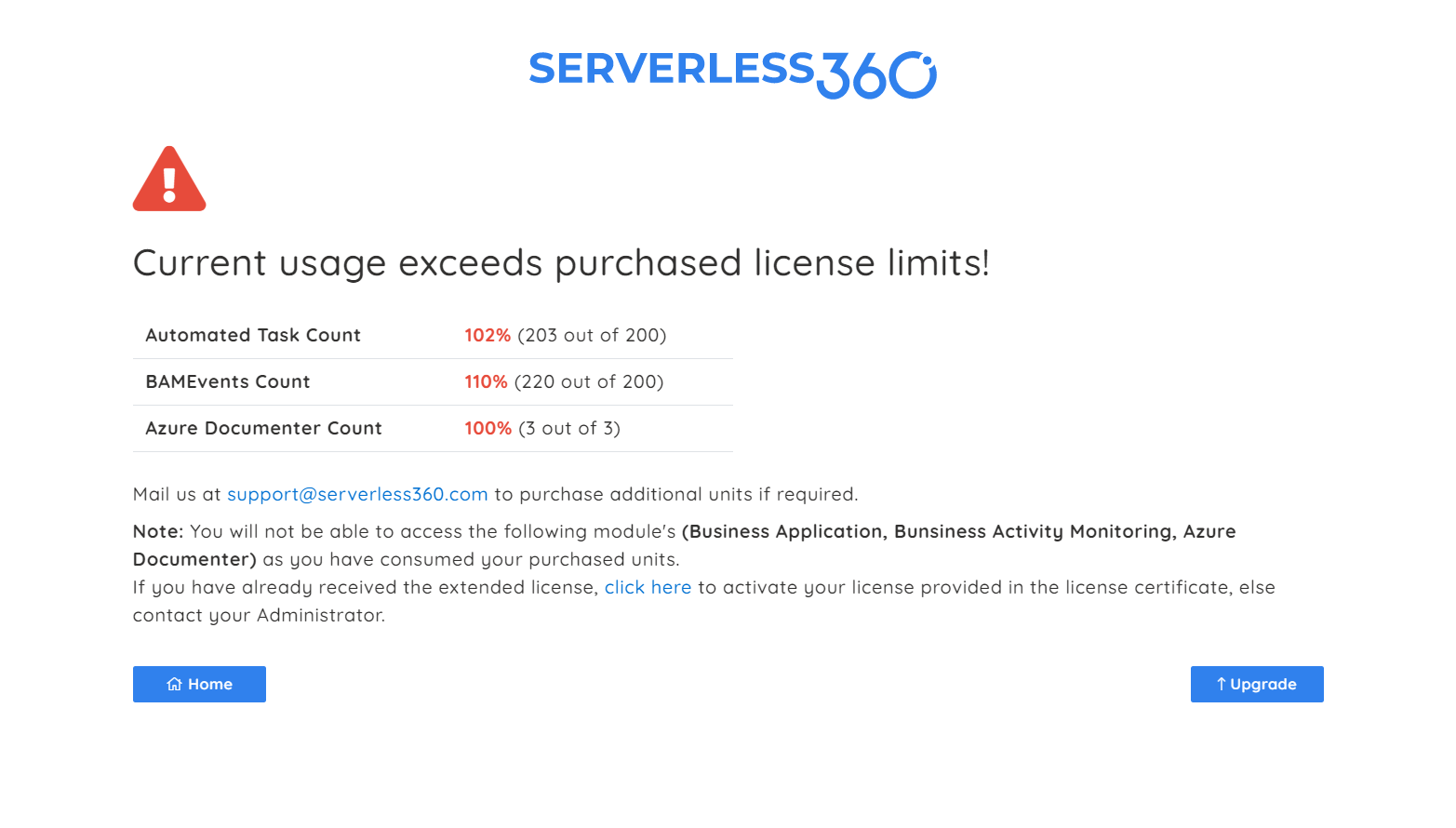 To continue using Serverless360 after you have exceeded your purchased units, please contact our licensing team at contact@serverless360.com to extend the License. Once this extension is complete, you can deactivate and reactivate the license.
---
Was this article helpful?
---
What's Next