Introduction
Business Activity Monitoring (BAM) allows users to log exceptions and exception codes in the stages of the business transaction. When the user selects the transaction instance, the logged exceptions will be displayed.
Users will also receive immediate alerts whenever an exception is logged in any of the transaction stages.
Serverless360 Business Activity Monitoring (BAM) Monitor also provides an Exception Monitoring feature allowing users to receive Exception alerts.
Exception Monitoring
Users can also use the Business Process Monitor to monitor exception alerts by configuring the Exception alerts during monitoring configuration.

Exception Monitoring settings can be configured by enabling the checkbox in the Exception alert settings section available in the Monitor settings tab present in the Monitoring section.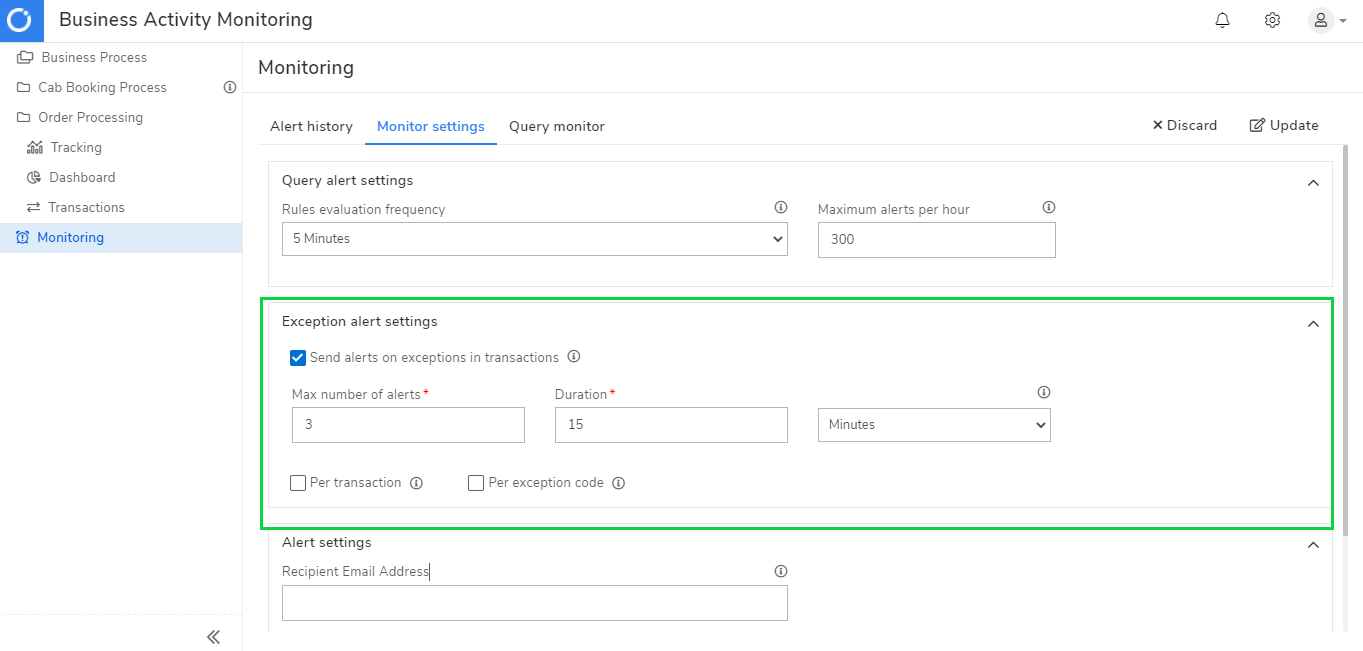 Business Activity Monitoring (BAM) exception alerts can be filtered to prevent notification spam in the user's inbox. The Business Process Monitor provides a number of filtering options.
The list of filtering options include:
1. Maximum number of alerts
2. Frequency
3. Per transaction
4. Per exception code
After configuring the Exception alert in Monitor settings, the user will see the Exception alert that has been sent to the configured Recipient Email Address, as shown in the image below.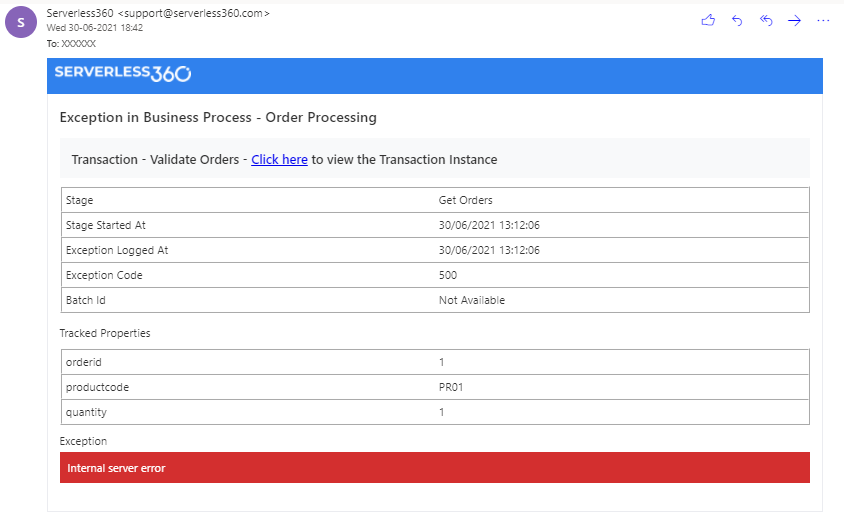 Max number of Alerts
Users can determine the maximum number of alerts to be received within the specified period in the Max number of alerts field.

The alert value should range between 1 and 100000.
Duration
The Duration field allows the user to specify how frequently the maximum number of alerts is reset to 0.

With the help of the Duration field, the user can configure how often the maximum number of alerts is reset back to 0.

For example, if a user has a Max number of alerts set to 3 and Duration set to 10 minutes, Serverless360 will only send three alerts within the 10 minutes.
Per exception code
If the user selects this option, the exception code will be used to filter the maximum number of alerts.

For example, the user may receive up to 3 alerts within 10 minutes period for each exception type. Thus, if 2 exception codes are logged, the total number of alerts is 6.
Per transaction
This option restricts alerts globally at the Transaction level rather than the Business Process level.

If this option is enabled, the maximum alert count will be applied to all transactions in a business process.

As a result, if there are two transactions, and one of them has already reached the maximum alert count, the other will continue to send alerts until it reaches the maximum alert count.
---
Was this article helpful?
---
What's Next