What is a Composite Application?
Composite Application is a logical entity that you can use to group Azure Services like Service Bus, Logic Apps, Event Hubs etc that constitute a Line of Business Application in your Integration Solution Architecture. These resources can be from different Azure Subscriptions and namespaces.
With Azure becoming more mainstream and a matured product offering from Microsoft, many organizations have started to make use of the technology to build their hybrid integration solutions as an extension to their on-premise solution. The overall hybrid integration solution will look something like this image.

Serverless360 can manage and monitor this entire solution containing several Azure services (Service Bus, Event Hubs, Relays, Logic Apps, API Management, Functions etc) effortlessly. This is what we call "Composite Applications". With the concept of Composite Applications, you can easily group your Azure Services that make up your integration solution and manage them effectively. Even if your Azure services are spread across different Subscriptions, you can manage and monitor your services.
Creating a Composite Application
Log in to your 'Serverless360 account'
From the Home Dashboard, click the 'Settings (gear)' icon to navigate to the Serverless360 Settings section
Click the 'Composite Applications' tab from the left navigation panel
Click the 'Create' button from the top menu to open the Add Composite Application blade
Enter the Composite Application name and description
Click the 'Add' button to save the Composite Application

By default, the ServiceBus360 application will have a 'Default Application' that can only be edited.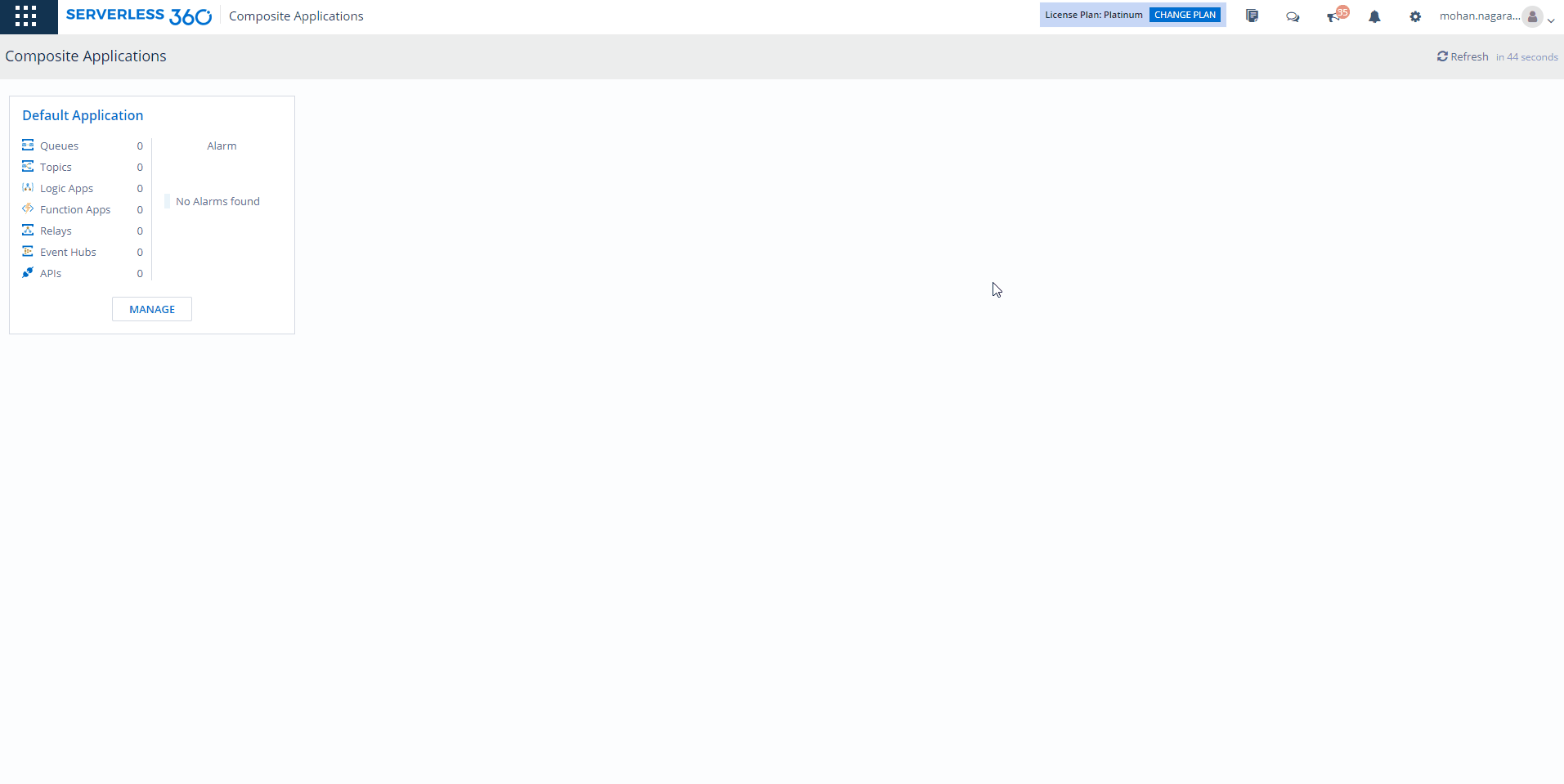 The next step is to associate the resources with the Composite Application.
In the home dashboard, click the 'Manage' button on the Composite Application
Click the 'Associate Resources' button
Choose the resource type from the tabs and click the checkboxes against the resources to associate
Click the 'Save' button to complete the process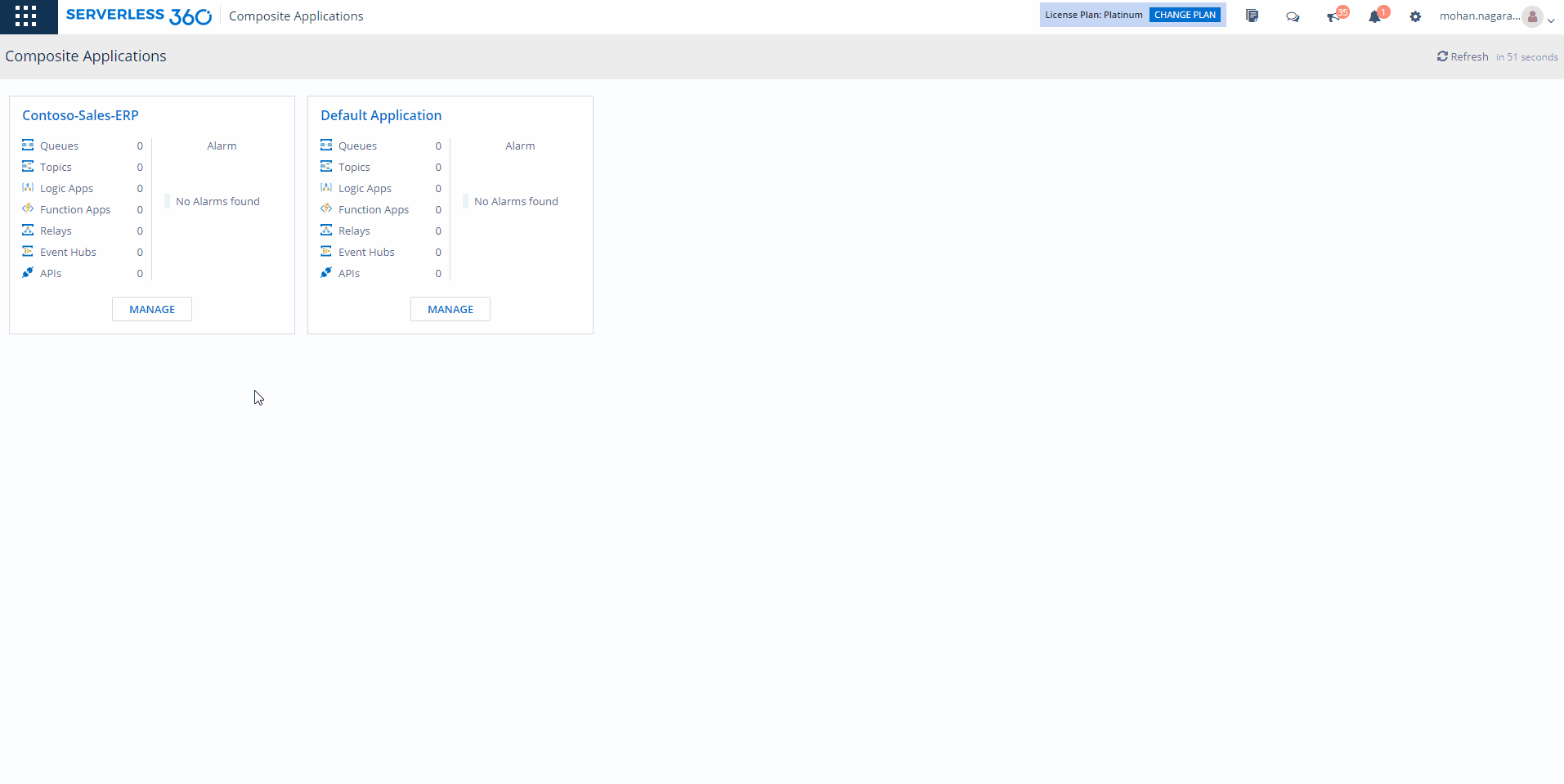 Composite Application Cards
Serverless360 dashboard makes it easier to get information about your integration solutions with simple Composite Application Cards. At a glance, you'll be able to see the Composite Application title, type and number of Azure resources associated with that application, and the status of the alarms configured in that application. By clicking over the alarm pie chart, you will be able to navigate to the Monitor page. The number of Composite Application that you can create depends on your licensing plan. To upgrade your plan now, check the pricing page. Click the Manage button on the card to operate and monitor the resources associated with the Composite Application.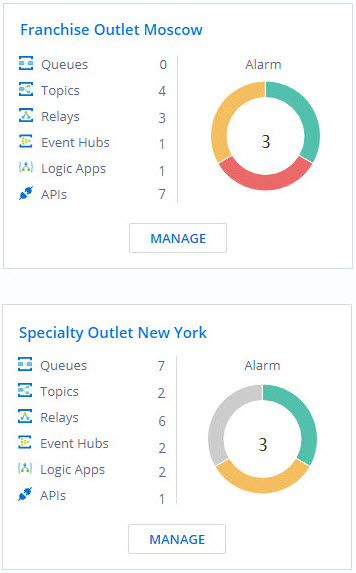 We'd love to hear your thoughts
Was this article helpful?
---