BAM Deployment
Updated on 03 Jul 2019

2 minutes to read

Contributors
---
Serverless360 now supports Business Activity Monitoring and Tracking in Private Hosted version. To configure Business Processes with Serverless360, the following Azure resources must be deployed in your Azure Subscription.
Event Hub
Azure Function App
Storage Account
Logic App Custom Connector
This deployment can be done from the Serverless360 Portal. The The Administrator or a Super user of Serverless360 account can do this deployment. The credentials required for performing this Deployment are
Subscription Id : Id of the Azure subscription where the BAM entities need to be deployed
Active Directory (Tenant) Id: Id of the Azure Active Directory in which the Service Principal is created
Client Id: Id of the Service Principal application
Client Secret: Valid secret of Service Principal application
Service Principal requirements
The Service Principal must have Contributor access on the Subscription where the resources must be deployed, when a new Resource Group should be created for the deployed entities. If the deployment is in an existing Resource Group, then contributor access on that Resource Group is enough.
The resources once deployed cannot be updated. It can only be deleted and redeployed again.
Deploy BAM Resources
To deploy the BAM related Azure resources navigate into BAM Deployments in the Settings section.
Click on the Deploy BAM resources
Enter the Service Principal Credentials
Change the name of the resources if required
Click on the Deploy button to proceed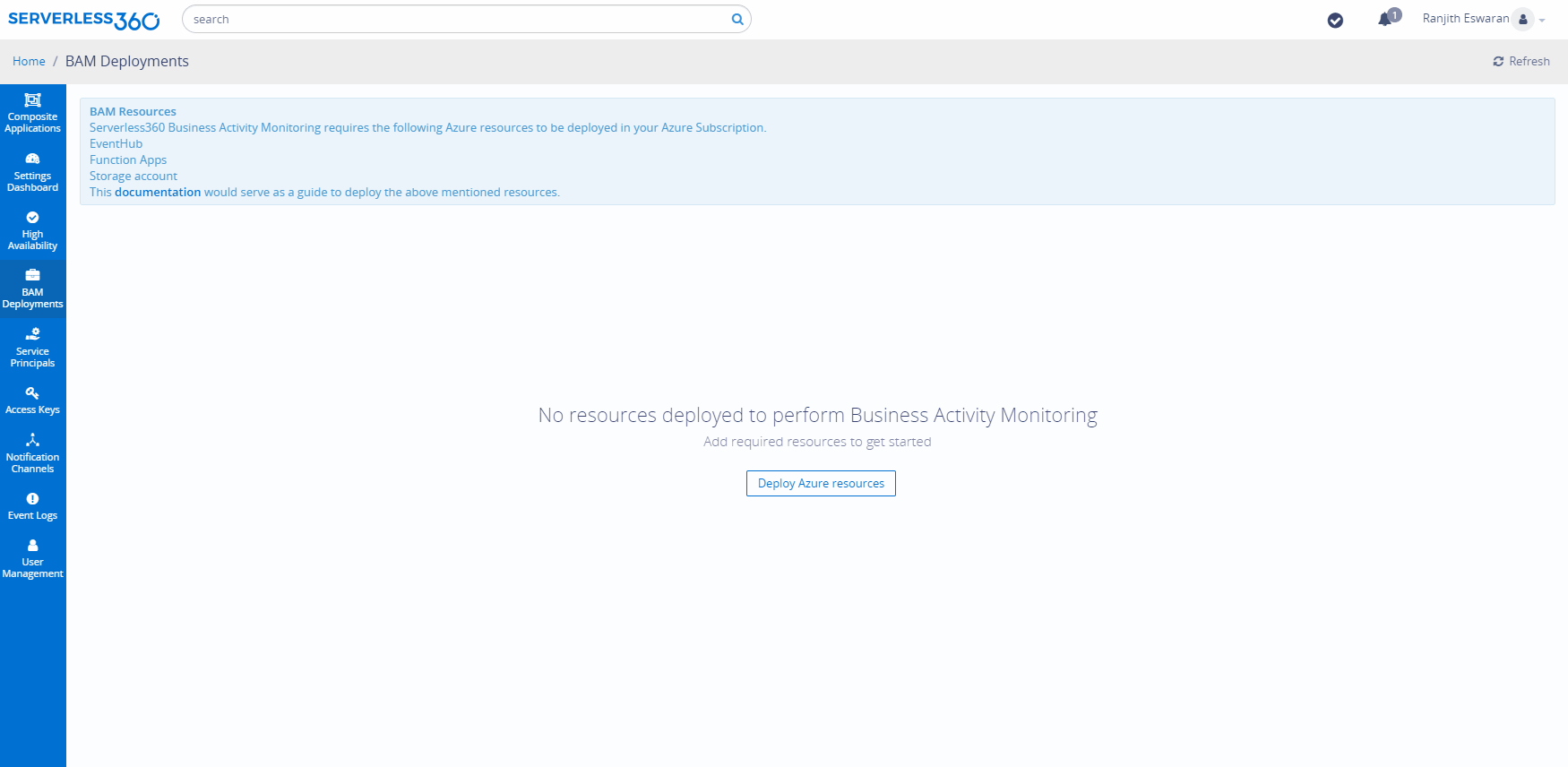 Note
Do not refresh the browser or navigate to any other section of the application through browser back button until the deployment is done.
Delete BAM Resources
You can also delete the deployed BAM resources by clicking on the delete button. You can select to delete the entire Resource Group where the BAM resources are deployed.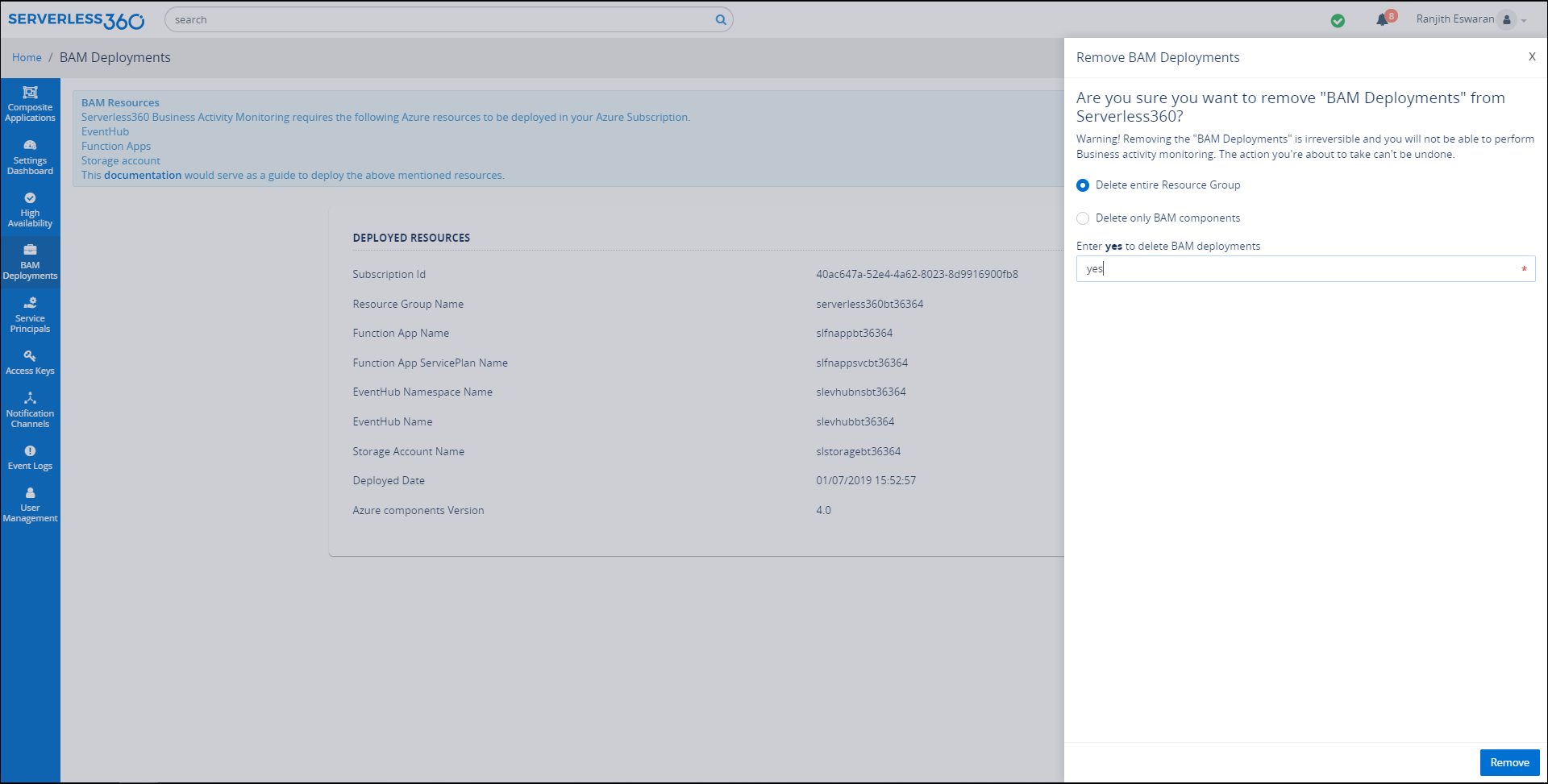 Microsoft Flow Connectors
The swagger json file for deploying the Serverless360 BAM connector for Microsoft flows can be acquired from Serverless360 as shown below.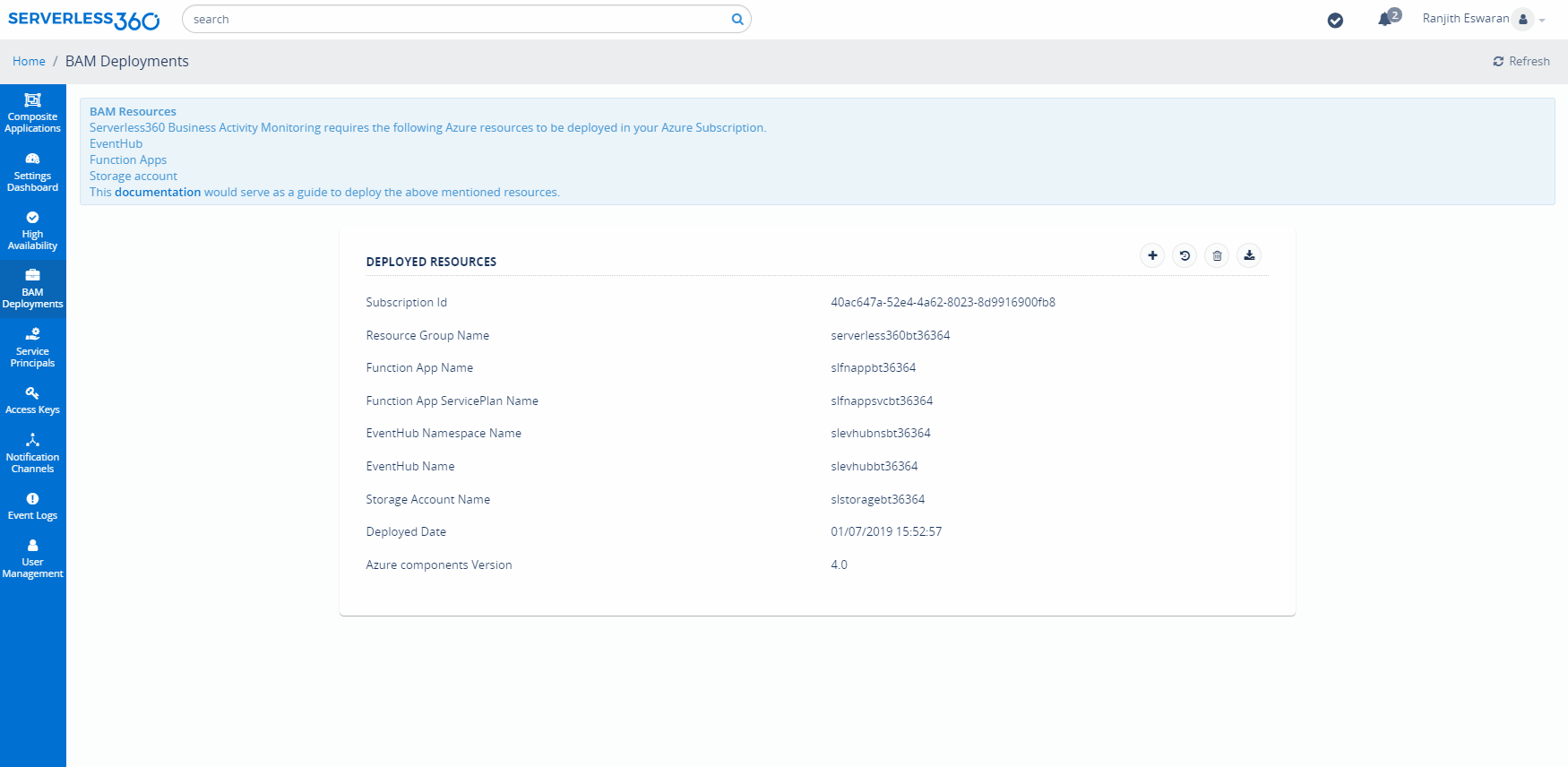 Deploy Serverless360 - Tracking Connector in different regions
Serverless360-Tracking connector can be used only for Logic Apps within the same region where the connector is deployed. To use it in a logic app in another Azure region, Serverless360-Tracking connector can be deployed in that region using the following steps:
Download the swagger file of the Serverless360-Tracking connector from the Azure Portal

Create an empty connector in the required Azure region
Upload the downloaded swagger file

Was this article helpful?
---