Introduction
Duration monitoring simply describes the monitoring of execution time taken by transaction instances and their stages with an in-progress state.
Users can set threshold values to get alerts for any error/warning duration encountered during the execution of their transaction/ stage instance, which helps in providing immediate solutions for problem determination which directly minds towards an increase in productivity.
Configuring Duration monitoring
Users can monitor the execution time of transaction instances along with their stage(s) by selecting the Monitoring option within the Business process in the left menu and clicking the Duration Monitor tab.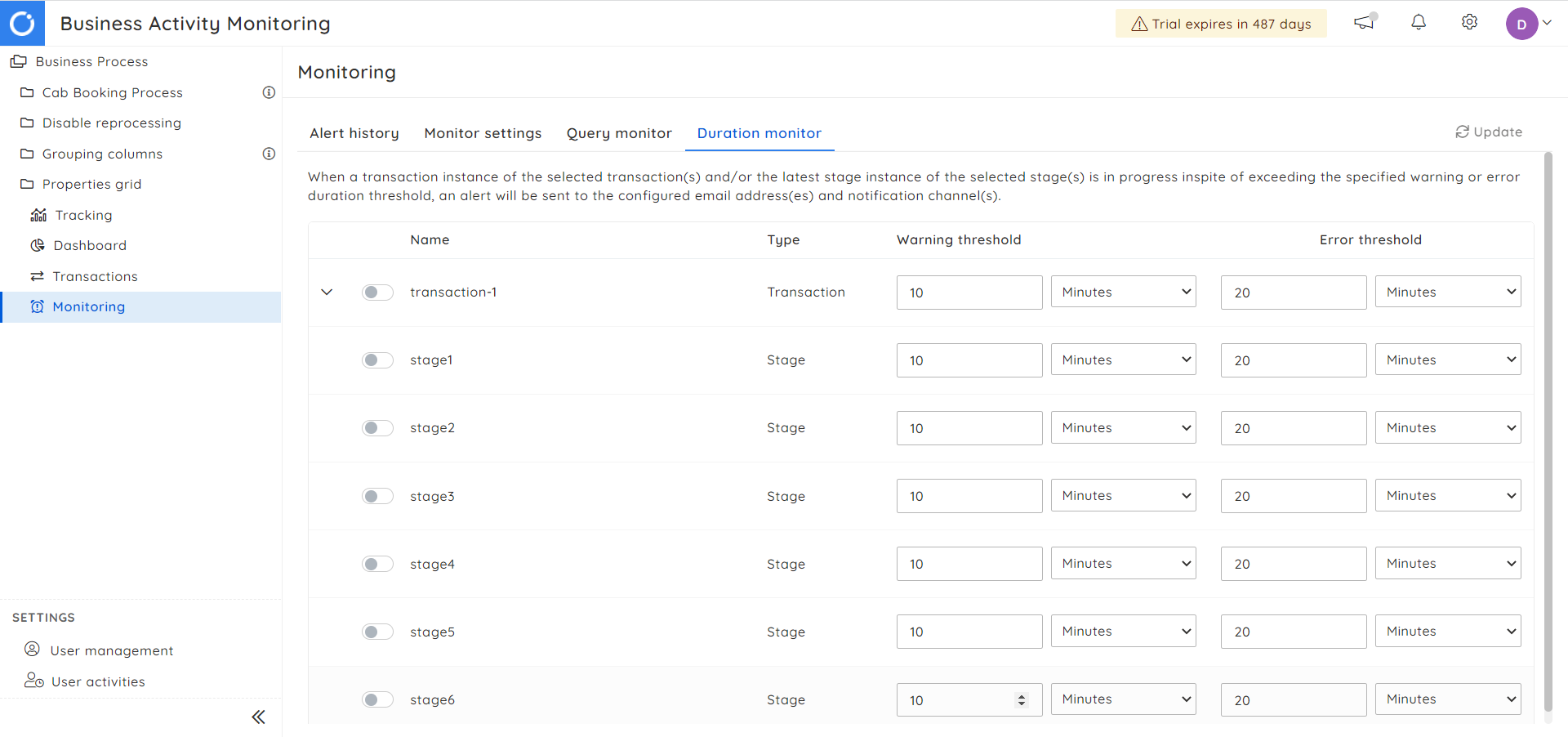 This section will list the available transactions and its stages in the respective Business Process, with options to configure warning/error threshold values with time grain in minutes or hours. The limitation of threshold values is from 1 to 1000.
The steps to be followed to configure duration alerts:
Choose the transaction(s) and/or stage(s) for which you want the execution time to be monitored.
Provide threshold values for warning and error thresholds, based on which the alerts will be initiated.
Finally, click the Update button present at the top right corner of the page for it to be saved.
Error/Warning threshold values support only whole numbers as input values, decimal numbers are not supported.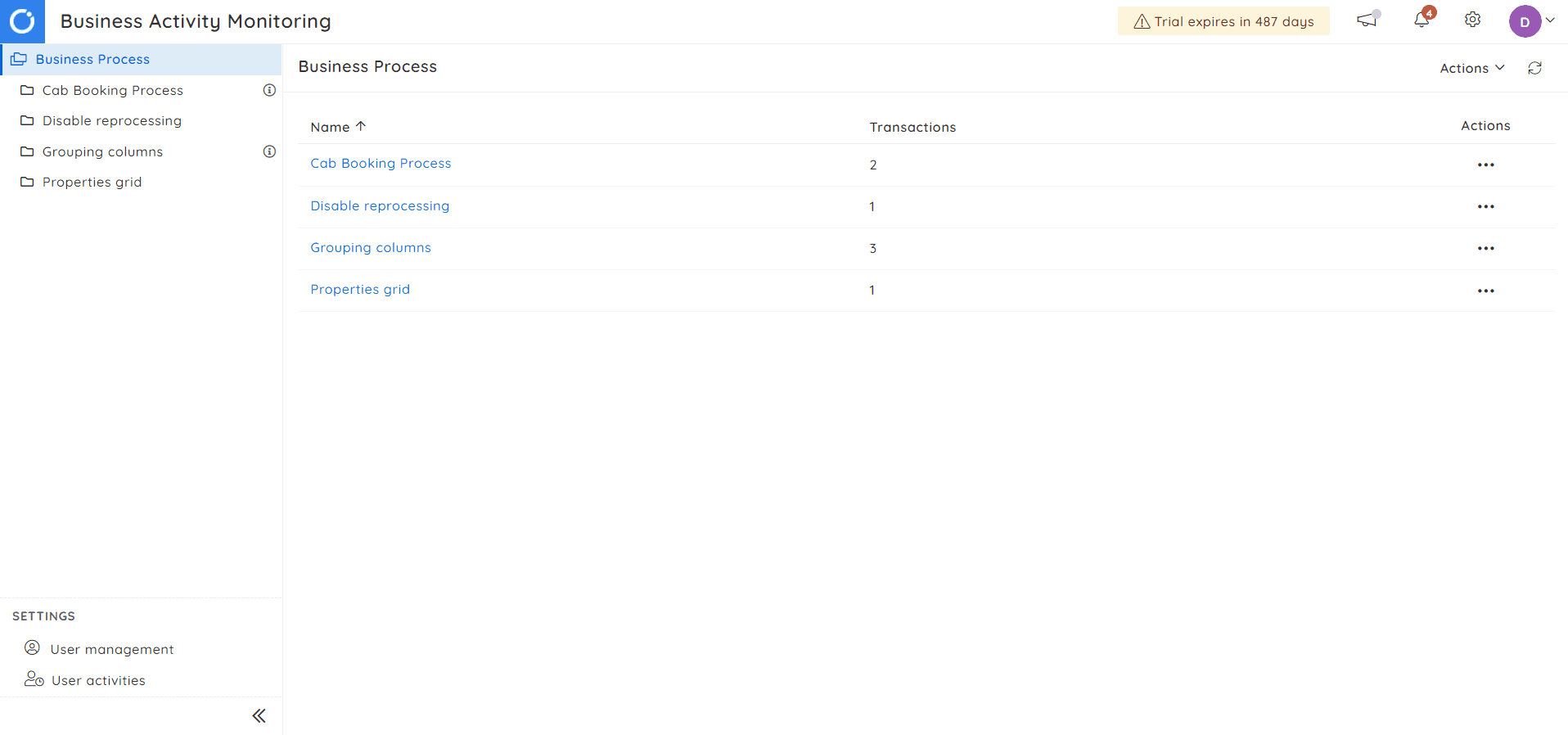 When are warning/error alerts triggered?
The error duration threshold always takes priority.
When the error and warning duration threshold values are the same, an error alert will be sent.
When the value of the error duration threshold is less than the warning duration threshold, an error alert will be sent when the transaction/stage instance's duration violates the error duration threshold, and no warning alert will be sent even after the duration violates the warning duration threshold.
After configuring the duration monitor, alerts will be triggered based on the email recipients and notification channels configured for those transaction/stage instances that have exceeded the set duration in the duration monitor settings. An alert that has been sent to the configured recipient email address, is displayed as in the below image.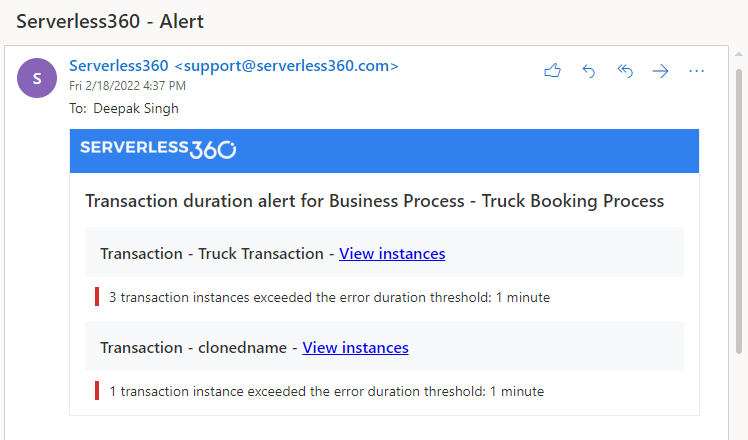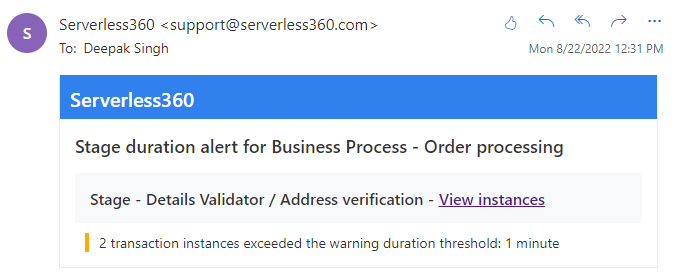 Note: Transactions and stages configured for duration monitoring will be monitored separately, which results in alerts being triggered individually, one for transactions and one for stages respectively.
---
Was this article helpful?
---
What's Next